Peter Gabriel and Sting make magic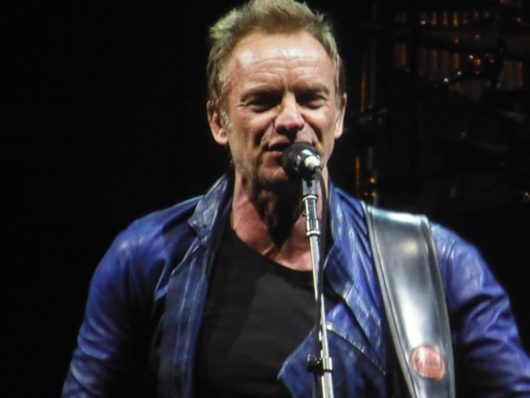 This was a match made in heaven – and the result was a religious experience. So it works out.
Two British rock Gods, Sting and Peter Gabriel, have put their own great music above rock star ego to perform together in what will surely go down as the best collaboration of the decade. At their age, rock star ego is a thing of the past, if it ever existed. When you're the real deal, you don't need to put on airs.
"It's like a battle of the bands," Gabriel told the crowd at Rexall Place Sunday night.
It was a lot more than that. Rock Paper Scissors was no mere "co-headlining" bill (Edmonton was the last stop on the tour) where they play a game of the name of the tour to see who plays last. No, they shared the stage, sang each other's songs, did duets, helped each other out, tinkered with their arrangements, bantered like old chums, even did some dance moves like the Smothers Brothers – and delivered a spectacular cross-section of songs from each of their careers. It was meshed perfectly with an incredible band. Nothing but the best for these guys. From the mellow opening of Gabriel's The Rhythm of the Heart, show was a jaw-dropping display of both songwriting and musicianship. The band included legendary drummer Vinnie Colaiuta, a trio of amazing back-up singers, a string section, two keyboardists, guitars – Sting played bass most of the time – the works. The sound was huge and glorious when it needed to be, restrained at other times. Notes were not wasted. It was a little weird hearing Police hits like Message in a Bottle and Roxanne rendered through a rock 'n' roll big band when you remember them from a trio, but no more strange than hearing Peter Gabriel do his best Leonard Cohen on a slowed-down version of Sting's If You Love Somebody Set Them Free – while Sting himself took a break. It was astounding.
It's amazing how well their songs go together – intelligent rock that breaks the bounds of the genre, rich with heart, depth and social conscience. Great minds think alike.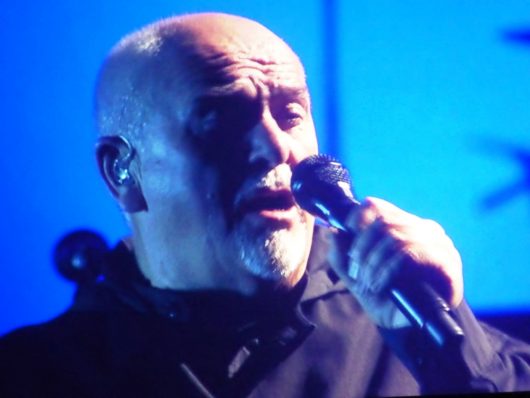 "The Tantric Twins," as Gabriel thinks they ought to be called, make a good team. Sting is the svelte rocker, Gabriel the soulman. They switched roles several times. Sting toys with jazz, Middle Eastern rumbas and other esoteric things, while Gabriel visits a land all his own. Gabriel's songs were somehow deeper, more nuanced – Games Without Frontiers and Digging in the Dirt were early moments of bliss in this show – while several of Sting's best known songs hit you right in the gut. Both of them took a turn on Sting's An Englishman in New York, 'cause they've both been there. Good advice: "Be yourself no matter what they say."
Politics crept into the show, not too much. They noted that their homeland voted to leave the European Union – see what happens when you go away? – saying some songs in the set are therefore more "pertinent" – like Genesis's Dancing With the Moonlit Knight (from 1973), whose opening line is "Can you tell me where my country lies?" Also pertinent was the haunting Don't Give Up – which turned into a singalong before it broke into a funky gospel jam with an amazing vocal display from back-up singer Jennie Abrahamson.
This gushing review could go on and on. The big hits – Every Breath You Take, Sledgehammer – brought the house down. The mash-ups were inspired. The Gabriel classics had the people on their feet and swaying. It takes a lot to get a baby boomer audience to stand up. They did about 25 songs, not even coming close to covering their respective legacies, two solid hours, without a single weak link. Most concerts you expect a little filler. Not this one. It was an embarrassment of riches. It will probably wind up as the best show of 2016 in Edmonton. Let's just go ahead and call it right now – everyone cool with that?