Women rule at Interstellar Rodeo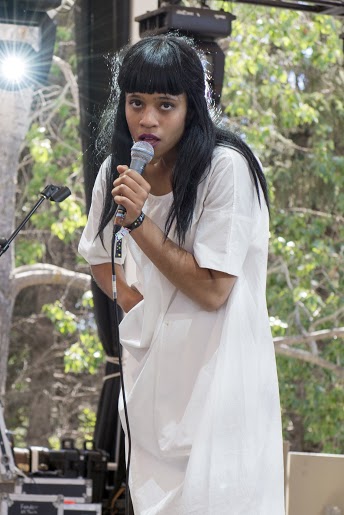 The theme for the whole weekend at Interstellar Rodeo has been about broken hearts – or maybe that's just what indie folk is all about.
To paraphrase Donovan Wood during his musical interlude: All the best songs are about a couple mad at each other while coming home from a party.
"I ain't nothin' but a no-good small town girl," sang South Carolina's Adia Victoria (right) as she opened the day with Southern Gothic glory. She's Victoria Spivey meets Bjork. The whole band wore white linen, which gave them an ephemeral, ghostly look.
She sang a song called Horrible Weather, dedicating it to "all the women who have had to deal with fuck boys." She's is a master of phrase, and doesn't shy away from emotions or anger. As a woman, she kicks socialization in the ass with her black lace-up ankle boots. Her musical accompaniment plays hints of country and blues. Guitar riffs make deliberate stumbles and songs end with plucky blues rhythm. Any progressive Albertan can feel a kinship with Victoria's Stuck in the South. In it, she battles with feelings of being trapped in a place that feels like home. Like the American South, Alberta has complex political and social dynamics.
After the decadent exploration of identity offered by Adia Victoria, the Calgary-based band Reuben and the Dark offered light and sleepy tunes. The music was synthy with a dreamy quality that made the songs blur together. The energy from the crowd dipped a little, but it was the perfect music to close your eyes and lay back on the grass. And at one point, I swear that Reuben played a song that slowed down the melody of Katy Perry's Roar.
The third act of the day was Kathleen Edwards. She's a musician from Ottawa whose life is just as interesting as her music. Trained in classical violin and the daughter of a diplomat, Edwards departed from that path in life towards a more indie-folk style of singing. Her trademark is vulnerability and honesty. She played a lot of music from her album Voyager, which documents some highs and lows of relationships in her life – including a divorce and a new boyfriend.
Edwards took a break from music in 2014 to open Quitter's Cafe in Stittsville, Ontario. In homage to herself and that phase of her life, she arrived onstage with a Quitters T-shirt and the kind of voice that could sing down a wall.
The best kinds of people are those with a story, and Edwards weaves hers between narrative and song in a way that keeps the audience spellbound – when they aren't singing along with her. After a lively rendition of Change the Sheets, Luke Doucet (half of Whitehorse) joined Edwards on stage to play guitar and endure jokes about guitarists who want to skip buying furniture and spend all their money on instruments.
Interstellar Rodeo does a great job blending high and low energy bands. Henry Wagon, one of the musical interludes, was an eclectic Aussie, definitely in the energetic category. He leapt into the crowd to get people singing and cheering. He was so loved that the people didn't want him to leave. It felt like we were just getting to know him.
Towards the end of the evening Margo Price took the stage. This Nashville darling released her first solo album in March 2016. Price's brand of outlaw country packed the floor and she cheerfully swung her herringbone braid and flaunted a sleeveless jean jacket embroidered with the phrase, "Wild women don't worry." In keeping with the broken heart theme, she played a slow and melodic song called Paper Cowboy.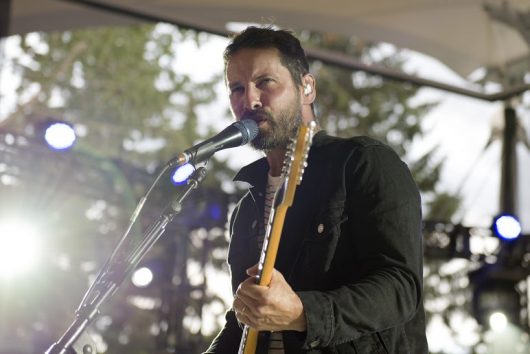 Finally, Sam Roberts rounded out the evening. His hit Where Have All the Good People Gone rang out across Hawrelak park to an adoring, happy crowd. Because we're in Edmonton, the sun was still streaming down on the amphitheatre.
Although heartbreak was a common theme, the crowd left the festival filled with joy. Interstellar Rodeo was a great weekend. Perfect weather, a generous crowd, and a talented and diverse group of musicians.
Photos by Tyler McKay