MUSIC PREVIEW: The Courage of the Tragically Hip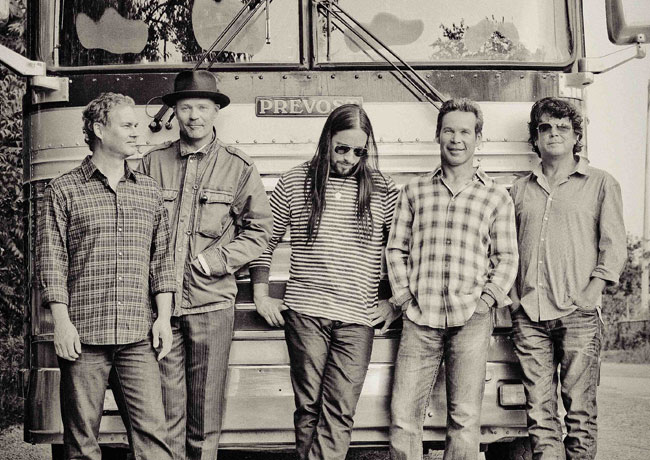 The Tragically Hip comes to Edmonton for likely the last time Thursday and Saturday – and rave reviews have been pouring in since the tour opened in Vancouver last week.
That's rather unsurprising given the nature of this tour. In May, singer Gord Downie was diagnosed with one of the deadliest forms of brain cancer. He's been feeling well enough after treatment to perform a nation-wide tour behind the band's newest album, Man Machine Poem, which had already been finished before he got sick and was released a month ago.
This could very well be the last time fans ever get to see the band perform.
That's a shame, of course, but the entire music community of Canada can also stop and look back at the immensity of the Tragically Hip's contributions to all of its facets. Not only their music itself, but their general Canadian demeanor, the trail-blazing attitude that was demonstrated again and again.
And while they never gained much success outside our borders, within they have demolished Canadian charts continually, ever since their first full-length, 1989's Up To Here, which spawned such remarkable songs as Blow At High Dough, New Orleans Is Sinking, and 38 Years Old. Songs you'll still here on a regular basis on a variety of radio stations. That marked success has continued all the way through the present day with Love Is A First in 2009, and At Transformation in 2012. And lest no one forget, this is a live band. Best seen in an outdoor venue, the sun blazing overhead or starting to dip down over the horizon, Gordie in full-blown rant mode about the latest political issues, mixing important messages in with some of the best rock music Canadians will ever hear.
A lot of people have had a lot to say about what the band has meant to them, meant to music, meant to Canada, over the years, ever since Gord Downie and the band announced this tour and his battle with cancer. And while those have all been beautiful homages, the truth is, words can never, ever say enough about what Downie and his crew have meant to any music fan or musician over their illustrious career. We owe them a debt of gratitude that will never, can never, be repaid. So go on out and cheer your heart out for them one more time. And if you come home and you're not Tired As Fuck (as per their most recent single), then, well, you've probably done it wrong. Because Gordie and the band are sure to be.
Showtime at Rexall Place on both Thursday and Saturday is 8:30 pm.
Thursday 28
Maria Phillipos, David Unsworth and Megan Keirstead – This bill features three up-and-coming young singer-songwriters. Catch 'em before they get all famous and stuff. Bohemia, 7 pm, $7.
Hush Pup with Prince Bunny – The headliner is a dreampop act from Ontario, whose most recent release is a split 7" with Mystic Triangle from last summer. The other band is a local project that mesmerized and captivated the audience from start to end during an open mic performance at this same venue a couple of weeks back. Lead vocalist Ana Klahr not only has an incredible voice that could be an instrument in itself, but her guitar soars and weaves, grinds and bucks, like few others in the local scene. Waitress is also on the bill. Buckingham, 8 pm, $10 at the door.
Econoline Crush – These Vancouver alt-rockers had some decent success in the late 1990's with songs like All That You Are (x3), and Surefire (Never Enough), as they released three albums over the 1996-2001 span. They disbanded as frontman Trevor Hurst efforted another project, simply called Hurst, but then reformed in 2007, recorded a new album in 2008, and continue to tour to this day. Dead Honey and King Of Foxes are also on the bill. Needle, 10:30 pm, $18. BUY
Saturday 30
Forbidden Dimension – This all-psych bill features this Calgary band, who have been hard at it for almost three decades. Also on the bill are new psych favourite Fever Feel from Calgary, and local act Pig Vibes. Sewing Machine Factory, 9 pm, $10
Switches – This local lo-fi project has been gaining more and more steam over the last year or so. They're headlining a bill that also features Calgary band Pre Nup, mostly made up of members of Grown-Ups; and MOSFETT, who combine punk, grunge, and alternative. Almanac, 9 pm, $10.
Sunday 31
Jon Cleary and the Absolute Monster Gentlemen – Cleary, originally from Kent, England, is a New Orleans funk/R&B master. He's performed with a number of legendary luminaries over the years, including Bonnie Raitt, Taj Mahal, B.B. King, Ryan Adams, and Eric Burdon. He's currently fronting his own project, as named above. They've released a pair of albums, including Go Go Juice, which won the Grammy Award for Best Regional Roots Music Album in 2016. The Rooster Davis Group also perform. Needle, 7 pm, $20. BUY
Monday August 1
Walter Tv – This alternative-experimental trio with a Mac DeMarco connection has a few releases over the last six years, including last year's Blessed. They're joined by some heavy hitters in the local music scene, namely OJ Pimpson and MS DOS, as well as Morewine. Almanac, 8 pm, $10.