The Tragically Hip's heartbreaking goodbye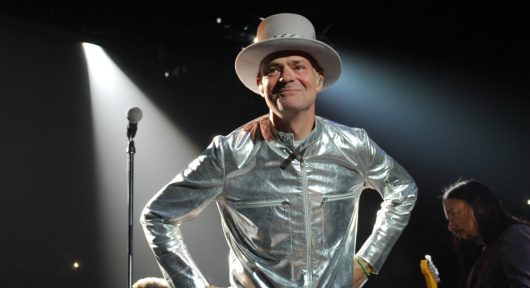 Gord Downie is wrong about one thing: Courage does matter, and it couldn't come at a better time.
Without courage, he could never have mounted what may well be the last Tragically Hip tour ever – in the face of a devastating diagnosis of terminal brain cancer. The 52-year-old singer is obviously feeling well enough after treatment that he delivered an incredible performance at Rexall Place on Thursday night – intensely focused, emotionally-charged and rich in his trademark nuanced body language, with a distinctive voice that remains in top form. Downie was going for it. You wouldn't know anything was wrong if you didn't know.
But most us did, of course. The Hip is not calling this a farewell tour, though it had much more impact than so many faux-farewell tours by so many entertainers before them. For the people who have taken the bad news as if he were a close friend, it might be easy to imagine that in every song Downie sang and every move he made that he was saying goodbye. He gave extra emphasis in the line from the song called Courage, "It couldn't come at a … WORSE … TIME!" They played So Hard Done By and Scared and Escape Is at Hand for the Travellin' Man – and it's easy to read greater new meaning into those.
Downie himself appeared to tear up at the end of the show, in the second encore, buoyed by roaring cheers from 18,000 fans. It was a moving moment. The cheers didn't seem to end. People were literally crying in their beers. This has to be the most heartbreaking rock concert in the history of the Edmonton coliseum.
Yet it was all about the music. After umpteen times through these parts over more than 25 years, this show was all Hip in its concentrated, primal form. No frills, no tricks, no special effects save for the various coloured shiny suits and natty feathered hats Downie rocked. The band members – with Paul Langlois, Rob Baker, Gord Sinclair and Johnny Fay – clustered together under white lights as the show began with the favourite Little Bones, as if they were playing on 10 feet of stage in some tiny bar.
The band expanded in several ways as the show went on, into jazzy esoterica with songs like Luxury, and a good deal of new material from Man Machine Poem, which just came out last month and had been completed before Downie got sick. Later came the heavy hitters. There was no New Orleans Is Sinking – but it wasn't missed. Every set list is different. Saturday's show at Rexall might have it.
Downie didn't say a word until the end. Then he joked, "Thanks for putting up with me while I rehearse my show. I'm going to get it down!" He spent a lot of time thanking people who couldn't get enough. In Ahead by a Century, he sang the line, "Disappointing you is getting me down" while grinning and holding up his fingers in the universal sign of "small penis."
He turned serious again and shouted at the crowd, "Take care of each other! Right?! Take care of each other!"
There were times one might have almost forgotten the underlying sombre occasion. It didn't feel like a sad goodbye. It was an inspiration: Triumph in the face of adversity, courage in a dark time, a lesson to live life to the fullest. Most of all this was a rock show – a place where being in the moment counts for a lot.