Folk Fest vs. LRT: A hill to die on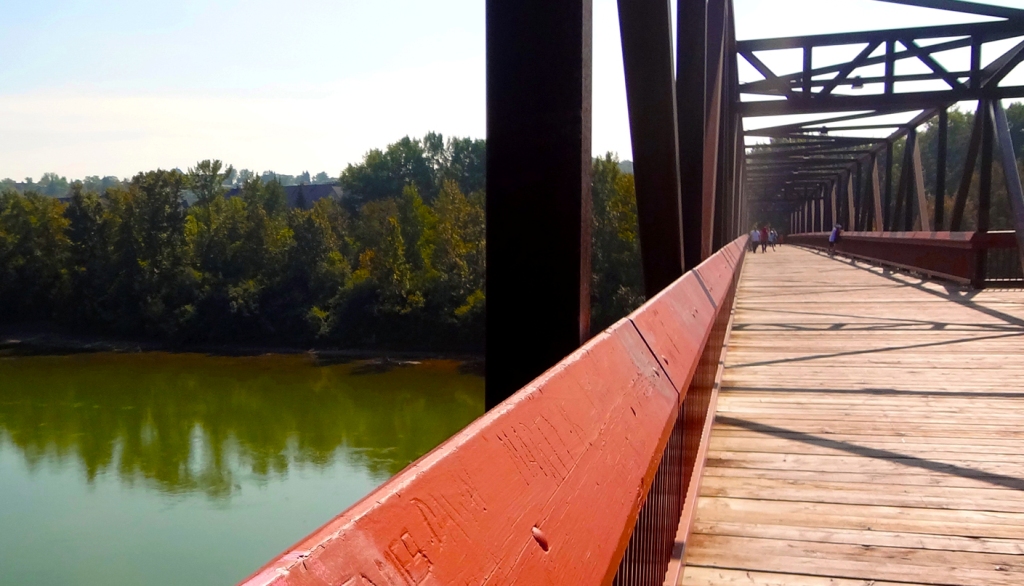 There's a mild controversy literally surrounding the Edmonton Folk Music Festival this year. Like a lot of Edmonton gripes, it's over a bridge.
Folkies may have noticed they can't walk over on the Cloverdale footbridge anymore. The City has already started breaking it down to make way for the new LRT Valley Line, to be completed by 2020.
The project is opposed by the Save Edmonton's Downtown Footbridge Community, which has staged protests and saw two of its members, Eric Gormley and Kristine Kowalchuk, arrested for blocking a tree removal in April. The public mischief charges have since been dropped. The quibble isn't with public transit, but with the plan to demolish a historic and perfectly good bridge with parkland at either end. The SEDFC maintains there's got to be a better way. The City says there isn't.
The folk fest is in favour of the project – mainly because there will be two LRT stops near the festival site.
"It's pretty hard to be against mass transportation from our position," says Terry Wickham, producer of the annual event that's been such a pain in the ass to get to all these years. He, too, says he loves the Cloverdale Bridge. It's one the first dedicated footbridges in Edmonton built as part of the Capital City Recreation Park in the 1970s.
Folk fest board member Bob Meyer was the LRT liaison, attended many, many meetings since 2008, and seems clear that this is the right thing to do.
"Parkland was being disturbed to put in that bridge originally. It has to do somewhat what people are used to," he points out, asking us to imagine 25 years in the future with new parkland, and a nice, wide walkway with a quaint little train trundling over top. Maybe Justin Bieber will be headlining the folk fest by then.
Meyer answers the question of why they can't just open the footbridge for the four days of this year's folk fest, "The South end of the bridge is no longer attached to the river bank."
Demolition is scheduled for September.
Gormley and his posse haven't given up. In July, he was allowed to attend a folk fest board meeting, present his case and ask for a letter of support. Though he says they were all very nice, the board declined. Gormley reads from a letter he got a couple of days later: " 'We can only trust that the City did its due diligence in determining the optimum route based on engineering and cost considerations.' "
He responds, "It almost sounds to me that the folk festival needs to revisit its own roots if engineering and cost considerations are the most important things to them."
That's about the hardest words he has.
Wickham says, "We're sorry to lose it, too. I can't tell you whether they needed to do that or not. We're not engineers … Our due diligence is to do what's best for the folk festival – and I think we did that very well."
Gormley says, "I think the folk fest got blindsided by the City. 'Oh, we're going to build this great thing to get to the folk fest,' and at first blush everybody was yeah, yeah, but only later on reflection did they realize it was too hard for them to turn back."
He adds, "We are definitely in favour of public transportation – but transit should replace cars, not parks."
As mentioned, this is a mild controversy between people of similar political leanings who, in the end, seem to be on the same side. There will be no protesters at the gates of Gallagher Park this weekend, no call for a boycott. Gormley is in fact attending this weekend.
"I love the folk fest," he says.
He may be spotted wearing his "Save the Footbridge" pin. No T-shirts available.