MUSIC PREVIEW: The Rock must go on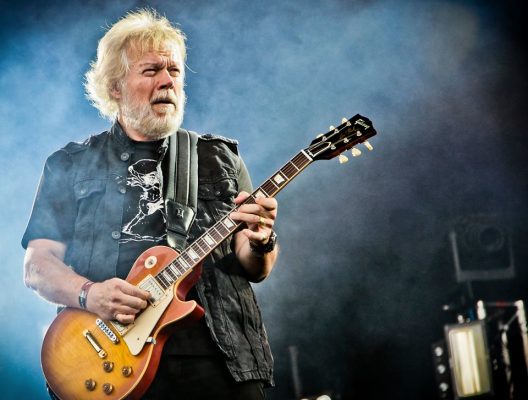 The letdown for all the folkies from the Edmonton Folk Music Festival is indeed palpable.
There are a number of well-heeled mavens in the city who believe, and it's quite possibly true, that the vast majority of folkies don't go to many shows the rest of the year. It makes sense. After all, 100,000 people attend the folk fest over four days – and then they go where for the rest of the year? The same way bands can sell out at $100+ tickets in Rexall, but you might get a couple dozen people to attend another touring act for $12 at a smaller local venue.
Be that as it may, there are some wicked awesome music options in and around town this weekend, starting with the Edmonton Rock Music Festival, which takes place down at Hawrelak Parl (blues lovers should be on standby, the following weekend Hawrelak hosts the Edmonton Blues Festival). The lineup includes a bevy of heavy hitters who need no introduction, including Friday night's headliner Randy Bachman (above). After co-founding the Guess Who, then Bachman Turner Overdrive, and even in between, he's recorded innumerable albums, the most recent of which is last year's solo release Heavy Blues, inspired by the sound and vibe of said genre during the 1960s. David Wilcox will also perform the same evening.
Saturday features a pair of 1980s CanCon mega-acts. Why not go for a soda with headliner Kim Mitchell, or have some faith with 54-40? Lou Gramm, vocalist for Foreigner from 1976-90, and then again from 1992-2003, is also on the bill, as are local award winners Rend. The latter is also headlining their own gig on Friday night at the Needle.
Tickets for the ERMF are available on their website.
Thursday 11
Jom Comyn – This local indie rocker's EP from last year, The Black Pits, was the follow-up to one of the city's most scintillating full-lengths in a long while, 2014's In the Dark All The Time (All the Time, All the Time). With Montreal's ambient-folk act Old Haunt, and Sister Ray. Buckingham, 8 pm, $10.
Friday 12
All Hail the Yeti – This Los Angeles metal band, scurrying around the fronds of the metalcore and stoner metal sub-genres, is touring to support their sophomore release from earlier this year, Screams from a Black Wilderness. With Final Drive, Mothercraft, and Black Friday. Brixx, 8p m, $10. BUY
REND – One of the biggest bands in the city, and recent winners of the Edmonton Music Award's Rock Recording Of the Year for Skin and Bones, headlines an extraordinary bill that also features Two Bears North and TAT. Needle, 9 pm, $12. BUY
Saturday 13
Element Orange – This local alt-rock quartet is hosting a release party for their newest EP, along with friends Hungry Hollow and Hazeldean. The latter recently opened up for The Dudes at the Needle, and recorded some songs with the help of Blair Drover (Audio/Rocketry, Desiderata). They are definitely on their way to the next level of the local music scene as well. Brixx, 7:30 pm, $10. BUY
Mocking Shadows – This Calgary blues band infuses healthy doses of reggae and soul into their sound. Needle, 9 pm, $10. BUY
Sunday 14
Sturgill Simpson – This Kentucky artist is leading a new charge in the country music scene, with many comparing him to Waylon Jennings, but also at the same time modernizing the sound, and including a healthy dose of Americana influences as well. Call it what you will, but he is undoubtedly one of today's most captivating songwriters, and performers. His most recent album is from April, called A Sailor's Guide To the Earth. Union Hall, 7 pm, $35. BUY