Rockers rock Edmonton Rock Festival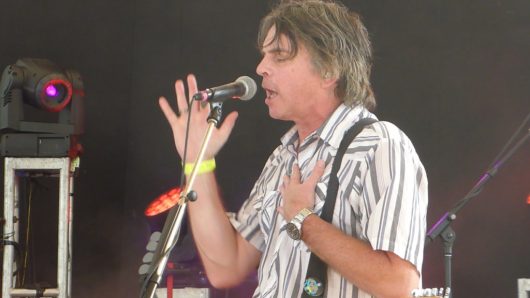 People like Kim Mitchell and Randy Bachman have played here so much that we take them for granted. These guys are world-class artists who've put a lot of rock standards on the scoreboard, but around here they're just part of the landscape, ignored, sometimes even scorned by younger generations. If you miss them now, hey, catch them down the line at the next casino gig six months from now.
It's an unfair perception, especially considering the great performance by Kim Mitchell on Day Two of the Edmonton Rock Music Festival in beautiful Hawrelak Park on a hot August Saturday night (speaking of amazing landscapes locals take for granted). Minus his early stringy hair but none of his formidable chops, Mitchell painted a picture of heaven that only exists in a rock 'n' roll universe – by a lake, got an open bar, patio lanterns, rock all night, party every day, leather vests for everyone! Never seen so many leather vests.
"You're a fine bunch, I tell you," Kim said, and he meant it.
None of the almost 3,000 fans appeared to be taking one of Canada's greatest rockers for granted. They were drunk. Also, the band was terrific. Mitchell's voice was strong, his electric guitar skills on par with Eddie Van Halen, and his wit was keen. In a set peppered with absurdities and impressive musicianship, the finely-honed band polished off the hits with a distinctive sound that approached art rock without actually turning into Rush. Max Webster was pretty proggy for its time. Notable was bassist Peter Fredette, who took a wicked turn on lead vocals in the haunting All We Are.
These guys may be closet jazz musicians, but their specialty is rock 'n' roll songs about rock 'n' roll. Rock and Roll Duty was performed. Second song of the set was Rocklandwonderland – which is in fact a rock song about a rock song about rock. Existential. Typically bizarre, often ridiculous lyrics were backed by lush and unconventional chords. Mitchell said it best, "There are no wrong notes. There's just better choices."
Life metaphor alert. The overall mood suggested this rocking celebration of rock was deeper than it seemed.
Neil Osborne from 54-40 (top picture) was on stage earlier, and put it like this: "It's about spirit! It's about soul!"
Here's another great Canadian rock band people take for granted: Big in the 1990s, known for a few major hits, not quite Randy Bachman territory, and dependably working its rootsy West Coast brand of rock ever since.
The band showed many sides. There's the head-bobbing popsters of I Go Blind and Ocean Pearl, the country punks of Radio Luv Song, and an epic performance of Casual Viewin' that would've brought out the Bic lighters if they would've done any good in the blazing sun of the late afternoon. Osborne hammered home the inspirational lyrics, "Lost and feeling down, you just get it off your back, let it fly away."
Here we have another dependable, creative and sadly underrated Canadian rock band, winning over audiences one at a time with talent and sheer determination.
Speaking of which, another big attraction of the Rock Fest was Lou Gramm – voice of Foreigner in a late Saturday afternoon show and the token American in more than 10 acts over two days. His set was a case of, "Oh, yeah, he's the guy who did that song" – Midnight Blue, Just Between You and Me, Urgent, and more. Foreigner was a hit machine, sometimes to the point that their hits became disconnected from their creator, and Gramm was there for important chunks of it.
He's doing well despite having had brain surgery in 1997. Kim Mitchell, meanwhile, suffered a heart attack early this year – and you wouldn't know it from his performance. Rock 'n' roll may be hard on a person, but its life-giving powers are pretty obvious.