FRINGE: 4 spooky shows
Occurring in the doldrums of August, the Fringe might not seem the likeliest place for spooky tales. But each year always presents at least a few shows that dabble in the darker side, that smack of the paranormal, or that aim to generally give the audience a few thrills and chills. They aren't in particular abundance this year; maybe it's because we've had plenty of real-world horror already this year.
The following selection of shows are based around the horror genre, but that doesn't mean that they are actually scary—in fact, most of them are also labeled as comedies. Processing frightening stuff through laughs is an understandable, ancient impulse. Still, a couple of the ones below give a few legitimate chills, if that's what you're after.
70 Scenes of Halloween (BYOV 17)
3 out of 5
Topping the list of scary Fringe shows is Edmonton Actors Theatre's production of Jeffrey M. Jones' 70 Scenes of Halloween (right). This version is directed by Dave Horak, who's recently coming off the high of cleaning up at the Sterlings for last year's Burning Bluebeard.
Jones' abstract, postmodern script is an appropriate choice for a Fringe show, and chilling in its own right: with no conventional plot to speak of, the show unfolds as a series of scenes which begin chronologically but quickly fracture into a non-linear flow. It's Halloween night and a couple is arguing about candy corn. Then, they are sitting stock-still, reciting a creepy incantation while a wolf-man lurks in the window behind them. That wolf-man is soon joined by a witch in a pointed hat and gauzy-draped ghosts, who flit around the human occupants of the house (which has blood-spattered walls, to finish invoking the Halloween spirit).
The four performers slip in and out of each other's roles, with no one staying the same person for long – not that we never ever really found out who they were in the first place.
Kudos to them for handling the ambulatory script so well. Still, there's no escaping the tediousness of the script, which begins to feel downright purgatorial as time wears on. That's scary in its own right, though the most terrifying part of the show isn't its flagrant defiance of logic, but rather the horror of trapping us in dysfunctional suburban hell.
Hitodama (Venue 8)
5 out of 5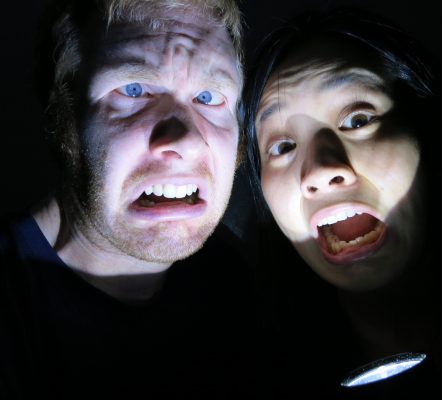 Everything about this show is charming, from the stunningly intricate paper shadow puppets to the pair of performers dexterously manipulating those puppets, as they kneel beside a bright light that casts the shadows up onto a big projection screen behind them. The Winnipeg-based duo – Canadian artist Daniel Wishes and Japanese artist Seri Yanai (right) – are from the Mochinosa Puppet Company, who were in town last Fringe with their sexy shadow puppet show, Oni. This year's Hitodama takes a spooky turn, spinning four tales culled from Japanese folklore. Our narrators are the Old Priest (Wishes), who has a Crypt Keeper-esque penchant for bad puns, and Hitodama (Yanai), a ghostly ball of blue light that haunts cemeteries.
Fans of super gory Japanese horror films will have to look elsewhere for their fix, but there are some legitimately creepy things in the tales the performers set forth. Any truly scary edge is tempered by the sheer hilarity of the performance. The whole show is a riot, with the duo playing perfectly off one another. While at times a little cheesy in the way they set up some stage shticks, it's endearingly presented. Plus the puppets are just seriously so well-done, the show is worth seeing for those alone.
Seance! (BYOV 17)
3 out of 5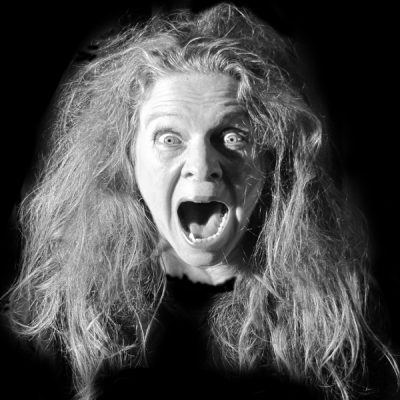 The spiritualist movement peaked in the 1920s, which is the setting for this 20th anniversary edition of Seance! Upon entering the theatre, audience members are given a sheet of paper advertising their invitation to attend the séance hosted by Johnathan Medhurst (Phil Zyp) and facilitated by "the greatest medium alive today" Ava Fournier (Clare Mullen). On the back is a large black circle and a straight line; a string attached to a paperclip dangles from the upper left corner. Audience members will use that paperclip as a pendulum, under instructions from the host, to help get the psychic energy flowing prior to starting the really spooky stuff.
The show delivers on its promise of showing us what a typical spiritualist session was like back in the early 20th Century. The show begins with a few parlour tricks. Ava guesses at the serial numbers on a $20 bill in someone's pocket, and then correctly surmises the questions that a few people had written down before the show started (and offers a few words of wisdom as to their resolution). The scenes throughout the rest of the show could have come from any spiritualism casebook: a medium tied up behind a black curtain while a bell is mysteriously rung and musical instruments are played by some unseen forces. Those tricks were quite good; much better than the ones that started things off. Things start getting actually spooky when the lights go out and the spirits make an appearance, but that was unfortunately too brief to really cause chills. The story's conclusion is nice and tidy, albeit a little clichéd. I think we all wanted a bit more of the ghostly stuff.
Bat Boy: The Musical (BYOV 39)
4 out of 5
This is everything you could possibly want in a Fringe musical: a buoyant, energetic cast, a complex rock-pop score that's dexterously handled, and an irreverent, quirky premise.
We begin in a small West Virginia town, where the infamous Bat Boy is discovered in a cave by some local teenagers. Yes, the same Bat Boy that gained notoriety and cult status on the front pages of the Weekly World News tabloid back in the 1990s. This musical fleshes him out with a robust back story and even a heartbreaking romance. A weird premise, sure, but this cast carries it off perfectly.
It's not really scary – save for the revelations about Bay Boy's origins, which are horrifying indeed. Then again, some musical theatre purists might find the notion of a tabloid-inspired musical truly chilling (especially one as longstanding as this: Bat Boy has been running since its off-Broadway inception in 1997).
Were they to attend this production, they just might change that tune.