FRINGE: 4 swell musicals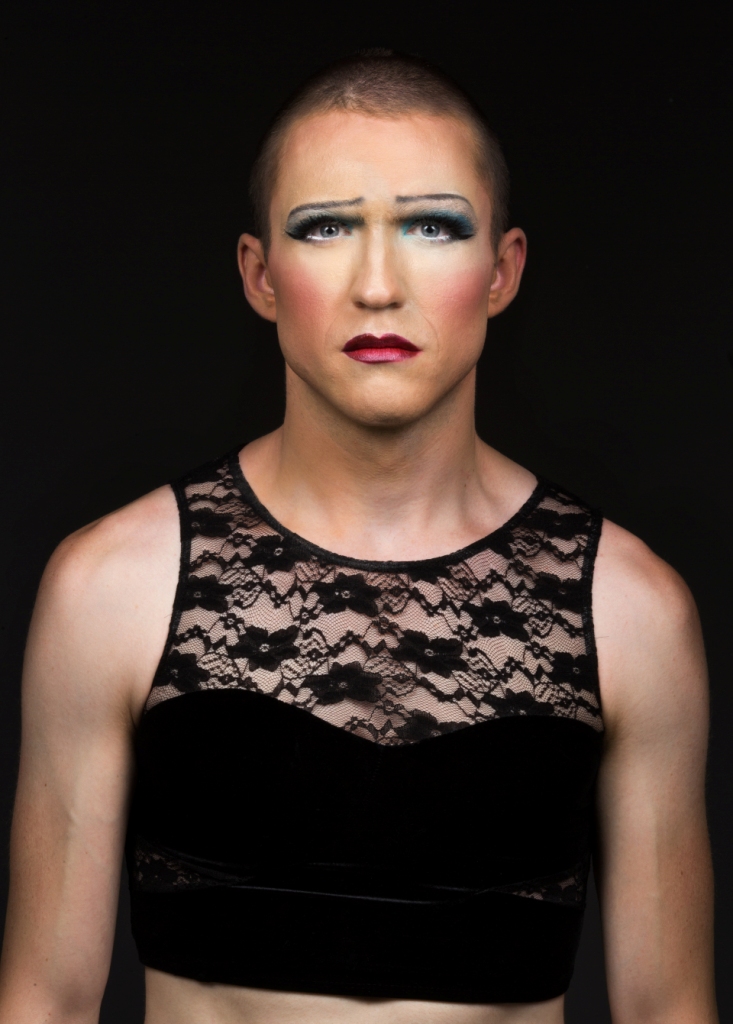 The Fringe is oft a bouquet of music, a transport of melody or even a delirious grab bag of song and dance.
Let's start with the delirious. There was once an East German girly/boy named Hansel who longed to be a singer in a rock band. He also wanted to be a girl but the operation was botched leaving him/her with an "angry inch." Hedwig and the Angry Inch (BYOV 27) is a wicked, surreal, glam-punk-rock musical that pulls back the layers of Hansel's (now Hedwig's) life of loneliness, lost love and betrayal, and how it all finds expression in his/her music.
The story is epic in scope but intimate in its portrayal of a life lived way out there.
In other words, perfect for director Linette Smith and her amazing Scona Alumni Theatre Co. No, it's not an end-of-year project for Scona High but a return of some of their most talented graduates of recent times. Their edgy productions for the Fringe would turn your mother's hair white, but have always been presented with a mature approach, regard for the material and a sense of discovery. Past productions include Rent, Spring Awakening, and American Idiot.
Smith's direction and furious choreography is assured – riotously creating the topsy-turvy world of the "internationally ignored" rock singer. The rock-star energy of the performances light up the gymnasium that Smith has turned into a respectable theatre.  The heat can get oppressive in the hall, the seats are uncomfortable and you're in for a 90 minute assault on the senses – but you won't notice.
Notable is the scorching, highly physical performance of Chris Scott in the central role. Everything about Scott is outsized – his personality fills the hall and his clarion voice and swagger is pure rock and roll. He also reaches beyond the wigs, garish make-up and transvestite trappings to uncover the pain, anger and final acceptance underneath. I doubt if you'll ever pay only $13 to see this electric talent again.
Hedwig's largely silent and much abused musical partner, Yitshak (MacKenzie Reurink), also has a voice made for rock but stands out when she sings a lovely solo ballad. The propulsive house band under Matt Graham rocks Stephen Trask's throbbing score as do the three energetic back-up singers.
When the genuinely overpowering climax was over, the audience was on its feet.
5 out of 5
***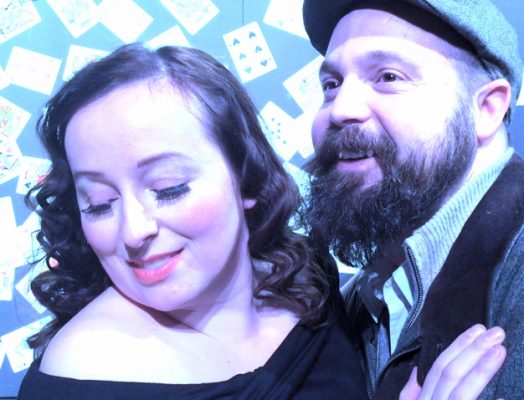 I'm not one for laundry lists of performers in shows but it's hard not to take a look at the players in director Davina Stewart's Song of the Martingale (BYOV 12) and not be impressed. To mention a few – Andrea House, Dana Andersen, Bob Rasko and Paul Morgan Donald supported by an ace seven piece band.  The show is a recreation of a '50s radio-style musical program (as devised by House and friends).
As a platform for House, the show is a great success. The lady has a voice that should be declared a national treasure. She shares with Streisand, Garland and Dion the special ability to make each song unique. There are no throwaway songs in her repertoire. During the 80 minutes or so you'll hear memorable versions of Fever, Hound Dog (House takes it far beyond the commercial Presley approach into its juke joint origins), a couple of country songs including One Scotch, One Bourbon, One Beer, Georgia, plus How Sweet It Is, and several others. I could still hear that wonderful, warm expressive voice in my ears hours after the show ended.
The rest of the show is a long shaggy dog story that starts off with some heart and then wanders about the country going nowhere in particular. It begins in Edmonton, moves to St. Paul for the 1967 building of their UFO landing pad then off to a zinc mine in BC. Much of the story depends on coincidence and an unearned sense of wonder. And then there's a weird thing that happens with the narration. It's supposed to be a radio program (with live sound effects and all) but the delivery, with starts and stops, pauses and eccentric timing would never work on the air. Or for that matter on stage.
There are some terrific old time slides to illustrate the times.
3 out of 5
***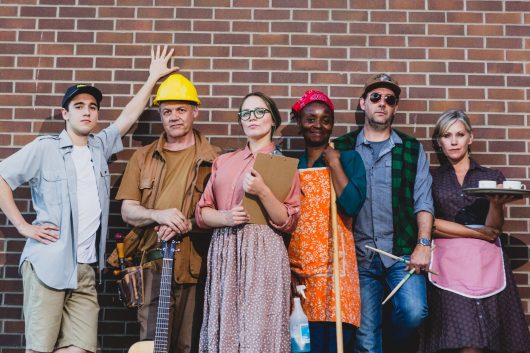 For those of a literary bent, the Plain Janes are presenting Working (BYOV 12), a musical based on the best-selling real-life stories of working people written by the late Chicago commentator Studs Terkel. It wasn't a great success – running for only 24 performances on Broadway in 1978. But that's catnip to Plain Jane. The company's guiding force is Kate Ryan, who has an encyclopedic knowledge of the Broadway musical and its mandate is to find shows that have failed for some reason or other (or have passed from memory), dusting them off and giving them a new technicolour dream coat of gloss.  Their Fringe track record has been impressive including such hits as …It's Superman!, The Bells are Ringing and Fiorello!
With Working, the company has rung the bell one more time.  There's no plot. The Stephen Schwartz (pre-Wicked) book and music is more a revue than anything else. Songs are by Schwartz, Lin-Manuel Miranda (Hamilton), James Taylor and Micki Grant, among others. These are stories of cleaning women, waitresses, housewives, firemen, caregivers and the like set to music. Some are funny, some quite touching, all are tuneful and the final effect of the show is remarkable.
Ryan's industrial-strength cast includes Christine Bandelow, Aidan Burke, Althea Cunningham, Kevin Dabbs, Paul Morgan Donald and Madelaine Knight. Some stand-outs are Bandelow for her heartfelt delivery of the common put-down of the lady who stays home – Just a Housewife. Later she sings of an innovative waitress who demonstrates that waiting tables can be "an art." Paul Morgan Donald invokes a moving pride-of-labour in his tribute to a stonemason. Kevin Dabbs' fireman daily puts his own life on the line to save others. Aiden Burke and Madelaine Knight have a moment as two care workers who look after people at the beginning, and end, of their lives.
"It's a dying breed, the labourer," observes Mike the Ironworker.
Given the near death of the honest labour of yesteryear, the comment is sad but true. But Mike and many other workers live on in this superlative production.
5 out of 5
***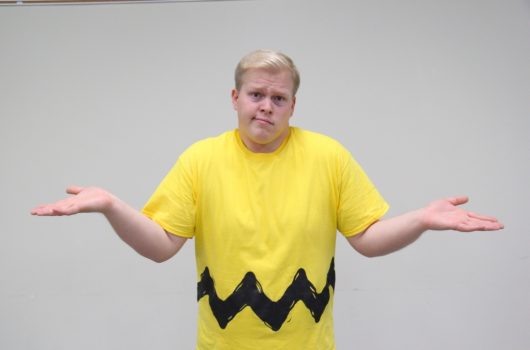 And now from Hedwig's journey through hell to Charlie Brown's futile effort to keep that darn kite out of the tree. Yes, You're a Good Man Charlie Brown (Venue 11) is back at the Fringe in a spiffy production from the Opera NUOVA folks. The company is an Edmonton institution that specializes in training classical singers. And this year they find themselves in the Fringe with Clark Gesner's pocket musical.
They handle the switch from Saracini to Snoopy very well. Much of the charm of Peanuts is often the small voices in keeping with the small people presented and, with the solid support of Randy Mueller at the piano, the young cast of BFA artists is certainly up to the job.
Charlie Brown appeals to all ages. Kids can relate to the insecurities, doubts, daydreams and emotional pitfalls of growing up. And for those of us who are older, well, it's like meeting the old gang and finding that they haven't changed a bit.
Kim Mattice Wanat's direction is sympathetic and creative but most of all picks up on the show's sense of fun. Corben Kushneryk's Charlie is a gentle fellow who walks the thin line between being a whiner and just a kid trying to cope with his (many) failings. Emma Houghton is a vulnerable, silver-voiced Sally. Billy Brown's Linus forms a real relationship with his ever-present comforter in My Blanket and Me. Jake Tkaczyk brings to his Schroeder a fine voice and a dimensional personality. Jordan Sabo's Snoopy is a comical dog with human characteristics and tears up the place with his hilarious scenery-chomping set piece Suppertime. Lucy, who (as one critic observed) will someday become either a serial killer or a congresswoman, is (of course) THE role and Sarah Ormandy takes an obscene delight in being evil.
Yes, you can become a kid again with You're a Good Man Charlie Brown.
4 out of 5