FRINGE: 4 comedies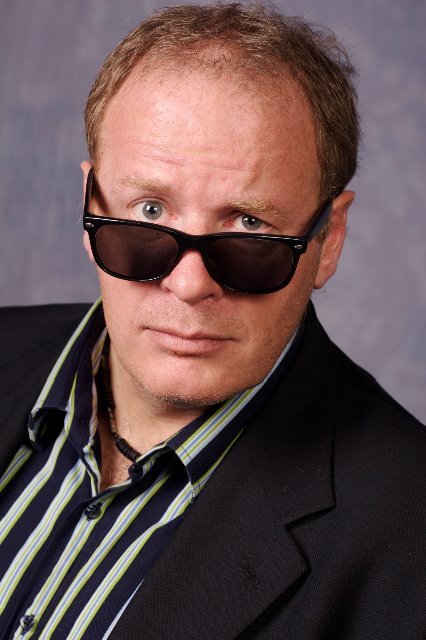 Laughter is the grease that keeps the Fringe rolling along. From sophisticated British burlesques to the pie-in-the-face American vaudeville farce, the comedy listing in the Fringe program is longer than any other – some 65 shows promise to get you laughing.
Here are four wide-ranging productions that you might consider.
There is a lively stand-up scene in Edmonton. Ask any comic who has survived the shark-like world of the comedy clubs and after-dinner speeches, and they'll probably say our best stand-up is Andrew Grose – host and headliner of the Fringe production billed the Edmonton Comedy Festival (BYOV 21)
The genial co-host of the afternoon show on 630 CHED, Grose puts on an impressive display of working the crowd, relying on abilities developed over many years of standing in front of audiences of all sizes and making them laugh. Like many great comics he uses his own life as fodder for his observations. He can be quite funny on the air, but hosting a radio show is not stand-up. He sharpens his delivery and timing for the stage while referring (kindly – the man is not Don Rickles) to his wife, his kids, his adventures on the road and his life in general. There is some language, but Grose is not a foul mouthed comic.
Grose brings a freshness, a unique timing and what seems to be a genuine sense of discovery of the humour in everyday life.
4 out of 5
***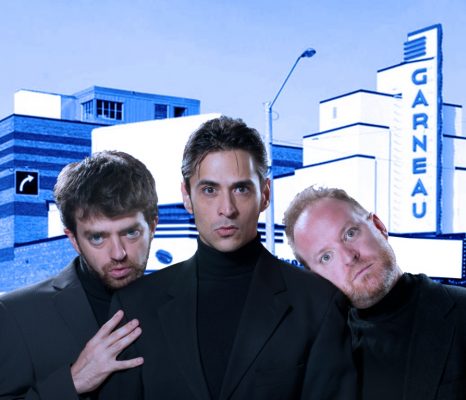 Let's add two more comics and move into a world where Edmonton is one of the recognized leaders – improv. Gordon's Big Bald Head (BYOV 26) is a long-time Fringe favourite. Earlier this week a near sold-out audience at the Garneau Theatre watched three master improvisers: Jacob Banigan, Chris Craddock and Mark Meer in their new show Grand Theft Impro VI. Just watching the Swiss precision of the three bouncing off each other is a treat. The great secret of improv is never to let the audience see you sweat. With this trio, the next line or the next wrinkle in the remarkably detailed world they create is always there. Ego never seems to enter into the equation – they are forever passing around the best punch lines.
As usual they ask for a Fringe show they can send up. This time the audience member chose the Collin Doyle-James Hamilton comedy about a marathon drinking binge, Nighthawk Rules. Right away they establish a character named Dick, which leads to unending dick jokes. As the plot develops, zombies emerge, pagan rituals are performed and the Nighthawk turns out to be an evil pre-historic creature that rises from a millenniums long sleep in a distant cave and takes to the skies seeking out our heroes. In the meantime the boys have been drinking their way through the alphabet starting at "A."
You know, it's that sort of play.
Agile and quick thinking as the trio are, improv is a dish best served in smallish bits and the show, at nearly 90 minutes, was too long. But funny.
4 out of 5
***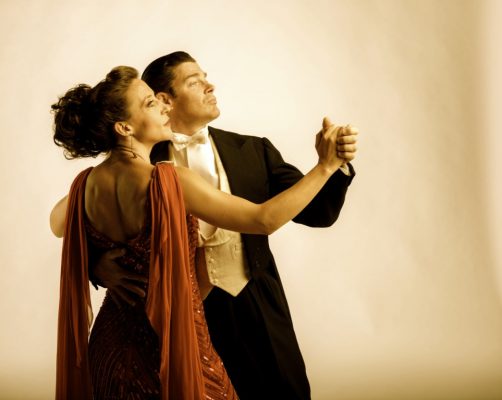 Opening up now to a full company of expert farceurs, you might consider two short plays by Noel Coward combined under the title We Were Dancing. Coward is best known for his oft-produced longer plays like Blithe Spirit, Private Lives and Hay Fever, but in 1936, under the title Tonight at 8:30 he wrote a series of 10 short plays for himself and his frequent stage partner, Gertrude Lawrence. The two plays presented here perfectly showcase Coward's talents as a playwright, providing a couple of sparkling, fast-paced theatrical gems.
The producing company in Edmonton is the well-named Bright Young Things and includes such practiced comic actors as Julien Arnold, Belinda Cornish, Oscar Derkx, Louise Lambert, Jana O'Connor, Garett Ross and John Ullyatt. WOW!
The two plays We Were Dancing (directed by Ullyatt) and Ways and Means (directed by Arnold) are clever and funny. The first play has a great start. Two characters Louise (Lambert) and Karl (Derkx) are found engaged in a steamy kiss. In walk three others and Louise breaks away and says to her new-found love. "I'd like to introduce you to my husband." Apparently Louise and Hubert (Garrett Ross) have been married for 13 years, but on this night – and in the middle of a dance – Louise, a sweet young thing with the smarts of a lawn ornament, has fallen completely in love with the spellbinding Karl. The rest of the play has them sorting things out while discovering some difficult truths about instant romance.
Ways and Means has the Cartwrights (Ullyatt and Belinda Cornish, pictured), two very posh but completely broke hangers-on trying to keep afloat a lavish lifestyle. They hilariously bicker (no one writes bicker with more acerbic humour than Noel Coward), make love and generally plot and scheme.
My, but this is an entertaining 70 minutes performed by a cast completely at home in tuxes and gowns and glorying in Coward's heady mix of comedy, brittle dialogue, sexual frisson and profound self-absorption.
4½ out of 5
***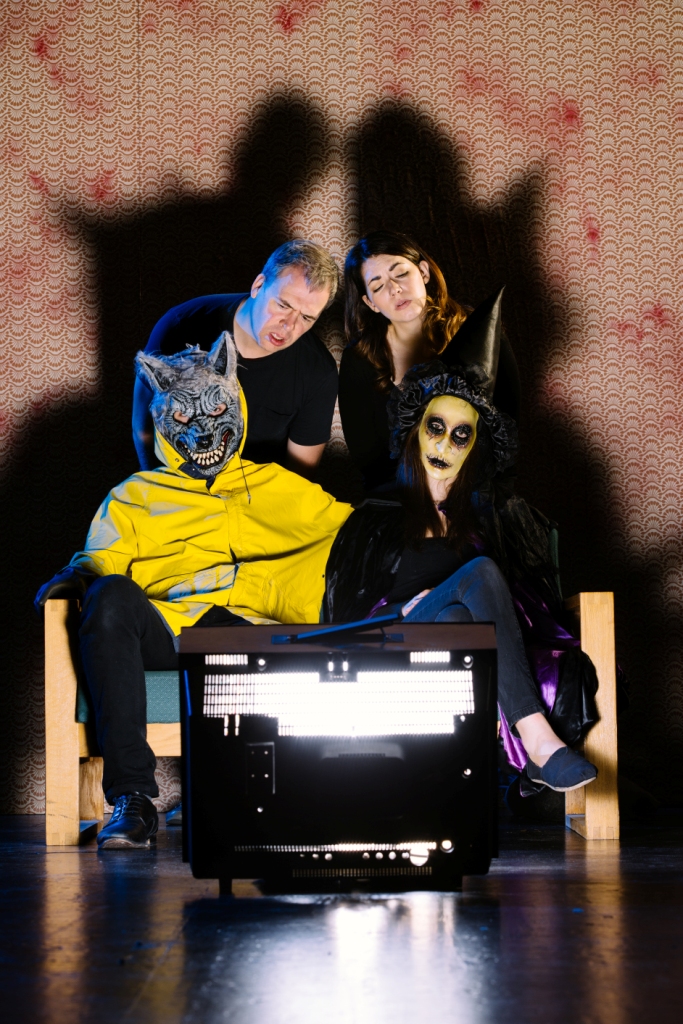 You might not find much laughter in the Edmonton Actor's Theatre production of Jeffrey M. Jones' 70 Scenes of Halloween (BYOV 17). In fact, you might find this head-scratcher not funny at all. It turns theatre conventions on their head while presenting a quartet of recognizable characters who seem perfectly at home in a world turned upside down.
I found the play witty and inventive.
The production, directed with gleeful disregard for common sense or the time-space continuum by Dave Horak, finds Jeff (Clinton Carew) and Joan (Elena Porter) sitting  disinterestedly watching television. They carry on the sort of bored, non-communicative conversations married people often fall into. Horak, the infernal master of ceremonies shouts "Scene 2" and sets in motion a series of short events that may take place on Halloween, but are much more about Jeff and Joan. There is a new Jeff and Joan (who are really the old Jeff and Joan) played by Gabriel Gagnon and Michaela Demeo. In a classic scene of disconnected connection, as the two shout at each other from opposite ends of the house, frightful Halloween characters appear at the window. No, not kids in dress-up, but actual werewolves, ghosts and witches. Soon everything is all mixed up – creatures, couples and coherence. You might find two werewolves watching TV while a ghost dances about the room.
All the while the hypnotic voice of the demonic director interrupts the short scenes with orders to begin a new one. Some are hilarious, some poetic, one is rendered in iambic pentameter, others are quite scary. There are moments of marital bliss and one quite graphic murder. Not that the victim will stay dead.
Horak is helped considerably by the fact that his quartet of actors could read from your iPhone instruction booklet and make it sound interesting. They don't have much time, but the real humanity they bring to the characters grounds the whole exercise in a whacked reality. The stories may be similar but the perspectives are radically askew.
All of this could come off as a humourless experiment in absurdist avant-garde, but Horak directs with a light, inventive hand and his adroit cast works to give each anecdote its own interior life.
It's not too hard to see the entire nightmare evening as an extension of Jeff and Joan's failing marriage.
4 out of 5