INTERVIEW: Has Zakk Wylde gone myld?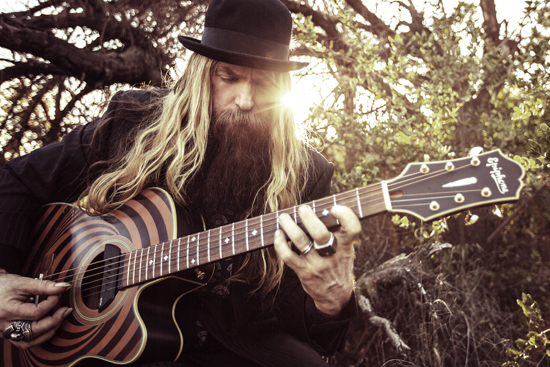 Zakk Wylde has been typecast as a metal dude for so long that it's taken fans some time to get used to his somewhat mellower direction.
On his "Book of Shadows II" solo tour, coming to the Ranch Roadhouse Tuesday night, one might even be tempted to call him "Zakk Mylde." Not to his face. Maybe at the end of a recent phone interview would be safe.
And it is. Zakk laughs. He's heard this one before, "Exactly! And then when I do the metal stuff I turn into Zakk Wylde."
Clear? Man of many facets, the 49-year-old musician was born Jeffrey Wielandt, grew up in New Jersey, and attended rock 'n' roll high school (that is, he practiced guitar all night and slept during the day when he was supposed to be at studying). He worked hard, paid some dues and in 1987 hooked up with Ozzy Osbourne for two long stints that Wylde calls "Ozzy Osbourne University." As anyone knows, "Played with Ozzy" is as much a claim to fame in the metal scene as "Played with Miles Davis" is in jazz circles.
Wylde was always great fun to watch with Oz, living up to his name as a shaggy, bearded maniac whose shredding sonic wheelies made him one of the most distinctive leadmen in metal. He has earned almost every accolade there is in the world of the hard-rock guitarist, and has been called "King of the Whammy Bar."
No such fancy gizmos exist on acoustic guitars, however – in the part where fans hold up Bic lighters during the quiet moments (because real rock demands a tribute of real fire). Except that it might go on all night.
Wylde explains that his change in direction isn't a change in direction at all: "I've always loved the mellow stuff as much as I love the heavy stuff. I love Led Zeppelin when they're doing Black Dog, but I love it when they do Going to California as well. With Oz, we'd do No More Tears, Miracle Man, but we'd do Mama I'm Coming Hone, Road to Nowhere, Time After Time, stuff like that. The mellow stuff's always been around there. To me, it's the same thing. It's not a shift or anything like that. It's just music."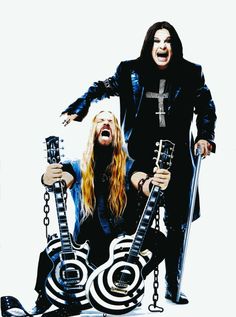 Wylde's been in a bunch of bands that run the gamut from mild to maniacal. During off time from Osbourne's solo tour, he formed a cover band called Lynyrd Skinhead, inspired by the legendary Dread Zeppelin, which had a fake Elvis singing Led Zeppelin songs with a reggae beat – "The way they were meant to be played!" says Wylde, who loves Led Zeppelin.
Fans will of course know his band Black Label Society that he formed in 1998 and has since released more than a dozen records – and this while still off and on with Oz. Another band called Pride & Glory was a side project. He is a hard worker.
Under his own name, Wylde released Book of Shadows in 1996 and its sequel last year. Although two decades apart, both display the guitarist's softer, mellower, milder side while expressing a dark worldview no doubt learned from his Alma Mater.
What he likes is the freedom to do whatever he wants.
"Oz will always be my home away from home," Wylde says. "When you do your own thing, it's almost like you move out of your parents' house, you got your own little apartment, it's yours, that's the whole thing: It's just freedom. Not that I didn't have all the freedom in the world when I was playing with Oz, 'cause I did. I was the guitarist. I played what I wanted to play."
Some might argue that such freedom is a luxury afforded only to those whose careers were allowed to develop before the music business started to suck – and then to suck the life out of so many promising new artists.
Wylde doesn't buy it.
"The bottom line is that if Alice in Chains or Soundgarden came out today, they would be just as impressive as they were when they came out when they did – and they're doing what they want to do. You have to hit it as hard as you can, get on the road and promote your band, that's how you do it. You can still have a career playing the music you want to play."
And for those who may disagree, "It's sour grapes, like when people say the only reason the Yankees win is because they have all the money – well, no, the Royals beat 'em. You know what I mean? And they're all young kids. They lost the year before. They could complain about it, or come back next year and knock their teeth out. Make up your mind what you want to do.
"With all the artists that we love, whether it's Led Zeppelin, Neil Young, Elton John, Fleetwood Mac, any of them, Black Sabbath, Bad Company, the Allman Brothers, Skynyrd, the common denominator with all these artists is that they play what they love. Look at Phish. I couldn't name you one of their songs. Obviously everybody says they took over from Grateful Dead when they handed the baton to them. Phish does a residency at Madison Square Garden every New Year's Eve – and I couldn't name you one of their songs. I can't name you one Justin Bieber song. I know he does stadiums. All the people that are successful, you never hear any of them complaining how the music business sucks."