WEEKEND MUSIC: Big hand for Fitz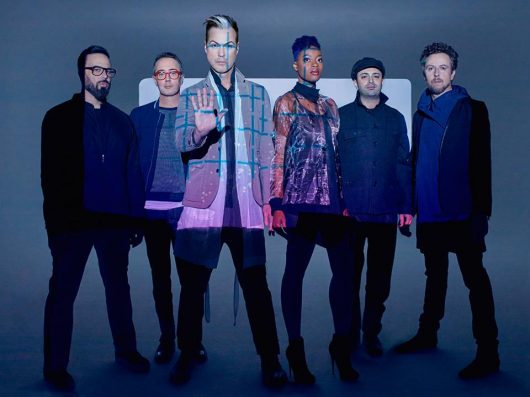 In the middle of festival season, a rare weekend without one finds Edmonton with a cadenced assortment of gigs both big and small. From Demi Lovato and Nick Jonas, and Volbeat, at Rexall Place, to a couple of gigs at the River Cree, to the smaller but equally vital smaller venues, there's a little something for everyone.
Of the lot, the most compelling gig may be Fitz And the Tantrums on Friday night at Union Hall. This Los Angeles indie-pop act has seen their ups and downs, at the forefront of the indie buzz world one year, then the next year not so much. But they are an incredibly talented lot, and their live show has received rave reviews across the continent and beyond. The band released their third album, an eponymous effort, in June, which included the track Handclap, which is quite possibly not only the catchiest song of the year, but also, again, one of the "buzziest". Phases also perform. 7:30 pm, $45, BUY.
Thursday 25
Wet Secrets – Earlier this year this Edmonton indie rock project released their latest EP, I Can Live Forever. Known as much for their onstage costumes of red and white marching band uniforms as they are for their sensational music, the bill also includes the ephemeral Marlaena Moore, who stunned crowds earlier this summer at Sled Island, and The Archaics. Needle Vinyl Tavern, 9pm, $12. BUY
Friday 26
Demi Lovato and Nick Jonas – The former is a Disney star turned pop sensation, with five full-lengths under her belt, and a pair of top ten hits, Skyscraper and Heart Attack. Jonas also got his start in the acting world, then went on to commercial success in the Jonas Brothers, before moving into a solo career. He has three solo albums to his credit; his most popular song to date is Jealous. There are a lot of great seats left for the show. Like, boatloads of seats. Rexall Place, 7 pm, $29.95 and up. BUY
Saturday 27
Volbeat – With about as opposite a show as possible from one night to the next, Rexall's offering this evening is this Danish metal band, showcasing their most recent release, June's Seal the Deal & Let's Boogie. Playing a fusion of rock, heavy metal, and rockabilly, the band has six full-lengths to their credit, and have regularly hit the US Mainstream Rock charts over the last seven years. Rexall Place, with Killswitch Engage and Black Wizard, 8 pm, $43.99 and up. BUY
Sawyer Brown – This Florida country band was founded in 1981 after the frontman for their previous band, Don King, retired. Their catalog comprises 16 studio albums, and a host of other live and compilation releases. The band took their name from a road nearby their practice space. River Cree, 9 pm, $62.50 and up. BUY
We Were Friends – This local power-pop group is releasing their newest effort, titled Little Friends. The quartet formed in 2013 and have quickly made a name for themselves after releasing a brilliant, torturous EP in 2014 called Let Them Howl. Ashley Hundred and the uber-talented Mohsin Zaman will also perform. Mercury Room, 8 pm, $12. BUY
Sunday 28
Homeshake – After a spell as the guitarist for Mac DeMarco, Edmonton-born Peter Sagar started working on his own material, a quirky and experimental but sooth and mellow indie rock collection of songs that he's released under the project name of Homeshake. Not far from the very genres DeMarco himself populates, but with his own slant, a little groovier, and a little more laid back. Buckingham, 7 pm, $12. BUY
Tuesday 30
Gipsy Kings – Regulars to both our city and our esteemed folk festival, this southern France group of ne'er-do-wells are known globally for their robust sound and grandiose live shows. Mixing rumba, flamenco, salsa, and folk, they continue to tour the world supporting their most recent album, 2013's Savor Flamenco, which won a Grammy Award for Best World Music Album. River Cree, 8pm, $52 and up. BUY