MUSIC PREVIEW: Sonic Boom blows up genres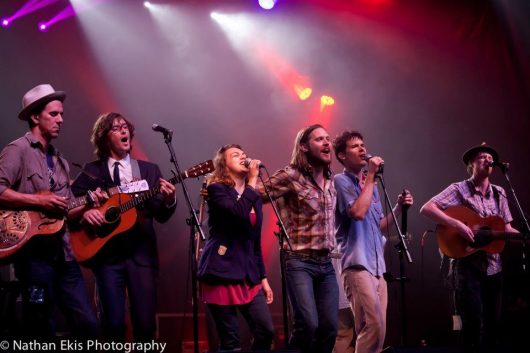 It's really very simple: If you like listening to the alternative rock radio station Sonic 102.9, you're going to love Sonic Boom.
This last festival of summer is like listening to Sonic minus the commercials – plus being at the mercy of the elements, food that's bad for you, there's line-ups for everything, and you wind up dirty, broke, deaf, missing a shoe, and way too drunk. Let's hear it for the "festival experience."
Several of Sonic's favourite bands are playing this weekend in Borden Park. Most have songs in high rotation, straddling that delicate line between alternative rock and flat out top-40 pop music. Top acts include Saturday's closer Twenty One Pilots, whose giddy, haunting lament of lost childhood Stressed Out struck a chord with disaffected youth of all ages, and there's more like it where that came from – and nobody minds they track most of their show because it's a duo. Also on Saturday is Halsey, with her big hit New Americana, along with Edmonton-bred July Talk and – before several more bands all afternoon – Edmonton's own The Royal Foundry kicking it off.
Ending it all on Sunday is The Lumineers (above), known chiefly for their big hit called Ho Hey. Or is it Hey Ho. These guys play a lot of festivals – and you can still hear their song on the radio. Not so alternative anymore, while modern rock is now old fashioned. Meanwhile, folk has boomed, and bands like The Lumineers reap the rewards. So does Vance Joy, who also plays Sunday – and it doesn't get much more folk than this expert ukulelesmith.
It becomes pointless to discuss genre anymore: "Rock" and "folk" are as woefully inadequate and outdated as "alternative" and "modern" to describe a great many new artists. Twenty One Pilots, for instance, fuses rock, reggae, folk music, rap, freeform poetry, space pop, 20th Century literature, hard house, and the kitchen sink into a furious concoction that packs as much punch as heavy metal. Where do you rack these guys?
And while most of the Sonic Boom acts are known for one big hit, maybe two, a festival like this is a golden opportunity to see – in real life, in real time, on the unforgiving live stage, exposed to the elements, etc. – if these artists are truly worthy of their hype.
Two day passes are $180, or $100 for each day.
Thursday, September 1
Rodriguez – Now here's a good rock tale: At the dawn of the 1970s, a Detroit singer-songwriter named Sixto Diaz Rodriguez made two records. They didn't do much at the time, and he slipped into relative obscurity. For years he enjoyed a modest career as a performer overseas – blissfully unaware in that in South Africa, of all places, he had inexplicably become bigger than Elvis. No one knew. Because Apartheid. It was a case of the right songs coming along at the right time to strike a chord with the oppressed people of South Africa. Rodriguez was sought out by two fans determined to find him and clue him into his enormous fame, as documented in the film Searching for Sugar Man – and now he's a huge draw in the rest of the world, too. Happy ending! Rodriguez finishes up his two-nighter at the Jubilee Auditorium here in Edmonton. With Arum Rae opening, 8 pm, tickets from $55 – almost sold out.
READ: More about Searching for Sugar Man
Jesse and the Dandelions – Simon and Garfunklesque, Crosby Stills Nash and Youngian, sorta Donovanish, a jot of Dylany, and all in one talented guy (with a talented band), Jesse and the Dandelions celebrates its album release – not a CD release – at the Needle Vinyl Tavern. With Raleigh and Cantoo, 9:30 pm, $12 advance
Friday 2
ATB Financial Symphony in the City – Let it go, let it go, can't hold it back anymore – is Frozen still a thing in your household? Perhaps there is another Disney song you prefer, for the Edmonton Symphony Orchestra will be performing Let It Go and many others as part of this new festival, a spinoff of Symphony Under the Sky. It all happens in Churchill Square from 5 pm Friday and from 3 pm Saturday. Admission is FREE.
Saturday 3
Alfie Zappacosta – This former Torontonian pop star sex symbol is perhaps best known for two songs, Passion and We Should Be Lovers (sensing a theme here), that blew up in 1984 and earned the Italy-born singer a Juno award for most promising male vocalist. That was the peak of Zappacosta fame, though he's been making records ever since, and more than a decade ago relocated to Edmonton to make a name for himself – now using his full name – as a classic crooner. His take on Me and Mrs. Jones blows Buble's out of the water, and We Should Be Lovers still holds up in a loungy vein. Shaker's Roadhouse, 9 pm, $20 advance
Sunday 4
Devin Townsend Project – Why not combine opera with heavy metal? They're both dramatic. And throw in some electronic in there while you're at it. Why the hell not? The resulting entertaining modern Sturm und Drang of the highest order is expected on this night at the Starlite Room, where the former Strapping Young Lad gone solo shows off his Nine Inch Nails-like predilections. With Fallujah in support, 8 pm, $29.50 advance
Best in Show No. 11 – The Black Dog is staging a showcase of favourite Saturday afternoon acts – on a Sunday. Performing from 3 pm will be full slate of top area singer-songwriters, including Ayla Brook, Mohsin Zaman, The Misery Mountain Boys, Kimberly MacGregor, and more. Admission is free.