Brit channels legend in The Simon and Garfunkel Story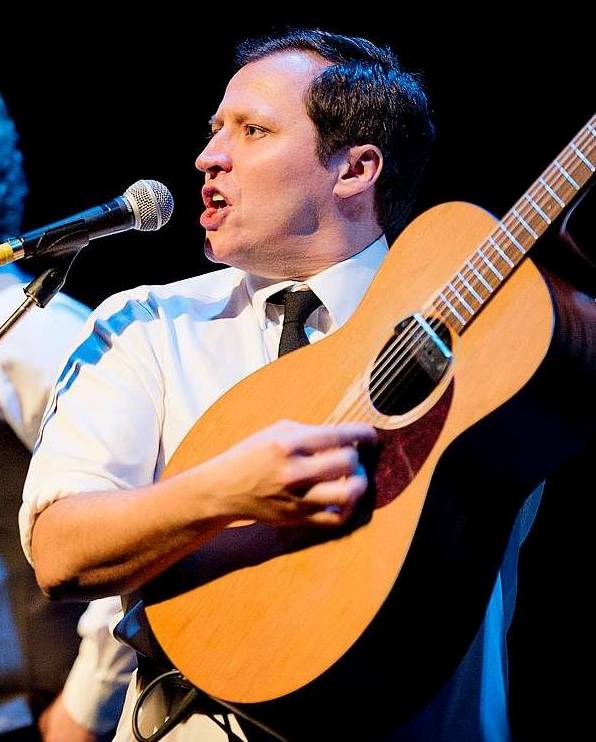 It's not enough that the British defeat us hapless Colonists in all things to do with Rock 'n' Roll (just go to the scoreboard: The Beatles, The Stones and The Sex Pistols vs. Elvis, Dylan and Bon Jovi – it's no contest) – but they have to come plunder our beloved American icons, too.
Dean Elliott, who grew up in England, has written and will star in The Simon & Garfunkel Story, opening Sept. 6 at the Mayfield Dinner Theatre. It comes on the heels of his tour de force in The Buddy Holly Story – about another American rock icon, and a hit on the storied West End of London. Also in Edmonton six years ago.
What gives this guy the right to hold the title for the top theatre productions on not just one, but two American legends? Dare you call "cultural appropriation" on a British thespian who happens to love Paul Simon? Of course not. That would be silly. Maybe the lesson here is that if you accuse one person of stealing the culture of another, you have to do it equally for everyone. Or just let it go. Artists should be free to steal whatever and from wherever pleases them.
Elliott concurs, "That's music, isn't it? It's unifying, it's beautiful."
Besides, both the Beatles and the Rolling Stones ripped off their first mojo from early American rock 'n' roll, so there. Point for us.
Buddy Holly was one of those early American rock 'n' rollers – and so were Simon & Garfunkel before they were famous. Elliott did a lot of research into this enigmatic duo, tracing their roots as Jewish kids in New York to the formation of their first act Tom & Jerry in the 1960s – a rock 'n' roll band. Paul Simon, Elliott says, was a frustrated rock 'n' roll singer, held back by his short stature and the fact he didn't look like a rock star – but that didn't stop him.
"The reason they got together is because they loved the Everly Brothers," Elliott says. "Paul spent a lot of time emulating those old '50s rockers, Elvis, Little Richard, Chuck Berry, and also Buddy Holly."
So that answers the question of whether it's a stretch for an actor to go from playing Buddy Holly to playing Paul Simon. Had Buddy lived, who knows?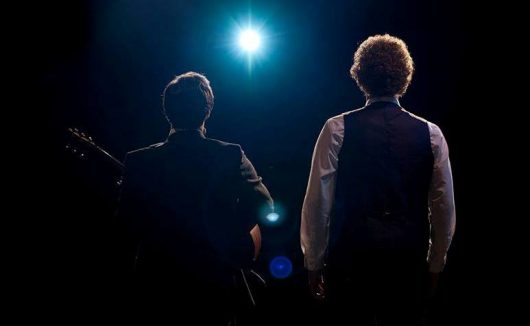 "It is a stretch," Elliott says, "But not as much as you'd think."
The actor isn't doing the Jewish New Yorker accent in this show, as he did the Texan for Buddy; the performers here provide the narration in their own voices, letting the musical performances speak for themselves. Archival footage is also used. While the bulk of this is a concert revue of sorts, time is spent exploring how and why Simon & Garfunkel split up.
"It's one of the unanswered rock 'n' roll questions, isn't it? No one really knows what happened between them, people only know the songs," Elliott says. "They were best friends, grew up 12 blocks apart, they were born two months apart, they knew each other from a very early age. They were both outsiders who found solace in each other and music, and the older and more successful they got, the more tired they got of one another."
Success can do that. Garfunkel (played in this show by Jonny Muir) is famous for saying that after Bridge Over Troubled Water, the No. 1 song of 1970, "Where do you go from there?"
Paul Simon did of course end up giving up his dream of becoming a "rock" star; he's made far more of an impact doing what he wanted to do, taking influences from wherever he liked – Africa, South America, you name it – including England.
"He was really attracted to England, which is a big part of the show," Elliott says. "He spent a lot of time in our neck of the woods exploring the English folk scene. He's a sponge. Wherever he goes, Paul Simon widely steals ideas."