Sonic Boom a cold and rainy circus
Every successful new band has a gimmick – sometimes more than one.
Twenty One Pilots has at least as many as their name, and showed them all closing out the first night of Sonic Boom 2016 in Borden Park. They wore alien masks, did back-flips off the piano, crowd surfed the entire drummer and his drum kit on a platform, and again with the singer inside a giant plastic hamster ball just like the Flaming Lips did last year.
Meanwhile, they blasted out their big hits: Stressed Out, Ride, Heathens and more – disturbing, deep, poetic songs driven by haunting melodies and a genre-crushing-short-attention-span style that has made such a connection with young people. Worrisome? Maybe. Voice of the Millennial generation? Too early to tell, but these guys sure are terrific showmen. And they did it all on an outdoor festival stage in Edmonton on a cold, windy, rainy night. Again Sonic Boom is cursed with crappy weather.
Twenty One Pilots is a three-ring circus with two guys.
The enigmatic frontman Tyler Joseph showed a few human moments – mainly in complaining about the weather, which just about every act did on Saturday. In a startling deviation from the red toque ensemble (come in handy on this night), the singer appeared in a Hawaiian shirt and sunglasses, strumming a ukulele for a deep and disturbing – yet jaunty – tune called Migrane. He objected to a lone crowd surfer, saying "I wrote this song for my mom," and then instructed the crowd to "take him all the way to the back … keep going, I want him to be terrified."
Scary band.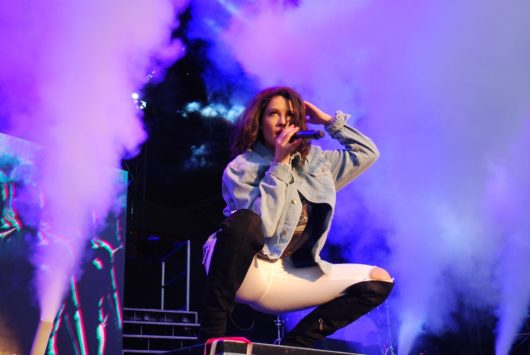 Now let's talk about tracking. Everybody does it. The bar for live concerts has been raised impossibly high. There's big money here, and people at Sonic Boom are shelling out $300 for a weekend VIP pass, and lining up for 45 minutes to do it (the will call to pick up wristbands was staffed by two women with laptops, and there turned out to be a huge surge of walkup in the afternoon; lots of complaints were heard). People expect to be blown away for such a hefty price, and there were nine bands that tried their best. Bang for your buck. Tracking has become part of the game. It fattens the sound, makes it literally bigger than life, adds pitch and tone where they may be lacking; also it's hard to dance and sing at the same time without there being some noticeable hitch in the voice.
When it's obvious, it's fine. No one appears to mind that most of the music of Twenty One Pilots was tracked. The important parts were real: The lead vocals, rapping and singing by Tyler Joseph, who also played piano, bass and ukulele (not at the same time); and the furious and flamboyant drumming of Josh Dun. Lots of percussion tracks were used, too, of course, balanced with lock-stop breaks into simple acoustic parts where they were really playing their instruments.
It's when they try to fool you that it becomes lame.
Which brings us to Halsey, the other star of the Saturday Sonic Boom – who came off like an aloof fashion model who's supposed to look sexy but somehow winds up looking bored instead. Since there are a few good songs to go with her blasé style, and a lovely voice on her own, this could be forgiven if it weren't for the goddamned tracking. In addition to the usual junk, it was clear there was a pre-recorded lead vocal which she sang along to in several songs, a "guide track," including her one big hit New Americana, before which she said, "I almost feel like a giant douchebag when I sing this song in Canada." The line about "legal marijuana" did not go unnoticed by the audience, with mainly young girls crowded to the front of the stage. It sounded perfect. Too perfect. The rest of the set was laden with stylish pop with little substance or soul, any potentially interesting edge sanded down to a smooth finish. Some alternative rock.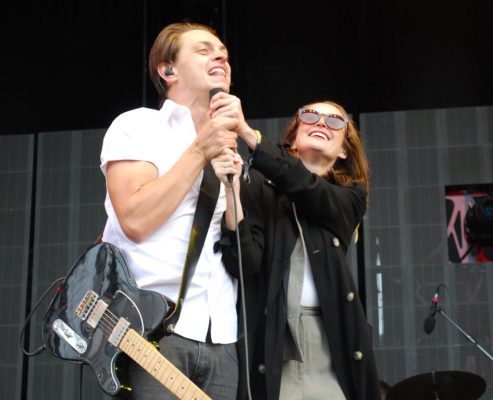 Much better was July Talk, on earlier. This is a classic "Beauty and the Beast" sort of band: A sultry female singer (Leah Fay) paired with gruff bear-voice of a man, in this case a guy who could give Tom Waits a run for his money in a few years (Peter Dreimanis). In the midst of the indie world's typically genre-smashing, unusual alt-pop songs, they cavorted and creepily flirted, he pulling her around, grabbing her face, biting on her clothing; her dancing seductively and laughing giddily. The drama (and comedy) on stage was just as entertaining as the band's music, as if you were seeing an entire Coen Brothers movie in your head.
Who needs gimmicks?
Sonic Boom continues Sunday with the Lumineers closing.