The Lumineers turn Sonic Boom to folk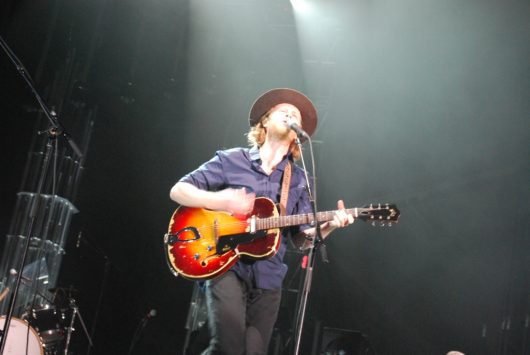 It's hard to pinpoint the exact moment where the mainstreaming of folk music reached maximum saturation and jumped the shark.
Certainly that recent KIA commercial with Nathaniel Rateliff is very embarrassing. Some point to the X-Ambassadors having their lead single, Renegades, an otherwise fine song, permanently branded to the Jeep Renegade. Can't hear it without thinking of the goddamned car. Others finger Mumford & Sons as the culprit several years ago. The English band has since abandoned folk poppery in favour of a more alternative rock sound. Maybe they see the tide turning.
But perhaps the most important moment in the rampant folkification of pop music is The Lumineers' song Ho Hey becoming such a massive hit across all formats in 2012 and in our heads ever since.
This supremely simple and catchy song deals with a common pop trope: the sin of coveting thy neighbour's wife: "I don't think you're right for him … I belong with you, you belong with me, you're my sweetheart," you know the words – effectively a folk-pop rendering of "hey, hey, you, you, I don't like your boyfriend." And then Ho! Hey! for the rousing singalong. We've heard it a million times by now, and The Lumineers have been a fixture on the outdoor festival circuit.
And because this is a pop culture phenomenon, this savagely overplayed song is all many people knew of The Lumineers before the band made its Edmonton debut on Sunday night, closing out Sonic Boom 2016 for 13,500 people in Borden Park.
Were they more than that one musical albatross around their necks? Short answer: Yes. With acoustic guitars, piano, mandolin, cello, and stand-up kick drum in storytelling songs that weren't afraid to be laid back, this was a mellow way to end what up to then had been a rock festival. Romping strummy polkas notwithstanding. It felt like the folk fest; people stretched out on blankets on the grass behind the standing crowd at the front. Video screens showed all the action. All that was missing was the candles on the hill. Also the hill.
As if to prove they're not the one-hit wonder they've been perceived as, The Lumineers knocked of Ho Hey early on instead of in the encore – with no special tinkering or extended arrangement. They clearly preferred to concentrate their energy on newer music. They just released their second album Cleopatra in April. Most folk fest headliners have more than two albums, just sayin' – yet it's clear these guys are coming from an honest place despite the sudden rise to fame.
There are no gimmicks here (unless you count the hat or the stand-up kick drum), just simple songs performed without trying to reinvent folk music. They opened with a new one, Sleep on the Floor, dealing with life on the edge. Later came another new highlight, Charlie Boy, about singer Wesley Schultz's uncle who didn't come back from the Vietnam war. In the middle of the show came a mini-set on the "B" stage, and a rousing rendition of Bob Dylan's Subterranean Homesick Blues.
They didn't use tracks, either. All of it was real, including the perfectly slightly out-of-tune semi-hollow body guitar, the rich strains of cello lines, and Schultz's voice brimming with ragged charm. It didn't sound perfect, and that's just fine. They're too fond of speeding up their tempos to hew to a click track anyway. Festival veterans, as mentioned, The Lumineers by now know exactly what they're doing.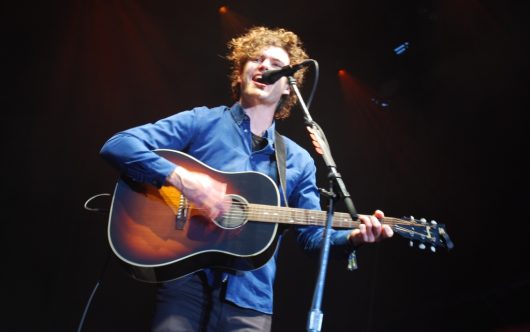 Playing earlier to begin folk fest evening at Sonic Boom, Vance Joy can shoulder some of the load here. Ukulele sales soared after this likable Aussie landed on the hit parade three years ago. Again, he busted through all formats: Roots, rock, adult contemporary, pop.
On stage, he remains likable, judging from the many screaming women, as he wielded his acoustic guitar and flexible vocal range on a round of straight-ahead songs performed without gimmick or artifice. Joy has only one album to his name, but it's a damned good start, containing at least two major hits, Riptide and – the last song he performed at Sonic Boom – Fire and the Flood. He padded his set with a cover of Paul Simon's You Can Call Me Al, with a bit of OMI's hit Cheerleader plopped in – a corny moment forgiven for the same reason The Lumineers redeemed themselves on the live stage: You get the feeling these guys would be be doing the same thing whether they were famous or not.