David Crosby passes Canada test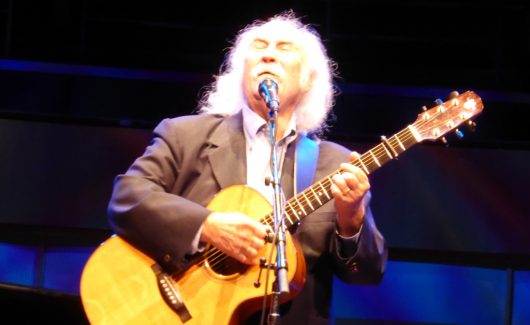 A lot of American celebrities joke about moving to Canada if Donald Trump gets elected – but David Crosby sounds serious.
The '60s survivor with the trademark silver skirted eggshell mentioned it a whole bunch of times during his beautiful but talky show at the Winspear Centre Monday night. He said he was checking out real estate. He says he's looking forward to when weed is legal in Canada. "It's hard to be an American right now," he lamented at one point. He called Trump an "idiot." He says he likes Vancouver.
Dude, you can't just move to Canada because you're sick of being American. You have to pass a test first: Play two Joni Mitchell tunes in a Baby Boomer nostalgia show even though you have a "shitload" (his word) of your own songs.
And so he did. Joni's our Canadian treasure, don't forget, and Crosby had a brief stormy relationship with her back in the day. He remains a huge fan and friend. The two he picked were unusual, deep, typical of Joni's "delicious" words: For Free and Amelia. With his son James Raymond on piano – who sounds like he look lessons from Bruce Hornsby – Crosby did an incredible job. It was real.
This was no Baby Boomer nostalgia concert. He warned us: "Weird songs in weird tunings from a weird guy." Crosby pushed the envelope, he expressed nervousness about doing certain songs, as if they were the Stations of the Cross, almost didn't do one of them, and even messed up a couple of times. That's something you don't see every day in the modern concert world. The only smoke 'n' mirrors was a device Raymond sang through with the aid of a keyboard to create perfect multi-part harmonies. They sounded great, elevating the sound beyond the confines of the duo. The unusual Joni-like chord changes did the rest of the heavy lifting. Crosby still has his voice, more or less, and the magic that has rightfully claimed for him a small but significant chunk of rock 'n' roll history.
Crosby picked the songs he wanted to do, heedless of crowd-pleasing hits. He promised he'd play something we know, and did, eventually – ending the show with a mellow version of Guinnevere, from Crosby Stills Nash and Young in 1970. Crosby's songs were among their weirdest. Aside from a nod to the Byrds, many of the tunes he played at the show were more recent than the 1960s, including from his two new albums. Yes, two. He said he's been writing more in his old age than he ever did.
Crosby's found a creative foil in his own son. Raymond stole the spotlight a number of times in a surprisingly jazzy show on songs that harmonically bore many similarities to Joni Mitchell – and we hear the connection runs deep.
The connection with the fans was pretty deep, too. There were many grunts of affirmation responding to Crosby's uber-liberal, anti-Trump spiel (you have to wonder how different it is when he plays in America). At least he's one Boomer who's stuck to his guns and hasn't "sold out" to The Man, even though at times during the show he came off like the beloved hippie grandfather who just won't shut up with the corny jokes. Hey, he's entitled. He's 75.
The music was sublime. Old couples hugged each other a little tighter after Delta, the spare, haunting ballad to end the first set. Likewise there was much harmony with What Makes It So, performed with no accompaniment whatsoever, a scathing indictment of the people who profit from war. In his stories we learned Crosby has felt frustrated and helpless at a number of junctures in American history – so he does what he always does.
"I write a song."
Does it help? He's not sure, but "I like to think that it pisses them off."
Welcome to Canada, man.