Book of Mormon rings doorbell of your heart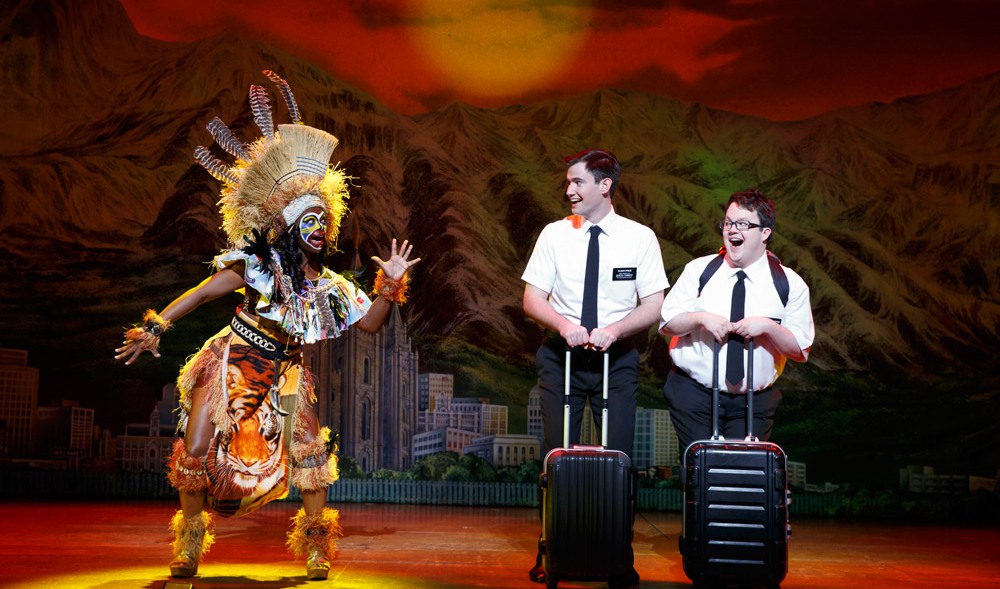 They're back – ringing doorbells and promoting The Word according to Joseph Smith.
A pair of mismatched Mormon missionaries donned the official uniform of white shirt and black tie on Broadway five years ago in Trey Parker, Matt Stone and Robert Lopez's smash hit musical The Book of Mormon. Parker and Stone are famous for spawning the scabrous South Park animated television series; Lopez created the potty-mouthed puppet show Avenue Q and the unavoidable Let It Go for Disney. Their thorough lampooning of The Church of Latter Day Saints was an immediate sensation. Tickets were so coveted that even the Angel Moroni couldn't get one. The Book of Mormon won nine Tony awards, and continues its successful run on Broadway and in London's West End.
The Broadway Across Canada touring show opened a six-night run at the Jubilee Auditorium Tuesday night.
The show is the bromantic story of two young, naive and optimistic Spirit Children of God, Elder Cunningham (Cody Jamison Strand) and Elder Price (Ryan Bondy). Price is Mormon cool, a stainless-steel, all-in believer with the smarmy smile of a used car salesman. Cunningham is a chubby looser – a needy geek who confesses he has never read THE BOOK ("It's boring") and is not above adding bits of Star Wars and The Hobbit to the message to prop up his pitch. The not-so-dynamic duo are hoping to be sent to Florida for their mandatory missionary work.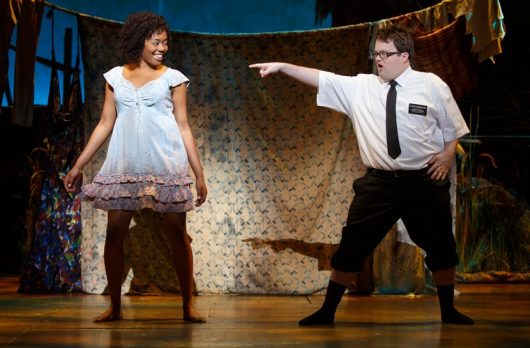 "Orlando, the land of Disney and Sea World," exclaims Elder Cunningham in an ill-fated moment of premature exuberance. Well, they don't get Walt. They don't even get Timon and Pumba.  The two are packed off to Uganda where they face war, famine, poverty, female circumcision, AIDS and a fearsome warlord with an unprintable name.
The evening is gloriously caustic, foul mouthed, tasteless, politically incorrect, racist and brazenly controversial. It is also gut-bustingly funny, crackling with energy and can lift you in seconds from a crass morass of vulgarity to celestial heights.
In all that, it is also earnest and surprisingly heartfelt as it ricochets through its cheeky two hours. Lopez's music is disciplined, traditional and hummable – a valuable asset in the anarchy that surrounds it.  And surprisingly, The Church of Latter Day Saints (the followers if not the institution) comes out of it rather well. Amidst all those four letter words and compromising situations there is a degree of respect for these two guileless believers who are way in over their heads but searching for something bigger than just themselves. That comes most strongly into focus when, in the the second act, Elder Price plants his feet and movingly sings the anthem I Believe in which he proclaims that in a chaotic and Godless world, he will continue to cling to the tenets of his religion. And if you're looking for it, there are themes of faith and doubt and the universality of the Word of God – but you'll probably be laughing so hard you won't notice.
The Broadway Across Canada production is first-rate and shows no signs of age or road weariness. Bondy with his burnished pipes, manic gleam in his eyes and great choppers is the straightman but could easily make it as a comic himself. He has a big Broadway-style voice and can dance with considerable skill. Strand has the rubber body of a vaudeville buffoon, an idiot smile and a surprising voice that he twists into all kinds of comic shapes.  Together they make a great team. The rest of the 23 or so cast are all crackerjack – particularly Candace Quarrels as Nabulungi the beautiful village maiden who first accepts the mixed message the two bring. She is a strong physical presence and has a voice than can range from whisper to an amazing theatre-filling projection that could wake a water buffalo.
The Book of Mormon manages to balance X-rated humour, a modern morality play, and a buddy story all on a traditional Broadway template. Who knew the troupes of look-alike Mormon missionaries could sing and dance with such skill?
The result is a wildly entertaining evening.
The Book of Mormon plays in Jubilee Auditorium through Sept. 18.