REVIEW: 5 Finger LIFE Punch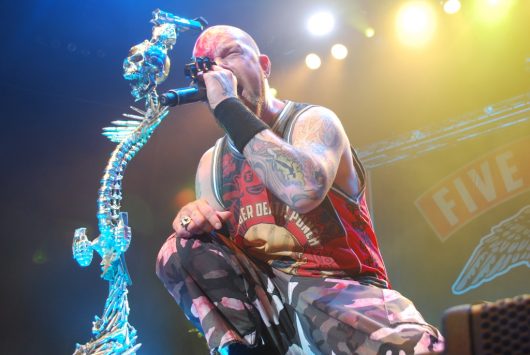 Five Finger Death Punch turns out to be more kind and sensitive than their name suggests.
Oh, sure, they showed their hard side at their concert in Northlands Coliseum Saturday night. Their badassed side. They even brought a bunch of children on stage to take part in a rousing rendition of Burn MF. The former hockey arena echoed with the chant, "Burn, motherfucker, burn!" Hey, this ain't Raffi. Who brings their kids to a metal show? Proof the genre is old enough to have reproduced, that's what, with metal dads (and moms) eager to share their metallic infatuation with their spawn. Good fun for the whole family.
Most of the rest of the show was an atomic angst assault rendered in an all-out blast of classic metal mojo, replete with the dual shredding guitars that rip your face off (Zoltan Bathory, band founder, and Jason Hook), thundering bass that loosens your ligaments (Chris Kael) and bone-cracking doublekicksmanship from skull-masked drummer Jeremy Spencer that takes the rest of your body apart. Topping all that was the booming voice of the face-painted frontman Ivan Moody, one part tuneful yarl and one part screaming maniac. Death punch indeed.
This band has no hits! What are they doing headlining an arena? Yes, this is an example of the "cult sensation," success in metal circles by word of mouth – literally as most of the 7,000 or so fans at the Coliseum seemed to know the words to each and every song that has never been on the radio. The lone hit here may be a cover of Bad Company's signature song Bad Company, sounding on Saturday night badder than Bad Company at its baddest.
What was that about this band being sensitive? Midway came the inevitable interlude portion of the evening where people hold up Bic lighters – "I know you have lighters," Moody said, "I can smell the weed!" – where the singer and his wingman guitarist Bathory did a song expressing deeper things, Wrong Side of Heaven: "I spoke to God today and She said that She's ashamed what have I become."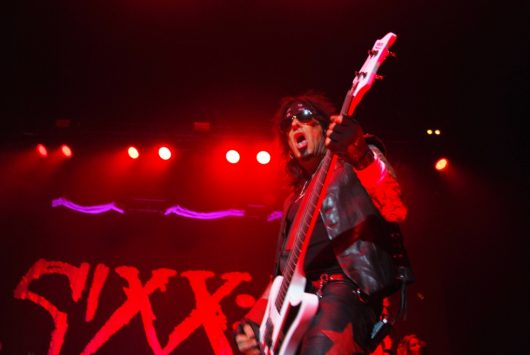 Re-plugging in to the all-out sonic assault mentioned earlier, the song Coming Down was no less sensitive, sounding like a mature song lamenting an unhealthy relationship, "I could never be what you want me to be. You pull me under to save yourself." And vice versa. Also noteworthy was Remember Everything, a song about forgiveness: "If I could help you forget, would you take my regrets? Because I remember …" and here the crowd bellowed the last word – "EVERYTHING!"
Come to think if it, it was pretty cool you could hear the song lyrics so clearly at a metal show – and that they meant something.
Was this a metal night, really? Almost. They had three acts opening the show, including Sixx:A.M. – featuring Nikki Sixx from Motley Crue. This band signed a contract promising to go away forever, but that doesn't mean the individual members can't keep rockin' – leaving us with the very real possibility of four Motley Crue spin-off bands.
This one was gothic and sludgy, while retaining the decadent, almost burlesque approach to rock 'n' roll that Crue specialized in. Mr. Sixx, on bass, seems to be playing a supporting role here despite getting top billing in the band name. Most of the heavy lifting was done by lead singer James Michael, perhaps the best vocalist of the night, along with the band's two female back-up vocalists. Because they were filming a video, they performed one of their songs twice – which is ridiculous, four minutes of your life you'll never get back. The song was called Everything Went To Hell, sludgy and gothic, from their new album Prayers for the Damned – which when you think about it doesn't do a damned bit of good since the damned are already damned. Damn it!
Happily, the band redeemed itself from this faux pas with a spirited version of their first ever single from 2007 (Sixx has been moonlighting here for a while), Life is Beautiful – an irresistible singalong sentiment delivered by Michael like he meant it.
Talk about sensitive.
Papa Roach had to follow that – a band that shows sinister potential in the so-called "rap metal" genre but ruins the vibe with attempts to be melodic. They're no Rage Against the Machine. Ugh, melody. Successful attempts, mind you. Last Resort – another first-ever hit single – occupied a place of honour in the band's set and went over like gangbusters. Frontman Jacoby Shaddix has a commanding presence, a way with rapping rhyme, but was so pitchy that it sometimes sounded like he was singing in a different key than the song being played. Put it down to bad monitors. In quieter moments – these guys, too, showed their sensitive side – he sounded fine.
It's going to be interesting to see these bands in 20 years, maybe at the folk festival.