Tears of joy for Dolly Parton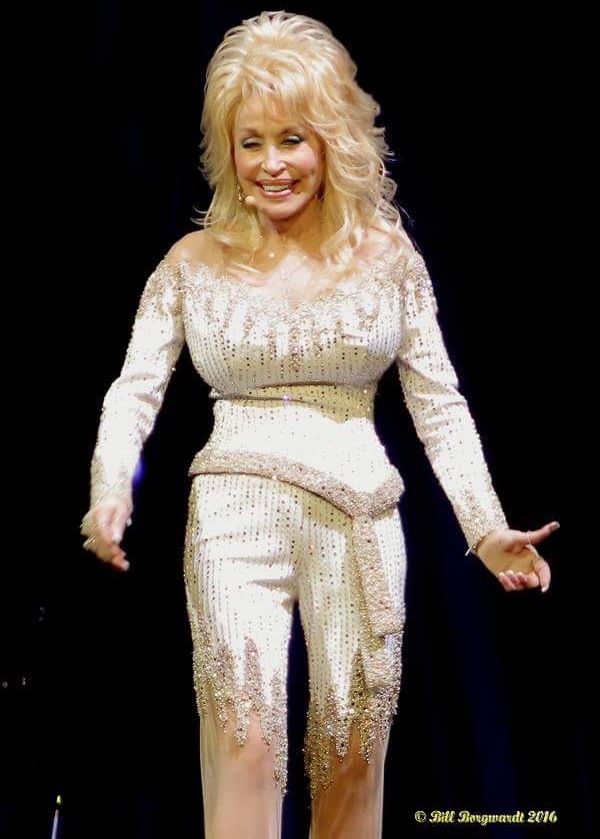 "I couldn't sing a lick without my rhinestones!" Dolly Parton told nearly 20,000 fans at the brand new Rogers Place in downtown Edmonton on Saturday night.
Pure and Simple is what she has called her show and new album – and really it was, down to the stage, the instruments and the raw storytelling. The performance was truly amazing. On stage with 70-year-old country legend was simply a pianist, lead guitarist and a stand up bass player. Being the talent she is, Dolly ended up playing a number of instruments, including the guitar, piano, harmonica, penny flute, banjo, fiddle, and dulcimer. During the classic song Rocky Top, she even showed her new-found skill on the saxophone.
From classics like Jolene – about a young "red-haired, long legged, homecoming queen" who tried to steal her husband – to more upbeat country, Dolly always had a story to tell. She did Jolene early, saying "I'm glad you remember her, I've been trying to forget her for 50 years!"
From the moment she walked on stage, smiles were plastered onto every fan's face. Dolly has a unique way of making you feel like you're just sitting in her Smoky Mountain home listening to her tell you some old stories from her past. Her charm and graciousness was so authentic you just want to be her best friend.
Dolly started the second act strong coming on stage in a new flashy red sequin outfit belting Baby, I'm Burning and This Girl is on Fire. While the first act was a sit-down story-time performance, the second was full-blown party. I don't think I sat down once!
The usage of lighting, stage, storytelling and pure charm was simply astonishing, it was so simple yet so complex. To have all of her longer stories and more emotional, nostalgic songs in the first act and then kick it up a notch in the second act was brilliant. She took the crowd on a journey, one that will not be forgotten.
The sheer power in Dolly's voice shook the 20,734-seat Rogers Place, whether she was belting 9 to 5 or giving the audience goosebumps with a cappella take on Do I Ever Cross Your Mind. Not to mention the breathtaking performance of'Little Sparrow. And all this with a head cold – Dolly apologized to the crowd for wiping her nose a few times during the three-hour show, but it all added to her authentic charm.
As an aspiring singer-songwriter myself, having such an opportunity to see an idol of mine live was surreal. I found myself crying tears mixed with joy, longing and pure happiness – especially when Dolly talked about her experiences first starting out and dreaming of that Grand Old Opry stage.
All in all the show was dazzling, elegant, heart­-wrenching and just simply unique. Whether it's here in Canada while she  finishes her tour or down in Nashville, if you're a country fan, you've simply got to find a way to see this woman perform.
Photos by Bill Borgwardt
Olivia Rose Leaf is an Edmonton recording artist and Grade 12 student at the Victoria School of Performing and Visual Arts