The price of fame at Edmonton Expo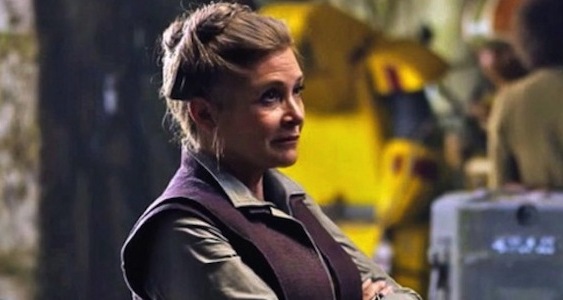 There is one huge unwritten rule at the Edmonton Comic and Entertainment Expo happening this weekend – bring money.
Oh, sure, you could just stand around and gawk at all the cool nerds in their awesome costumes, but what fun is that? A lot of fun, actually … never mind.
Fans spend college-tuition sums of money at these comic-cons – on gaming, cosplay supplies, at unending booths of merch, and on the big scores: Autographs from the stars. Spelled out on the Expo website are prices (and schedules) for having your photo taken with various guests – but autographs are extra, usually pretty close to what it costs for the photo, say organizers, with the prices set by each visiting celebrity. Could be less. Could be more. Comics guru Stan Lee charged $100 for an autograph last year.
Below is a guide to the true cost of fame:
Carrie Fisher
This is the princess you've been looking for. Among Disney princesses, other Star Wars princesses, actual princesses, and princesses yet to come, there is no greater princess in pop culture or any other culture than Princess Leia. Carrie Fisher has owned the role since Star Wars turned the movie world on its head in 1977, and has since become notable for some memorable comic parts as well, like the family therapist in Austin Powers. Had the group liquidated – they were insolent.
Photo op: $90
Stephen Amell
This Canadian actor and WWE enthusiast is known by his not-so-secret identity: The Green Arrow in the TV series Arrow. He's an angry hero who delivers merciless vigilante justice to evildoers, although, like Batman, he has no apparent superpowers.
Photo op: $80
Christian Slater
Sometimes mistaken for a young Jack Nicholson, this impressively-eyebrowed actor does a great job playing troubled anti-heroes, starring in dozens of dark action films; he's also earned huge nerd prestige from his work in Mr Robot, and as the voice of a very Christian Slater-like spy named "Slater" in Archer.
Photo op: $65
Alex Kingston
This veteran British actress enjoyed an illustrious career on the telly on both sides of the Atlantic before landing the role in what was supposed to be a one-off but turned out to be a regular character, River Song, in the Dr. Who series. In terms of nerd cachet, Dr. Who is almost as powerful a force as Star Trek or Star Wars. Almost.
Photo op: $65
Elizabeth Henstridge
This relative newcomer to the acting world has already become a hero in nerd-dom the world over – thanks mainly to her role as the forthright Agent Simmons fighting on the side of good in the sci-fi spy adventure Marvel's Agents of S.H.I.E.L.D.
Photo op: $55
John de Lancie
Next Generation cast members are almost as celebrated as those from the original series. Almost. There – is this not proof enough, new vs. old Star Trek nerds?! Never mind. This actor is famed for his role as an omnipotent immortal goofball named Q in Next Gen, though he'd been working in film and TV at least two decades before he scored the role in 1987. His voice gets around, too, notable as "Discord" (not a bad dragon, just misunderstood) in the new and vastly improved My Little Pony: Friendship is Magic series.
Photo op: $45
Wallace Shawn
Here we have one of these seasoned character actors whose name you might not place, but his face sure rings a bell – perhaps best known as the hapless assassin too smart for his own good in The Princess Bride. The distinctive Gilbert Gottfried-ish voice, too, has been a big part of Shawn's success, showing up in many of your favourite animated movies and TV shows. Also as a funny Ferengi in Star Trek: Deep Space Nine.
Photo op: $45
The $40 club
Forty bucks seems to be default photo-op fee, which may reflect the autograph charge for stars who include puppeteer Brian Herring (BB-8 in the latest Star Wars), Devon Murray (Seamus Finnigan in Harry Potter), and Garrett Wang (Star Trek: Voyager), among others.
There are also some notable "team-ups" – Natalia Dyer and Shannon Purser from Stranger Things (photo op $95); Ted Raimi and Jill Marie Jones from Ash vs. Evil Dead ($70); Austin St. John and Karan Ashley from The Power Rangers ($70); and Todd Haberkorn and Vic Mignogna from Star Trek: Continues ($70). In costume!
I'll take Mark Meer for $20
Rounding out the media guests is our favourite token Edmontonian of the Edmonton Expo – famous in video game circles as the commanding voice of Commander Shepherd in Mass Effect; Mark Meer is also the star of the award-winning TV series Tiny Plastic Men and can be seen on several area theatre and improv stages throughout the year. He just finished another 50 hours in the Die-Nasty Soap-a-Thon. Meer reveals he will be charging $20 per autograph this year. He's hosting the cosplay contest again, too.
Creators of our lives
Besides the media guests, there a number of "creator" guests doing autographs – the people whose names might not be famous but whose work drives the comic book industry, and therefore our lives. Again, the autograph fees are set by the artist and not usually released beforehand, but organizers say they're often in the $10 range, depending on demand. Just don't bring your entire Action Comics collection for an artist to sign – we'll be there all day.