INTERVIEW: Peaches reaches and teaches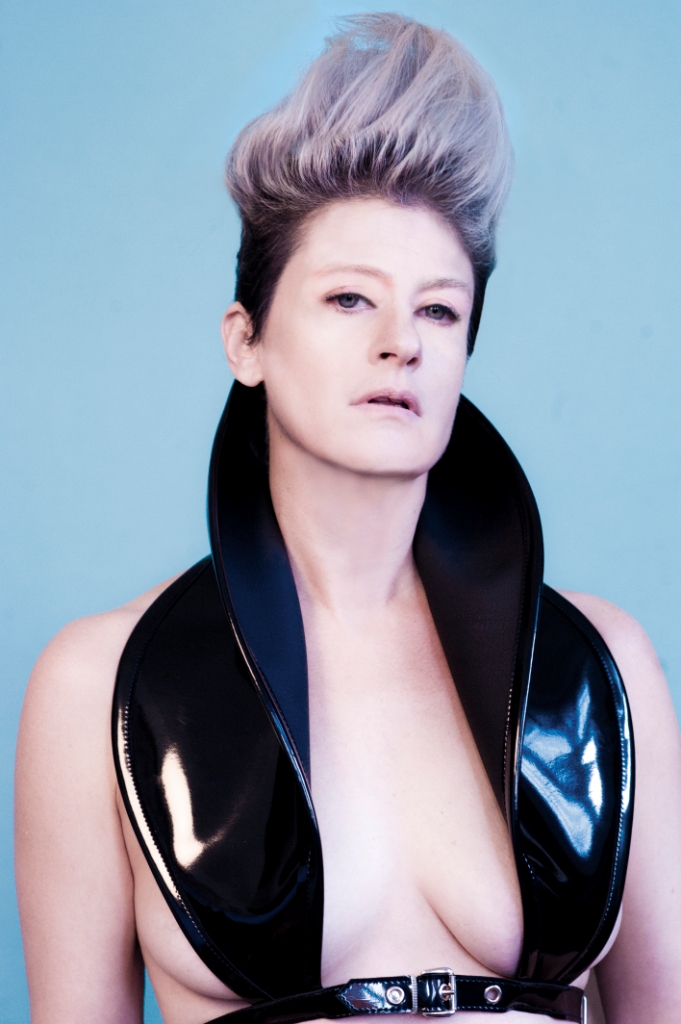 In the art of exploring gender with bold musical statements, Peaches is way ahead of her time – but "that's probably for other people to answer," she says.
So what say you, other people? There is a consensus. Peaches makes Lady Gaga look like Selena Gomez – and was doing her thing long before Lady Gaga came along with a watered-down, more mainstream-palatable version of that very same thing.
"I think she saw my shows," Peaches says in a recent phone interview.
This was a short and chaotic phone interview, conducted during a 10-minute break between load-in and soundcheck at a stop on her North American tour behind her new album, Rub – but Peaches made her points. She's making a rare appearance in Edmonton, performing a sold-out show at the Needle Vinyl Tavern on Sunday, Sept. 25.
For the uninitiated, Peaches – aka Merrill Nisker – is a Canadian artist based in Berlin who weaves lush layers of electronic sci-fi groove with a style of vocals bouncing between rap, spoken word and conventional singing. Her flamboyant style and often sexually-explicit performance attracts as much attention as her lyrics, delivered like some kind of an alien beatnik poet. On her new album, she rhymes "moose knuckle" with "makes me chuckle" in a savagely strange song called Dick in the Air. She states in the song Vaginoplasty, "I was blessed with big lips … I need it tighter!" And in Rub's title track she comes up with lines like "Can't talk right now, this chick's dick is in my mouth."
Not for nothing is "provocative" the go-to adjective for this artist.
A lot of this material is satire. The first single is a song about how people who challenge societal norms are sometimes treated: "You're sick in the head, go back to bed!" Another notable Rub track is the self-explanatory affirmation I Mean Something, a duet with her friend Feist.
There's lots more along these lines. Peaches has stuck to her guns on the same genre-and-gender-bending track for decades, and is now known all over the world, her music appearing in numerous movie and TV soundtracks, her voice an authority on gender issues. Her debut single under her new name in 2000 was called Lovertits – shortly before she moved to Europe. Other records include Fatherfucker in 2004, Impeach My Bush in 2006, and I Feel Cream in 2009. Sensing a theme. If you have to compare, say that she would probably be right at home on a bill with Bjork and P.J. Harvey.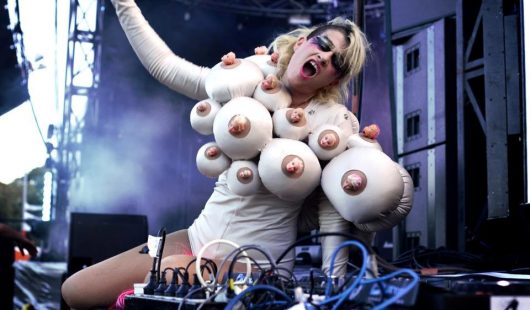 While Peaches says Toronto has since developed a thriving electronic music scene with "lots of amazing artists," while she was there in the 1990s, "At the time I was just too weird … that's why I moved to Berlin." She cites review in NOW magazine that described her act as a "one-woman, hair-raising throwdown" and dismissed her music. Lady Gaga got the same sort of thing when she started. Peaches took the sting as encouragement.
After working as a drama teacher, Nisker started performing music in a folk trio called Mermaid Cafe, and soon hooked up with a hotshot songwriter-producer named Jason Beck to form a band called The Shit. Beck, meanwhile, had just released the major label debut of his other band Son. Great record, but it unfortunately had his last name printed in big letters on the cover, too late to change when another guy named Beck came along. Unfazed by a fluke of poor luck, Jason Beck also moved to Europe. He changed his name to Chilly Gonzalez. He and Peaches have collaborated a number of times. It's like some exotic club of Canadian ex-pat musicians over there.
All these years later Peaches is in the vanguard of exploring gender in music – and she doesn't mind being weird.
She says, "What's the point of being normal? I'm out there, just doing it. There's no reason to be the same as everybody else."
In her unwavering devotion to her themes, Peaches explains, "I just want people to feel comfortable in their own bodies. There are certain political ways or social constraints that don't allow people to be who they want to need to be. It's really sad. It creates fear and it creates problems, and people should be who they need to be, so they don't have to, to be blunt about it, commit suicide. The fear brings a lot of problems."
It's all coming out now. LGBT people are in the media more now than they're ever been, fighting for their rights.
Peaches says, "I just hope that it's taken seriously, and that it keeps going, that it's not something that's so easy to sensationalize. There's a lot more going on than what we see. I hope we get deeper into these issues."