MUSIC PREVIEW: Airbourne the new hell's bellringer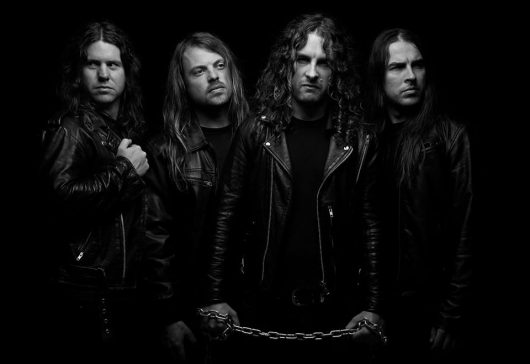 With the aging AC/DC in flinders, it falls to the next generation to carry the torch of timeless balls-to-the-walls rock 'n' roll. The world needs this.
Enter Sandman … whoops, wrong band. Enter Airbourne, the young and eager hard rock quartet that sounds an awful lot like AC/DC. Helps they're from Australia.
Playing at the Union Hall Saturday night, the band is on another North American tour with a fresh new album in tow – called Breakin' Outta Hell. Could they be any more obvious? The single actually sounds more Crue-ish.
Anyway, what's with the hell, what the hell? Well, like AC/DC and others in the realm of blues bands dressed up in metal clothes, the hellish imagery prevalent in the genre is not a glorification of evil. These ideas are delivered with joy and energy, meant to mock the devil and rob him of power – and then of course funnel all that power back to AC/DC. Or Airbourne, as the case may be. Those devil horn signs are more of a flip-off than a salute. Screw you, Satan, we're about to ROCK!
It is possible to make too much of these things.
The opening act will be B.C. power trio The Wild! Show at 8 pm, tickets $25. BUY
Thursday 22
MarketForces – These local rockers have three albums to date, and play a blend of Canadian alternative rock and angst rock, with significant drama. Mercury Room, 7:30 pm, $10. BUY
Friday 23
Royal Wood – This Toronto singer-songwriter released his seventh full-length album earlier this year, titled Ghost Lights. Wood did a lot more deliberate experimentation with this album, jumping around from instrument to instrument even during the writing and recording, resulting in a more raw, freeform result – but still holding true to the beautiful flow and vibe we all expect. Royal Wood is his real name, by the way. Arden Theatre, 7:30 pm, $38. BUY; also Saturday at 7:30 pm, BUY
Chron Goblin – From somewhere deep within the stoner metal genre comes this Alberta band, who released their third album last fall. Also performing are Sleep Demon, Waingro, and The Mothercraft. Brixx, 8 pm, $10. BUY
Extroverts – This punk-post-punk Regina act traces its lifecycle all the way back to 1979, and is set to play their very first Edmonton show ever. Local stalwarts Johnson From Accounting, as well as Vibes and Feminal Fluids, are also on the bill. Sewing Machine Factory, 9 pm, $10. BUY
Millencolin – This city loves its punk, doesn't it? This Swedish punk band was formed back in 1992 by Nikola Sarcevic, Mathias Färm, and Erik Ohlsson. Since then, they have released eight full-length albums (including last year's True Brew), created their own music festival, and played over 1,500 live shows. Performing opening duties is Rochester's Such Gold. Starlite Room, 8 pm, SOLD OUT.
Saturday 24
Folksy Mama – This local folk band is paying homage to their dear friend and guitarist-vocalist Dan Watson, who is moving to Vancouver. Bohemia, 9 pm, pay what you believe to be fair.
NSF Con Pre-Launch – Also serving as the unofficial after party for the Edmonton Expo, but they're not really related at all, this is a party for the adults only, and is a precursor to an adult-themed con that should happen next year. Music from Death By Robot, as well as comics and a burlesque performance, are feature entertainments. Needle, 8 pm, $20. BUY
Sunday 25
Peaches – Merrill Beth Nisker first began her musical career in Toronto in the 1990s in a folk trio whose name was taken from a Joni Mitchell song (Mermaid Café), and was briefly in a band called The Shit that went nowhere. Too weird for Toronto at the time, she moved to Berlin and changed her name to Peaches – and from such humble beginnings has sprung a superstar in the world of alternative electronic music: This Polaris Prize-winning artist tackles controversial subjects with songs both catchy and poignant, robust and yet swing a warhammer at the very core of your soul. Her music has appeared in a host of movies and television shows, and her music and provocative live performances have endeared her to a wide range of audiences, and in a diverse suite of genres. She's on tour supporting her sixth full-length album, Rub. With Quay Dash opening, 8:30 pm, Needle Vinyl Tavern, SOLD OUT