Curious Incident a chilling transport to autistic mind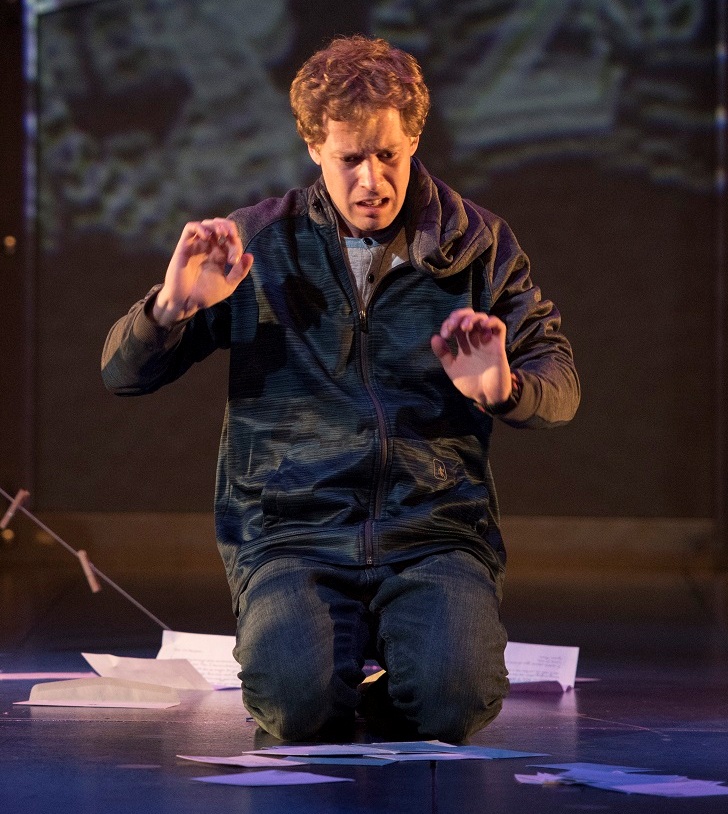 The Curious Incident of the Dog in the Night-Time is a multi-level theatrical adventure that insists on you becoming part of the experience.
Opening the Citadel's season on the Shoctor Stage until Oct. 9, the play is based on Mark Haddon's bestseller about an autistic teen, and transposed into theatrical terms by playwright Simon Stephens. It arrives at its Canadian premier at the Citadel after winning just about every major award the theatre world has to offer.
You are challenged to enter the world of 15-year-old Christopher Boone (Edmund Stapleton). Christopher is a highly functioning savant. He exhibits the behavioural traits of autistic children – such as sudden tantrums when someone touches him. He is also a prodigious mathematical genius, finding in numbers and letters the peace that eludes him elsewhere. He thinks in figures – holding the universe in his head even when he can't relate to the world in which he finds himself living.
We may never be able to completely understand Christopher's corner of the cosmos, but the inventive production certainly uses every theatrical trick and device you can imagine to place us there. It should be pointed out that this is an original Citadel production (in conjunction with co-producer The Royal Manitoba Theatre Centre). However, it would be impossible to mount the show without acknowledging the inspired Tony Award-winning direction of Marion Elliott (who directed Britain's National Theatre production of War Horse). The Citadel's director is Winnipeg's cutting edge Heidi Malazdrewich, while the immersive technical wizardry was designed by Edmonton's digital conjurer Joel Adria. T. Erin Gruber's cracked set breaks into jagged pieces that ingeniously combine to create a large fluid screen for the intricate projections (fluid indeed – in one scene a spectacular rain storm threatens to engulf the theatre). Elijah Lindenberger's sound and Matthew Skopyk's techno music are effectively unsettling. Even the people around Christopher become part of his meltdown, morphing into menacing robots marching right out of a German expressionist movie of the 1930s. The creative virtuoso of the disorienting stage effects seems as limitless as Christopher's universe.
As the play begins we see the grisly scene of a dead dog. Christopher is first blamed for it, but his take is that the animal was murdered. Casting himself as a sleuth, like his hero Sherlock Holmes, he sets out to find the perpetrator. The best-seller was originally narrated by Christopher, but the play uses other characters, particularly Siobhan (Cherissa Richards), his sympathetic teacher. She reads from a book Christopher has written so we continuously hear the character's voice even if it is being read by someone else. Christopher is also surrounded by his conflicted, often angry, but loving father (David Keeley). His mother (Patricia Zentilli) gives us a decent woman who just doesn't have the weapons to battle a life that demands too much and who has fled to a world that is all her own. The 10 players perform a multitude of characters.
Now all this may be overwhelming – well, it is! – but author, playwright and production conspire to keep the raw, exposed child-genius at the centre.  In this they are hugely aided by a remarkable performance by Stapleton. He gives us a flawed force of nature – terrified, exposed and heartbreakingly vulnerable. It's a tough job because his character remains a self-oriented cypher. Christopher's range of emotions are limited by his mental state. He has no empathy for those who obviously love him, while he lavishes his meagre feelings on his pet rat. For me, the expected emotional wallop never really developed as well as the theatrical inventiveness.
You will leave the theatre impressed by some pretty magical storytelling and, perhaps, with a new way of looking at the world around you.
Photos by David Cooper