MUSIC PREVIEW: Dixie Chicks stick to their guns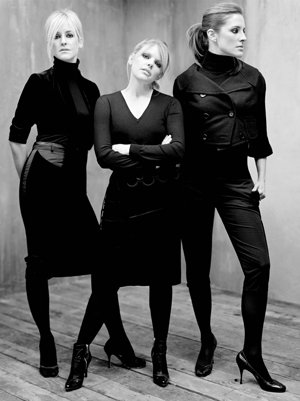 Look on the bright side of a Donald Trump presidency – our music scene will get better because so many great American artists will move to Canada!
Maybe we can welcome the Dixie Chicks, too – in Edmonton to play Rogers Place Thursday night. These Texas-bred country-bluegrass women Natalie Maines, Emily Robison and Martie Maguire are of course famous for telling a crowd in London, England in 2003, "We're ashamed that the President of the United States is from Texas," criticizing George W. Bush and the war in Iraq. Reaction from the somewhat right-leaning American country music establishment was swift and merciless: Boycotts, bans, boos, a bulldozer crushing CDs, even death threats. It hurt them at the time, but the Chicks were hailed as heroes for standing up for what they believed in. Besides, after the fuss died down, most of the old fans obviously didn't go anywhere, adding now to a new audience found amongst the left-leaning music world – which it could be argued makes better music than its conservative counterpart. Who do you like better, Toby Keith or Bruce Springsteen? Would you rather see the Dixie Chicks at the folk fest or the Big Valley Jamboree? Case closed.
In short, the Dixie Chicks are cooler than ever while remaining pure to their roots, and post-controversy 2006 album Taking the Long Way still went to No. 1 across the world. Even a seven year hiatus couldn't stop the momentum, and they're back headlining their first North American tour in 10 years.
Trump makes George W. look like Gandhi – and the Chicks have not held back on the Orange Hitler, in this tour displaying a devil-horn defaced portrait of Trump while they perform their cheeky murder song Goodbye Earl. Something else to look forward to from within the safe haven of Canada. Freedom of speech!
Queen of alt-folk Elle King – of Ex's & Oh's fame – will open the show at 7:30 pm. Advance tickets from $70.
Thursday 29
Kongos – The South African group that became all the rage from their irresistible 2011 hit Come With Me Now is touring the world upon its latest album, Egomaniac. The Joy Formidable opens the show at the Union Hall, 7:30 pm, $30 advance
Crystal Plamondon – Here's a voice that resonates with Alberta history: Born in a town named Plamondon her grandfather founded, this Acadian singer-songwriter became a fixture on the rural music circuit with a captivating voice in three languages: English, French and Cree; her latest album came out last year, Half Gospel, Half Heartbreak. Shaker's Roadhouse, 9 pm, $15 advance
Friday 30
Hayden – Nostalgia time! In what year would you have had to be an arts student at the U of A to be into this minimalist mono-named alternative hero? We reckon around 1995 when his indie rock masterpiece Everything I Long For came out – and he tours to mark the album's 20th anniversary (close enough for rock 'n' roll). Myer Horowitz Theatre, 8 pm, advance tickets from $28
Tequila Mockingbird Orchestra – The cream of the Victoria, B.C. music scene – distinctly different than its mainland brethren – these guys sound like they were raised by Romanian gypsies in the Appalachian mountains far, far away from new-fangled electric instruments. They're touring on their new album, LOVE, and open the season for the New Moon Folk Club at St. Basil's Centre. With Soap Box Duo opening, 7:30 pm, $20 advance
Saturday October 1
Hatebreed – Angry shouting is the primary vocal style, grim truth the general theme, and intricate guitar riffs the driving forces of these heroes of hardcore, touring on its eighth studio album, Concrete Confessional. Two devil bands – Devil Driver and Devil You Know – open the show at Union Hall, 7 pm, $30 advance
Said the Whale – There's a lot of love in the room. This boppy, synthy rock band from Vancouver is hot right now, thanks to the catchy blast of positivity in the song I Love You, from their 2013 album Hawaii. A whole set of new songs will be unveiled for an all-ages show at the Needle Vinyl Tavern, 4 pm, $27 advance; no minors show at 9 pm, $27 advance
Darren Frank – From a guy who turned up in 2010 with an expansive alt-rock sound, rich harmonic layers reminiscent of Crowded House, and hails of "most promising" from musicos around Edmonton, there should surely be some new material performed at the Mercury Room. With Choir and Marching Band, speaking of most promising, and Dub Vulture opening, 8 pm, $10 advance