Witness to a Conga a dramatic dance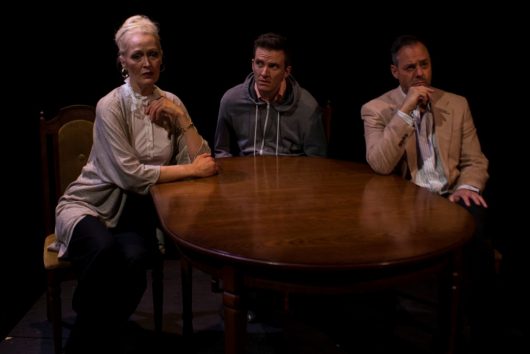 Teatro La Quindicina programs its season to run counter to the rest of the theatrical pack. And so this week, as others begin their seasons, Teatro has chosen to close off their first year in their spiffy new Varscona theatre with an old favourite from the canon of writer-director Stewart Lemoine, Witness to a Conga.
Good choice. Fringe goers will remember back in 2010 when this clever and involving dramedy debuted, with some of the same cast. Tickets were as scarce as seats in the Fringe beer tent on a Saturday night. It's more drama than comedy, but falls in that nether world where Lemoine starts you off laughing and then pulls you up short as his seemingly comic creations exhibit real lives – often filled with self-doubt and pain.
The play is something of a departure for Lemoine. Then again, the writer has always been anything but predictable in his output.
He gets you laughing at the original premise. Should Martin Lowell (Andrew MacDonald-Smith) and his prospective wife Laura (Louise Lambert) include the fiery Latin American dance, the Conga, in their after-wedding party? Or is it just too, too tacky? They discuss the idea with friends, and Lemoine uses the device to pry relationships open as the show takes a darker tone. It includes the marriage between Martin's distant academic father, Walter (Jeff Haslam), and his conflicted concert pianist mother, Eleanor (Linda Grass), that tears itself apart. Martin still carries an impossible crush he had during his school years on a sympathetic teacher, Sheila Waverly (Belinda Cornish). He's no musician but he hears an orchestra in his head that provides a sound track to his life. The music is typically well chosen by the director.
As these people wear against each other some unsettling and life changing revelations emerge.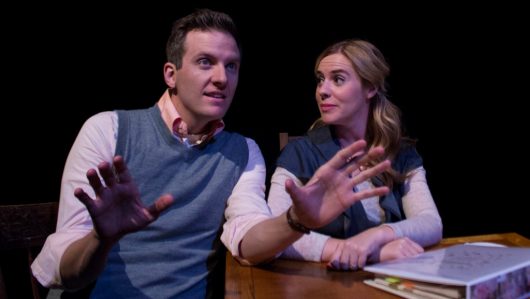 As always, the cast of Lemoine regulars works together like a fine Swiss watch. MacDonald-Smith, always a likeable presence with an easy stage charm (remember his award winning turn as Bert the chimney sweep in the Citadel's Mary Poppins), is perfect as the everyman who sets out on a prosaic task and has it turn into some unexpected dark alleys. The man is a fine actor and never better than in a long scene where his father explains the affair he had with Martin's unobtainable dream love. Haslam is also one of our finest actors and is always at his best when relating to others. The scene between Haslam and MacDonald-Smith is a marvel of intense communication and atmosphere.
Of special note is a very ingenious set from Chantel Fortin that frames the characters in Martin's life in giant ornate picture frames.
There is a bittersweet but satisfactory resolve to the characters' roiling relationships, but then Lemoine, that canny fellow, comes up with an exultant ending that uses the orchestra in Martin's head to show how, despite the emotional pitfalls that await us, life is a great dance that just goes on. Conga!
Witness to a Conga plays until Oct. 15 at the Varscona Theatre.