MUSIC PREVIEW: Top 7 UP+DT acts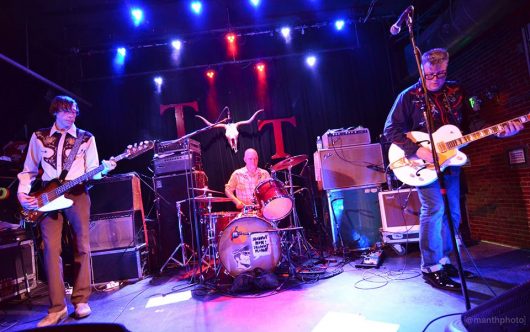 This weekend's primary offering is a bevy of insanely good gigs courtesy of the fourth annual offering of the Up + Downtown Music Festival. With acts ranging from folk to punk to garage to psychedelic, there's a little something for almost everyone. But little something is probably not giving the festival programmers enough credit, because they have stacked their lineup with extraordinary talent from top to bottom. And, all the gigs are within a short walk downtown, so you can actually move between shows, or see two or even three each night.
A number of the gigs are headlined below, but there's plenty of other amazing bands playing elsewhere during the weekend for the festival, including Humans, Oh Pep!, Royal Canoe, Drive By Punch, Faith Healer, Nature Of, Samantha Savage Smith, Lab Coast, Miesha And the Spanks, and a whole lot more. A full pass conferring admission to all events is $110. You can find out all the details over on their website.
1. Shadowy Men on a Shadowy Planet
Perhaps the biggest name in the festival lineup this year, this instrumental rock band (above) has been around since the mid-1980s, and won a Juno back in 1992 for Instrumental Artist of the Year, famous for playing the theme song for Kids in the Hall (Bruce McCulloch is performing for the fest at the All Saints Cathedral Saturday at 7 pm). The group disbanded in 1996, then reunited in 2012, though one of the founding members, Reid Diamond, died from cancer back in 2001. The Yawpers and Sam Spades open. Friday, Freemasons Hall, 8:30 pm, $25. BUY
2. Tokyo Police Club
Another of the heavy hitters UP+DT has going for it this weekend. With a slew of recent hits on the alt-rock charts, including 2010's Bambi, 2014's Hot Tonight, and this year's Not My Girl and My House, the band is hitting on all cylinders. Their back catalog is just as amazing, if not better; they just weren't having any luck in the mid 2000's. Check out (or listen for) Nature Of the Experiment and Your English Is Good if you get a chance. Born Ruffians and The Elwins also perform (psssttt … the same lineup performs an afternoon show at the Needle too). Saturday, Starlite Room, 8 pm, $30, BUY
3. White Lung
This red hot, perhaps even white hot, wait, is white hot hotter than red hot? Whichever the case, this Vancouver punk rock band blows the roof off whatever venue they're playing. Every single time. So it seems as if The Needle might not have a roof after this Saturday show. They released their newest full-length album, Paradise, back in April. Switches and Banshee perform opening duties. Saturday, Needle Vinyl Tavern, 8 pm, $26.50. BUY
4. Basia Bulat
This uber-talented songstress from Ontario is another of the big headliners the festival has to offer this weekend, in the biggest venue the festival has ever used – the Winspear Centre. She's also got a brand new album out, February's Good Advice. Though if you really want some good advice, go see the show! Friday, Winspear Centre, 8pm, $33, BUY
5. JPNSGRLS
This Vancouver garage pop act has a pair of full-lengths and an EP to their credit, all of which have received very good buzz and critical acclaim. Currently signed to Light Organ Records, once of the coolest labels in western Canada. Also on the bill are Concealer, Billy Moon, and Artisan Loyalist. Saturday, Brixx, 8 pm, $12. BUY
6. The Sadies
This Toronto rock-country band formed in 1994, and has had a stream of albums come out since their debut in 1998. They're hugely popular, always put on a great live show, and have collaborated with a who's who of Canadian music royalty. The Hearts also perform. Friday, All Saints Cathedral, 7pm, $25. BUY
7. DRI HIEV
This Toronto noise/post-punk/industrial project is, well, loud. And good. Not to be missed. They perform with ANZI, Crystal Eyes, and one of our city's best acts right now, Pyramid//Indigo. Bohemia, 8 pm, $8. BUY
Friday 7
Proclaimers – Turns out, at least for this weekend, you don't have to walk anywhere near 500 miles to see this band. That was certainly the biggest hit for this Scottish duo of twin brothers, but they've released a total of 10 albums, including last year's Let's Hear It For the Dogs, and they've actually had a number of songs chart in the United Kingdom. Century Casino, 8 pm, SOLD OUT
Saturday 8
Tegan and Sara – Originally from Calgary, this twin sister duo is now a household name in many regions of North America. Their album Love You To Death, released in June of this year, is the fourth in a row to chart in the top four in Canada, and also make the charts in Australia, Ireland, the United Kingdom, and the United States. It was really 2007's The Con, though, that put the two on the map, an extremely solid album from front to back, and they followed that up with Sainthood, which included the hits Hell and Northshore. With Shura and Too Attached, Shaw Conference Centre, 6:30 pm, $38.50. BUY