Bittergirl triumphs over heartbreak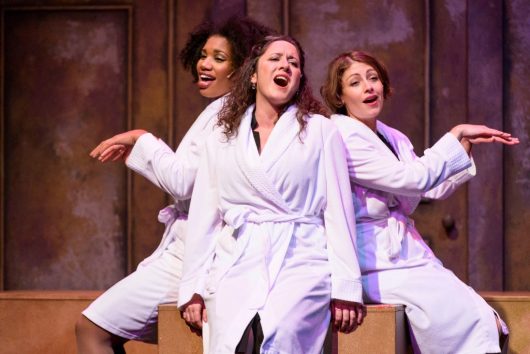 The hilarious musical Bittergirl comes to the Citadel Theatre after generating years of audience laughter in its various forms – but there are deeper, timeless issues here.
The original play was the brainchild of three women, Annabel Fitzsimmons, Mary Francis Moore and Alison Lawrence, who had been dumped by their respective boyfriends (and husband). Rather than sit around and whine, they decided over morning coffee to turn their angst into a play. It's been performed in all sorts of venues including a Toronto tavern. But their creation proved to be so durable (and funny) that the stages just got bigger and bigger and in its 16 year history grew to encompass New York and London's West End. It morphed into a successful book and then picked up a tasty brew of 50s hurtin' pop songs and affirming anthems (like the inevitable I Will Survive) which turned the malleable vehicle into a full blown musical.
Which of course became a hit all over again.
Listening to all the 50's doo wop that is woven into the production, one is reminded that there were some pretty good songs penned back in the days of bubblegum music. Many of these jukebox musicals that use the music of by-gone eras groan as they try to pound the hits of yesteryear into a shape to fit a new book – but it works so well here that the songs could have been written for the show.
The current incarnation is a testimony to its durability. It is constantly gut-wrenchingly and even painfully funny. And since we've all been dumped at one time in our lives, it applies to everyone.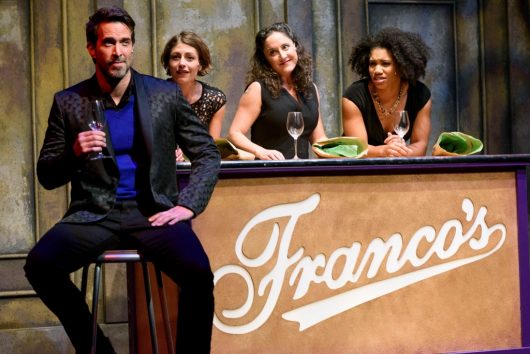 The Citadel production features Rebecca Auerbach (Girl C), Tara Jackson (Girl B) and Amanda LeBlanc (Girl A) in the roles created by the originators. The three seem to have been born to play the rejected inamoratas. Bitter they are – but not so that they poison the production. There is even some melodrama, as when one must tell her child why Daddy has gone, but that, too, just adds to an evening that touches both the heart and the funnybone.
They are, in fact, terrific actresses – all with impressive stage presences while imbuing their individual characters with a human complexity. There is a feeling that under all that bittersweet humour there is a beating but hurting heart. And they sing with considerable verve as well. They have the great pipes for impressive solo work and when they sing together they invoke The Supremes.
The show is considerably aided by Jay Davis (D-Everyman), a good looking young fellow with considerable comic smarts and a solid voice. He's brave too – because he uses every cliche in his well-worn book to dump his damsels ("I feel trapped … it was too much too soon") and becomes the object of scorn to the ladies – and to us too. When he exited at the end through the audience, it was a good thing he exhibited enough charm to calm a Saskatchewan blizzard, because by then we might have torn the callow fellow limb from limb.
The accompaniment under music supervisor Bob Foster is tight and supportive and director Adam Brazier not only pulls terrific performances out of everyone on stage but keeps the pace of the two hour and ten minute show (with 20 minute intermission) clipping breathlessly along.
Bittergirl is a journey from rejection to triumph. When the ladies finally locate the spunk to jettison the jerk – the audience breaks into spontaneous applause. The show is giddy, clever, nuanced and wildly entertaining.
Bittergirl, produced in association with P.E.I.'s Confederation Centre for the Arts, runs in The Club through November 6.