Cowboy pianist steps into the spotlight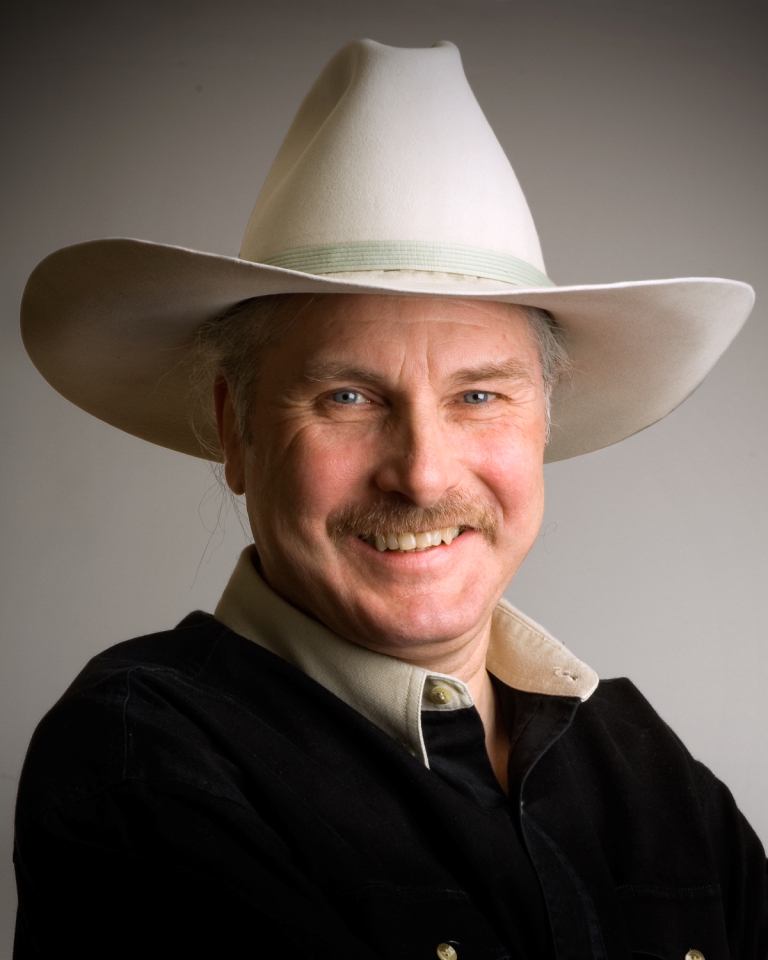 You know that saloon scene with the piano player in just about every Western movie ever made? Stewart MacDougall could be that piano player. He looks and sounds and has lived the part.
It's not often this dedicated local sideman gets a chance to headline in his own town, so it's a special event he's playing Saturday night at Festival Place. Featuring ringers like Mike Lent on bass and Sandro Dominelli on drums, "Saloons & Chandeliers" will be recorded live for an album to be released down the road, probably by that name. The title reflects the two moods of his latest songs, MacDougall says. The chandeliers represent the more "cultured" side. He learned to play Bach on church organ before turning to country – which is where the saloons come in.
"I think I've earned the hat," the musician jokes of the iconic cowboy headgear he is never seen without. "I could've been a horseback shepherd in a different time. I have spent a lot of time around horses and I do know how to ride. But I've never worked cattle from horseback. I've just spent a lot of time with people who do."
Often while playing music that expresses the poetry of country life. MacDougall has plonked the ivories in just about every dive bar, juke joint and honky tonk in every tank town down the line, from Victoria to Fredericton, N.B., where he's from, and back again, all over the continent. Also with the Edmonton Symphony Orchestra. He's got stories.
MacDougall was k.d. lang's first piano player when she was a cow-punk sensation, and protected her from some redneck who asked, "What are you, anyway?!" when they played Calgary's Longhorn Saloon in the early 1980s. "The guy was quite confused," MacDougall recalls. "But Kathy had a thick skin about it. I was protective of her. That was familiar turf for me because I used to play those places a lot." Lang wound up recording one of MacDougall's songs, Busy Being Blue, on her 1988 album Shadowland.
The cowboy pianist also toured with Ian Tyson – king of cowboys – who recorded a song by MacDougall's own band The Great Western Orchestra, which lived up to at least the first two words of its name. They were a duo. One of their songs was also done by Randy Travis.
In addition to his solo recording career, MacDougall still regularly performs around Edmonton with other legends of Alberta country music, like Joyce Smith and Bev Munro. These folks are a fixture at bars like the New West Hotel, which still runs live bands six nights a week. Not hot country, not your hipster alt-country – this is real old-time country.
"I think there's a healthy traditional underground country scene here in town," MacDougall says. "We're talking George Jones, Merle Haggard, stuff I cut my teeth on in the '70s. It's a great reality check to go up there to play the George Jones book, the Merle Haggard book, and the Marty Robbins book, and see how you measure up against that stuff. It keeps me in really good shape. I always do Ian Tyson stuff in those shows. I think he should be held in much higher esteem than he is."
The cool part about traditional country is how malleable it was – and still is. Pointing out how much he loves old R&B, MacDougall says, "I think the R&B I grew up with and the country music I grew up with were pretty closely related. Like if When a Man Loves a Woman came out today, it would be a country song, Percy Sledge would be a country artist."
It happens that MacDougall has developed a seasoned bass-baritone voice much like Johnny Cash – and there's another good example.
"There's an interesting guy," he says. "He transcended everything. He was considered country, but he did rockabilly, rock, blues, was a folk singer and did the Nine Inch Nails song, not for expediency, but because he liked it." Only one small complaint: "He did Bobby Bare's version of Four Strong Winds, with half the chords missing from the original."
That of course is Ian Tyson's song. It really should be made the provincial anthem of Alberta – and if they need a piano player for the official recording, well, they know who to call.