Kenny Rogers knows when to fold 'em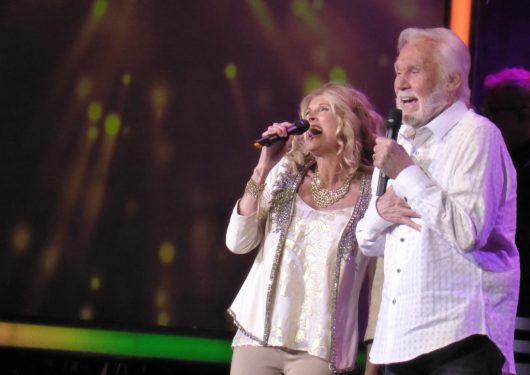 He can hardly walk, he can't stand up for very long, his voice is a raspy shadow of its former self – but Kenny Rogers is making the most of what he's got left, one last time. What a trouper.
There should be something poetic said here about saluting the lion in his final victory lap after Saturday night's trip down memory lane at Northlands Coliseum. Almost 4,000 fans were thrilled.
The 78-year-old singer can't be doing it for the money. He's sold 165 million records, most of them back when people bought records and artists got paid for it. He scored a royal flush of branding with The Gambler. Kenny's rich, not to put too fine a point on it. No, he's must be playing The Gambler's Last Deal for love, to properly say goodbye and thanks to all his fans – and that makes all the difference. Sincerity shows.
The show was a low-key display of legendary moments in pop music and pop culture, delivered with humility and humour and just a hint of fine cheese. More Branson than Austin, more Vegas than Nashville. Plus Hollywood. What a weird ride it's been for him: Inspired by Ray Charles to doo-wop to jazz to 1960s protest music to AM gold pop hits to mainstream country music (plus acting), a presence in the last seven decades. How can you stick to your guns when you have so many different guns?
Kenny may have been opportunistic, but he is no fool. He knows when to stop doing what he's spent his life doing … and if only there were some song lyric that could express an appropriate metaphor. He promised he wouldn't be one of those people that do three or four farewell tours. "I'm going to go to the end – and then I'm going to quit," he said.
With storytelling skills in fine form, he said a lot more during a nearly two-hour show that he said was a "linear" look at his life. He had a lot of good lines. On being unsteady on his feet due to a knee replacement, he said, "If I fall down, do not feel obligated to come help me. I have Life Alert." He talked about Mick Jagger and Willie Nelson dancing and doing karate, respectively, and lamented, "I just didn't do enough drugs in the '60s." After singing along to a pre-recorded track from the late Dottie West on their duet Everytime Two Fools Collide, he brought up his real life singing partner Linda Davis for a version of (I Feel Sorry For) Anyone Who Isn't Me Tonight – decades before Meghan Trainor had the same idea. Kenny said the song, "was single-handedly responsible for ending my fourth marriage."
The yuks got to be too much in Lucille, almost ruining what remains a very sad song despite its irresistible singalong refrain. You'd never catch Johnny Cash making light of such heartbreak.
Rogers made hash of the handful of bad movies he made, too, in which he seems to punch a lot of guys in the face. "I'll grant you they didn't win any awards," he said. Film clips backed the live songs, Coward of the County and The Gambler – which will last a lot longer than the TV movies inspired by them. On his twin sons, age 12, "I'm trying to get them safely into prison before I die." Cue a touching tune, Heroes, taken from Kenny's stab at a Christmas Broadway musical, Toy Shoppe. Yes, he did a Broadway musical, too.
Rogers did most of the show sitting down, his voice low but still expressive, his showmanship and wit compensating for any infirmities. He told the crowd he was weighing out whether to do one last tour or not, and finally decided, "I'd rather say thank you sitting down than not do it at all."
Then he got a standing ovation.