Weird town to be less weird without weird artist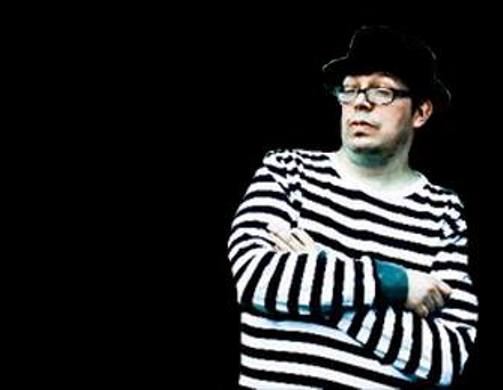 To mangle a line from The Hitchhiker's Guide to the Galaxy, Planet Edmonton will be a very great deal less weird without Philip Alexander Jagger.
The performance artist, experimental musician, filmmaker, actor, poet and distant cousin of Mick Jagger has spent 30 years Making Something Strange in Edmonton, but will soon be moving to an artsy village in B.C. called Sechelt – just a short boat trip from Gibsons.
"Yes, I'm living near where The Beachcombers was filmed," Jagger says. There are hippies there, and an arts centre that puts on four festivals a year. He'll be right at home.
But not before one last atonal hootenanny in Edmonton. At the Ortona Armory Saturday night, his band Agaperaygunexperiment will be playing his own farewell show, along with Damno Te, Himiko, Pizzarrhea!, Don Ross and Motonogo. These are names well-known in Edmonton's cozy experimental music scene. Some call it "noise." It's a genre.
On being weird, Jagger tells the story of a French countess having tea with legendary surrealist Alfred Jarry, and exclaiming, "'You're perfectly normal, you're perfectly bland. I expected you to be wild!' And he said, 'Well, that's me being surreal. You expect me to go one way, I go the other way. Sometimes it's relaxing to be normal … It's theatre. I'm an actor.'"
Jagger says he takes inspiration from the Dadaist movement that arose in Europe around the time of the First World War. In the spirit of such "anti-artists," he deploys an unusual arsenal of electronics and instruments (typewriter as percussion, a microscope hooked up to MIDI sound unit, a harp made out of a bicycle, you name it). He uses sounds and film components taken from "unconventional" sources, tops it off with absurdist, non-linear narratives. He sometimes performs while wearing bizarre masks or costumes. He used to have a "prop bag" filled with God knows what. Jagger's been busy. He could be seen at some happening around town at least twice a week, slam poetry, plays, church functions, jam sessions.
"Not everything I do is non-music," he says, but a lot of it is.
This question always gets asked of artists who shy away from the mainstream: Who is he doing this for – the audience or himself?
"It's for the art itself," Jagger says. "You're exploring ideas. You're making a canvas. It's like watching Jackson Pollock work in the studio. What do the great artists do? They work. They create. They paint. Sometimes it's a failed experiment, you throw it away, and you redo it. It's more about creating art for the sake of creating – and then you have people watch."
He points out that the weird of today can become the normal of tomorrow: "Look at Stravinsky. You hear Stravinsky all the time. He was a revolutionary artist. When he came along, he drove people out of the theatre with this new, whatever it was he was creating – and now it's become part of the standard."
Jagger says he doesn't go out of his way to be weird, that he and his peers just try to let creativity flow in the heat of the performance. Even so, he observes, "There's actually a lot of weird people here. Edmonton is like this weird magnet. There's a lot of people doing really weird stuff in Edmonton, for some strange reason."
The reason isn't that strange. It's so cold and dark in winter cities, "You have to create stuff."
Or go mad. Or both.