MUSIC PREVIEW: Stumbellas sellout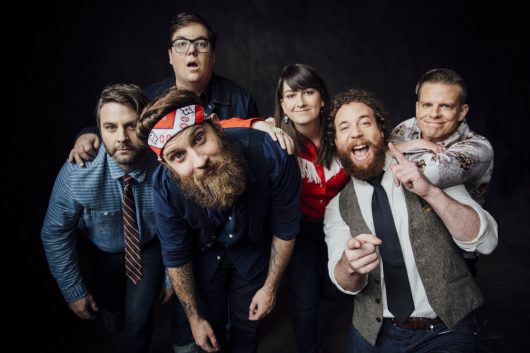 It's no surprise that one of Ontario's hottest folk-rock bands is playing a sold out show at Winspear Centre this Thursday night – when just four years ago they were playing Wunderbar.
The Strumbellas' 2012 album titled My Father and the Hunter was one of the year's very best, featuring their epic song The Sheriff, which always gets the crowd raging at their live shows. Though there's plenty of other amazing songs too, including Pistol, and Sailor's Blues. Their sophomore album We Still Move On Dance Floors also had some stellar songs, including the very first track Sailing, but it wasn't until this year's release of Hope that the band's popularity finally soared into the stratosphere, powered by the mega-hit Spirits. It blistered everywhere on the radio in the spring, crackling through the chaff and leaving listeners' jaws agape across this great nation. It also earned them a nomination for the Polaris long list in the summer.
It's always inspirational, isn't it? When a band can go from playing bars to selling out a venue like Winspear Centre in just a few short years. Inspirational indeed.
Thursday 20
Our Lady Peace and I Mother Earth – OLP ruled the Canadian rock airwaves back in the late 1990's and early 2000's, with such hits as Starseed, Naveed, Superman's Dead, Clumsy, and Somewhere Out There. They haven't had quite as much commercial success since that time, but continue to record, and tour. Their most recent album is 2012's Curve. I Mother Earth – featuring their lead singer Edwin back with old gang to mark 20 years since Scenery and Fish – was hitting their stride about the same time, with hits like One More Astronaut and Another Sunday. Shaw Conference Centre, 6 pm, $55. BUY
Friday 21
Dwight Yoakam – This country music legend performs two nights here in Edmonton this weekend promise to highlight his entire career, from 1986's Honky Tonk Man to 1993's hits like Ain't That Lonely Yet and A Thousand Miles From Nowhere, and undoubtedly all the way to a few tracks off his most recent effort, September's Swimmin' Pools, Movie Stars …. River Cree Resort & Casino, 9 pm, $62.50 and up. Buy Friday/Buy Saturday
Purity Ring – This local electronic duo was shortlisted for the 2013 Polaris Music Prize with their album Shrines, a delicious and well-deserved shout out to the project of Megan James and Corin Roddick. The follow-up, Another Eternity, was released in March of 2015. Winspear Centre, 8 pm, $28 and up. BUY
Counterfeit Jeans – With 36?, Birds Bear Arms, and Dad Jeans. What do you get if you combine math rock, one of Calgary's best bands, and melodic noise rock? This bill. That's what. Sewing Machine Factory, 9562 82 Avenue, 8 pm, $5-$10 (pay what you can).
Billie Zizi – This eclectic Edmonton artist is hosting a release party for her latest effort titled Moon Of Honey, about the intertwining heaviness and lightness of love. She's joined by some exceptionally talented friends, including Karimah, and Vancouver's folk-rock stalwarts The Sumner Brothers. The latter just recently released a video for their newest single, about an ant that gets infected with a fungus that eventually explodes his head and infects the rest of the colony. True story. Well, the fact that's their video is the true story. Not the infected exploding ant. Needle Vinyl Tavern, 8 pm, $15. BUY
Saturday 22
John Fogerty – The original frontman for Creedence Clearwater Revival is perhaps becoming even better known for his solo material, which includes albums from 1972 all the way through 2010. This tour, however, is titled Rollin' On the River, which is actually the name of one of many CCR compilation albums released in the 1980s and 1990s. The material for this tour includes both solo and CCR catalogs, and word is that Fogerty's guitar playing is as epic as ever. Rogers Place, 7:30 pm, $20 and up. BUY
Stiff Little Fingers – This Belfast punk act formed back in 1977, and have continued to record new music ever since, including 2014's No Going Back. With The Real Sickies. Starlite Room, 7 pm, $37.50. BUY
Weird Lines – This east coast power pop supergroup features Julie Doiron (Eric's Trip), Jon McKiel, C.L. McLaughlin, Michael C. Duguay, drummer James Anderson, and saxophonist Chris Meaney. Experimental and melancholy, and yet surrealistically raw and emotive, the new project's eponymous release came out in July. With Jon McKiel and Wares. Mama's Gin Joint, 9 pm, $10.
Monday 24
The 1975 – From Wilmslow, Cheshire – for those of you not familiar with your European geography, it's a southern suburb of Manchester in mid-England – this band burst onto the scene in 2013 with their pop-rock sensation Chocolate from their EP Music For Cars. They followed that up with a trio of songs – Love Me, UGH!, and The Sound – off their sophomore full-length that hit the charts in the US, actually reaching higher on this side of the ocean than their homeland. With 070 Shake. Shaw Conference Centre, 7 pm, $45. BUY