OLP + IME = the new classic rock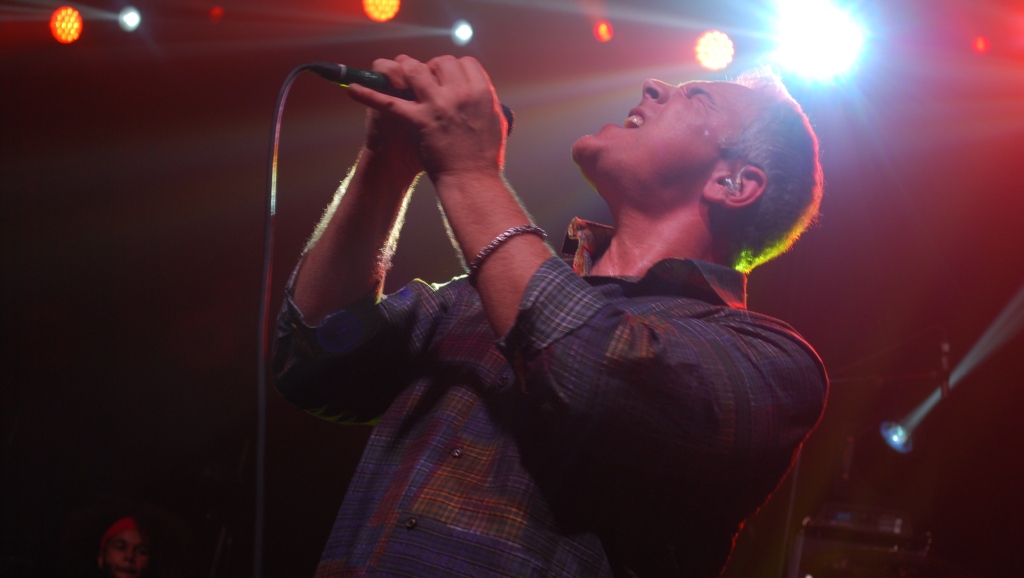 Late 1990s nostalgia has struck with a vengeance with the return of Our Lady Peace and I Mother Earth.
At this rate, we'll be reminiscing about the 2000s, and sharing fond memories about the day before yesterday. It doesn't feel that long ago, but it's actually been 20 years since these two bands turned up on the Can-Con radio scene – where they remain – in the wake of the post-grunge movement, when alternative rock turned "modern." Code word for mainstream. It's that 20 year itch that must be scratched. From Pearl Jam on, these bands all celebrate their platinum anniversaries on the inevitable road to classic rockdom. It's a rite of passage.
If you were keeping score for the double bill at the Shaw Conference Centre Thursday night, I Mother Earth played first and won the night. Their original lead singer Edwin (above) is back after a solo career, honouring the 20th anniversary of the album Scenery and Fish – not looking like he used to, such a common complaint, but pretty much singing like we remember him. Give or take a couple of high notes.
"And we thought you wouldn't remember us," he said after a gust of cheers.
The true star of this band was guitarist Jagori Tanna. He showed such serious Carlos Santana mojo on various epic extended jams that they should've broken into Soul Sacrifice instead of another I Mother Earth song. The icing on the cake was the addition of Latin percussion and keyboards to the band's slightly offbeat hard rock-Latin hybrid. The band was at its best when it was jamming, free from the constraints of radio-friendly banality. One More Astronaut – a No. 1 alternative rock hit in Canada in 1996 – felt like an anticlimax.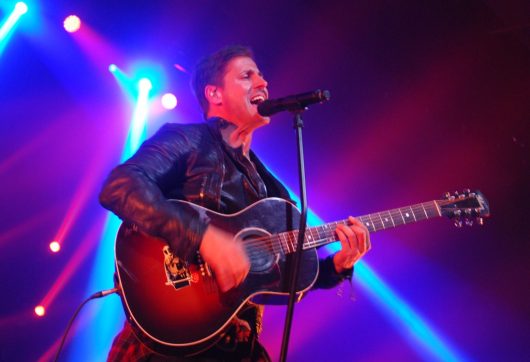 Despite obvious growth and new recordings, the older hits from both I Mother Earth and Our Lady suffered from a sound typical of its time: limited melodic ideas where you can hear hints of the hook from "the hit" in other songs; and a conventional approach to rock song construction that has since been superseded by the new order. In short, it sounds dated. Dynamics were lacking, too. It definitely didn't help that the sound in the Shaw was particularly bad on this night. The place is a barn, complete with a fenced pen for the drinkers at the back. There didn't appear to be many people under 18 at this show.
Our Lady Peace got to play last because they had lots of hits on the radio. They still have hits on the radio; perhaps K-97 will play them in five years or so – you have to be 25 to get into the hall, of course.
To start a set laden with hits and one promising new song, the band started strong with One Man Army, one of their best songs, followed by the huge hit Superman's Dead with its why-ee-ii-eee-iiii refrain that sticks in your head like an air raid siren. The distinctive voice of Raine Maida has always been a bone of contention with this band – a braying drone that gets strident and unpleasant at high points. He's not even a bad enough singer to fall into the category of great bad singers (Tom Waits, Leonard Cohen, Neil Young, etc.). Sure, you know exactly who it is, that's a plus for originality, but a little goes a long way.
Bonus points for the Tragically Hip cover.