Stiff Little Fingers fires up old punks in Edmonton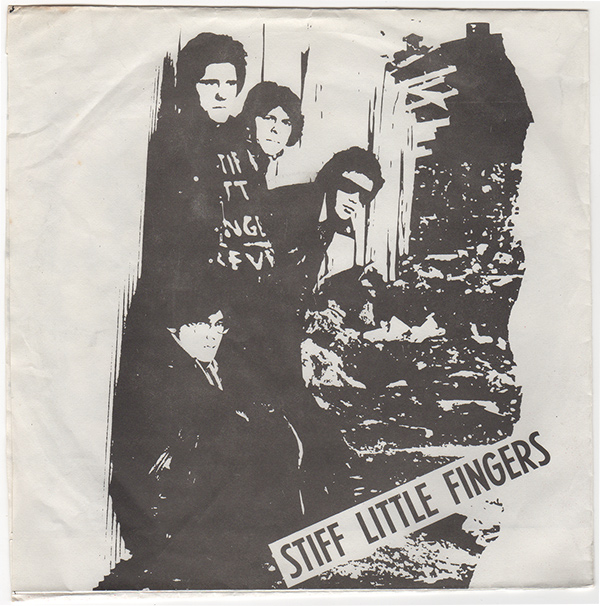 The day the Stiff Little Fingers 2016 Canadian tour was announced on social media was an incredibly happy day for thousands of Canadian punks, old and young. The notion of the Belfast band playing anywhere in Canada other than Vancouver, Toronto or Montreal never came up. It was just silently assumed it would never happen. The idea wasn't on anyone's radar screen, so it was quite it was quite an experience to see Stiff Little Fingers for the first time in Edmonton at the Starlite Room Saturday night.
Stiff Little Fingers and The Undertones were two of Ireland's major contributions to the punk scene that sprang out of England right after the Sex Pistols' initial shocking impact on the world. SLF were from Belfast, where all the "troubles" were going on. It was said of the time and the place that you either joined the army, or you joined a band. Understandably, SLF often had a political angle to their material. Among fans, that made them rivals of The Clash. You were either a Clash guy, or a Stiff Little Fingers guy. Secretly, everybody was both.
So, with real excitement in the air, a lot of Clash guys, SLF guys, old punks, new punks, and general fans of the genre filed in to the Starlite Room to bear witness to something they never expected to get to see.
The show opened with locals The Real Sickies, yet another incarnation of the ongoing artistic saga of Ben "Of Many Bands" Disaster. They were punchy and tight, a disciplined, hard rocking outfit capable of the "no breaks between songs" thing, with just enough show biz thrown in to make it fun without being absolutely comedic. They pull a lot of influence from bands like The Ramones and The Dickies, but totally with their own spin on things. Disaster's bands have always been aware of, and respectful of, the things that came before them. And boy, did they give those three chords a workout. A perfect tonic for what came next.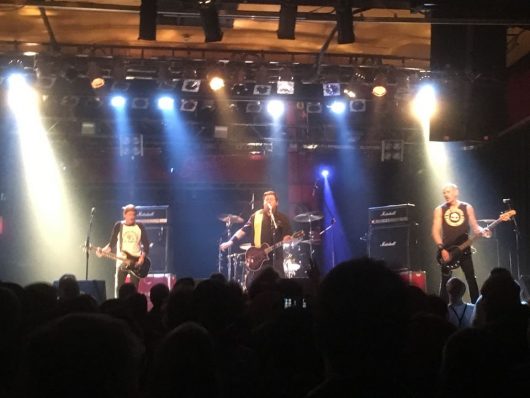 The Stiff Little Fingers came out on stage to an explosion of  adulation and relief as the crowd could now finally accept that this was happening. The band opened with Wasted Life, a B-side fron 1978, and the audience was singing along before the first line was done (this didn't really stop for the whole night). SLF can do the "no breaks" thing, too, as they blazed through Just Fade Away, and Roots Radicals Rockers and Reggae before stopping to say hello properly. The next round included such beloved classics as Barbed Wire Love, and from 1980, Nobody's Hero.
After a rousing singalong to Listen – "It seems so easy in the light of day, and when we're there it always feels OK, but then again I'm so alone when I am by myself" – singer John "Jake" Burns paused to say some sincere words about his own history with depression, encouraging anyone suffering from mental illness to rise above the embarrassment of it and talk to someone. They then did the powerful new song My Dark Places.
Before the crowd turned to total mush, Jake told an amusing story of how SLF "stole" the song Doesn't Make It Alright from The Specials. Long story short: both bands were racing to release it first. Both versions are classics, and SLF still delivers with all the angst and passion the song deserves.
At one point, Burns put the Clash guy/SLF guy thing to rest permanently when the band played his tribute to Joe Strummer, Strummerville. By now the crowd was singing itself hoarse. The slam dancing wasn't showing any signs of slowing down. Neither was the band, as they blazed through a few more punk anthems from half the audience's teenage years ending with one of the greatest punk songs of all time, Suspect Device, the band's first single originally released on cassette from 1978.
The crowd could've showed more juice for the encore call, but they seemed to be all tuckered out. There was enough noise, however, to prompt the band back up, and they still had more. Johnny Was, Gotta Get Away, and Alternative Ulster put a perfect exclamation point on the whole experience.
All in all, the band was killer tight, and wisely were not playing at a "rip your face off" volume, so everything was powerful, defined, and clear. Burns' voice isn't as growly as the early records, but he is still angry and defiant in his singing. The songs don't really miss that angry Irish dog growl. It's still there, only now it's the roots, not the dressing.
About midway through their emotionally energetic, no holds barred set, Jake Burns apologized for being a band for 40 years without playing in Edmonton before. Hell, Jake, we don't mind. We're just glad you finally showed up!
Mike McDonald is the lead singer of Jr. Gone Wild, among other Edmonton projects