Thieves try to sell Alfie Myhre back his own instruments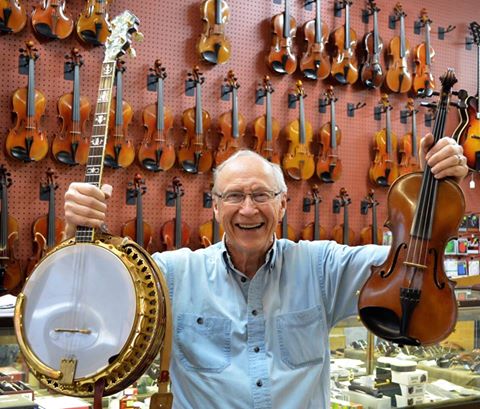 This one is going into the Dumbest Crooks file.
The home of Edmonton music legend Alfie Myhre was broken into last week. Among the items stolen was a fiddle worth $12,000 and his 1929 banjo worth about $7,000 – two of his favourite instruments. It was a devastating loss.
Fortunately, in a stroke of brilliant stupid luck on Monday afternoon, one of the thieves waltzed right into Myhre's Music – the music store Alfie co-founded in 1967 – and tried to sell three of the stolen instruments back, including the fiddle and the banjo. An employee stalled for time. "He could see the fellow was nervous," Myhre says. A second employee came out and exclaimed, "Those instruments are stolen!" – and the chase was on. Myhre says the guy left the banjo behind, but grabbed the fiddle and a guitar and took off. The employee followed. There was a short scuffle at the door and the thief dropped the fiddle – still in its case – and escaped in his car. The employee got the license plate number and the police were alerted. No word yet if they've made any arrests.
The beloved fiddle and banjo, amazingly, are in perfect condition.
"Not a scratch." Myhre says. As for the guitar the thief got away with – an original by Edmonton's Frank Gay built in 1974 and worth $4,000 – "I'm not so sure about that."
Myhre says with a laugh, "I think you don't have to be educated to be a thief. My name is all over my music room. I've got my name on awards I've received. There's a sticker with the name of the music store on my violin case. To think with all that information so easy to see, I'm surprised that he would pick Myhre's Music to sell his stolen instruments. That is just hilarious."