SHOCKER: Teen sexuality on Scona stage!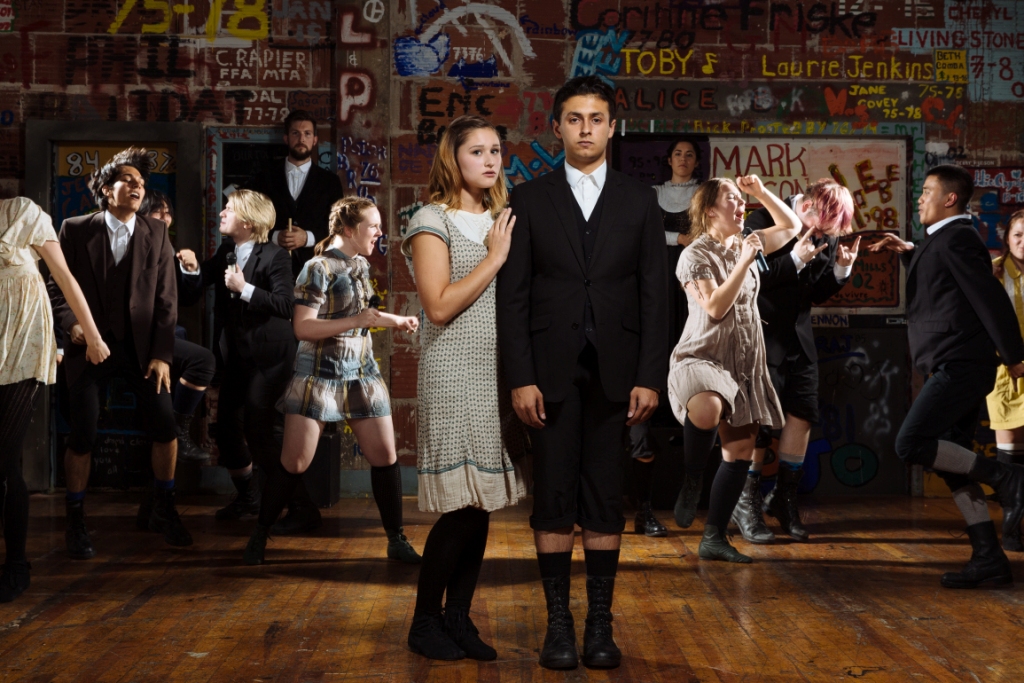 German theatregoers discovered sex in 1906.
And boy, were they stirred up. The good Burghers of the time were horrified (and delighted) by a new work called Spring Awakening, from playwright Frank Wedekind. This provocative play dared to suggest that adolescents discover their sexuality. In the early years of the 20th Century, the heady rush of youthful carnality was not something to be discussed, and blossoming young minds and bodies were met by a stifling repression. The upright provincial geezers who brought up and taught their children were raising good Germans by keeping them in complete ignorance. So Spring Awakening was often censored or outright banned. They called it pornography.
The musical version of the play is being presented by the Scona Alumni Theatre Company until Nov. 6.
For those willing to accept Spring Awakening on its own merits, the results are rewarding, uplifting and heartbreaking.
The work has survived all these years because it addresses the universal erotic drives that young people face and the efforts of an older generation to suppress its demands. Despite its age, the play remains as fresh as ever.
Back in 2006, two contemporary American writers, Steven Slater (book and lyrics) and Duncan Sheik (music) turned the venerable property into a rock musical that was an immediate hit and went on to win all the major American and British theatre awards. It also made a star of Lea Michele, who emerged to be featured in television's Glee.
The play contemplates an earthy brew of eroticism that includes premarital sex, an unplanned pregnancy, homosexuality, abortion, masturbation, suicide and even a little S&M. There's not a lot of humour, but there is a feeling of good raucous fun with liberal dollops of heartbreak and loss of innocence. The punk, spiky music – mostly simple tunes with gorgeous, driving orchestrations – and kickass lyrics are admirably suited to the upheaval pictured on stage.
Spring Awakening: The Musical is directed by Linette Smith, an old hand at this sort of thing – who gave us an earlier version of the show a few seasons back at the Fringe. Her approach is tight, sympathetic and energetic and her choreography is simple but propulsive. The cast is young – easily giving the impression that they are just embarking on the stormy seas of adolescence. But this should not be confused with a high school show. These are seasoned young actors generally pursuing a career in the business, and thoroughly professional in their approach.
The story centres around Melchior (Damon Pincher), a mature, free-thinking and self-aware young man, and a lone voice in rebellion against the fusty bluenoses who rule the young people's lives, while attempting to chart his own roiling hormonal sea. Pincher is a charismatic anchor for the production – an excellent actor with a fine voice. Moritz (Mark Sinongco) is his best friend. More than a little anxious, he's failing in school, but the big problem is that his life is a miasma of unfocused sexual desire. Sinongco particularly shines in a long musical-monologue Don't Do Sadness off the head of the second act. Wendla (Cassandra James) is a shy and sensitive young girl – unsure but inquisitive and attracted to the questing mind (and the mature sexuality) of Melchior. The singing from the 14-strong cast is fervent and impassioned. The band (under Keat Machtemes) contributes greatly in bringing the immediacy of a live fully-visual just off-stage garage band to the show.
Smith effectively stages her production in the funky Old Scona Stage splitting the graffiti splashed room in two with an alley stage and ramps at either end, putting the audience on either side of the action. The show is two hours and 15 minutes (including an intermission) on some very hard seats.
It is also a tribute to cast, musicians and crew that they kept us rapt while a basketball game was loudly being played in the gym next door.