Color My Boogie Wonderland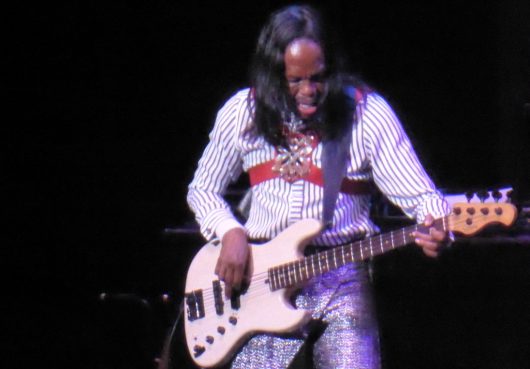 Hey, if all you guys take a solo, we're going to be here all night!
The crowd at Rogers Place wouldn't have minded a bit on Saturday night. They'd come for a marathon mash-up of two of the greatest bands from the Easy Listening Era: Chicago and Earth Wind and Fire. At last count, for the last set, there were 21 musicians on stage: six horns, three percussionists, two drummers, keyboardists, guitarists, two bass players, and about a dozen singers. Some were pulling double duty.
With such an impressive concentration of musicianship, not a space went unstuffed with glorious gusts of funky goodness. They did their respective hits, and played on each other's biggest songs: September, 25 or 6 to 4, Shining Star, Does Anybody Really Know What Time It Is? Time seems to be a running theme of both bands. Do you remember September or do you think it was the Fourth of July? The final bows resembled the curtain calls after a large theatre production: applause for the sidemen, the main men, and then the stars of the show, the precious few original members from both bands, bowing together as one. There will be no encore.
They're not so different, these two. They're both from Chicago. They're both unusual in that they have no distinct frontmen, relying instead on team effort. They both had enormous hits in the '70s. Together they held the world in a vice-like grip of tuneful easy breezy pop songs that stuck in your head like glue – and the spell still holds strong with People of a Certain Age. They wrote songs that based on the sheer number of bizarre chord changes and style influences should seem too sophisticated for pop radio. Of course they weren't; it was pure ear candy. And so these bands set the agenda for the various elegant-classical-jazz-soul-influenced pop music to come. If Chicago didn't pave the way, there would be no Steely Dan or Supertramp. It could be argued.
It was interesting the way they presented this extraordinary double bill. The show started with all of them on stage, a big sound off the bat.
"We can make it happen!" was the hopeful refrain in Chicago's Dialogue Part 1 & 2 – one of many cool Chicago songs with really dumb titles.
After a brief interlude, Earth Wind and Fire took the stage on their own. Carrying on since the death of founder Maurice White in February (who hadn't been with the touring band), the band was as sharp as ever. Newer guys displayed a lot of passion and talent, suggesting this band could keep going without any original members. Others have done it before. Standing out from the newbies was Philip Bailey Jr., whose dad – an original member – wins the prize for singing the highest notes, with a powerful male soprano falsetto in After the Love Has Gone, one of the big ballads. At least a "high C." He got a standing ovation for that one. It takes a lot to get Baby Boomers to stand up.
There was an intermission, and then it was Chicago's turn. Horns a-blazing, the band bashed through its bizarre catalogue of harmonically genius, stupidly-titled songs with all the gusto of the kings of unashamed schmaltz they are. Parts of their show felt like a conga line on a cruise ship, yet were sublime in their musicality. Like an opera. Chicago should write an opera. Yes, I know. Don't give them ideas. Weirdly, the first part of their set came off like a medley – already complicated enough, as if it were the soundtrack to some stage musical that hasn't been written yet. Maybe the Cubs winning the World Series could be more "inspiration" for Chicago?
While horns are Chicago's forte, so to speak, the singers are what makes Earth Wind and Fire. Ralph Johnson, another original member, stood out, along with the energetic B. David Whitworth. One of the best singers of the night was young Jeff Coffey … and wait a minute, he's not with Earth Wind and Fire. He sang for Chicago, doing those crucial high lead parts on Got to Get You Into My Inspiration and Color My Boogie Wonderland.
Great. Now we're going to get them confused.