WEEKLY PLAYBILL: ABBA cadabra!
Posted on November 7, 2016 By Mike Ross Archive, Entertainment, Front Slider, Theatre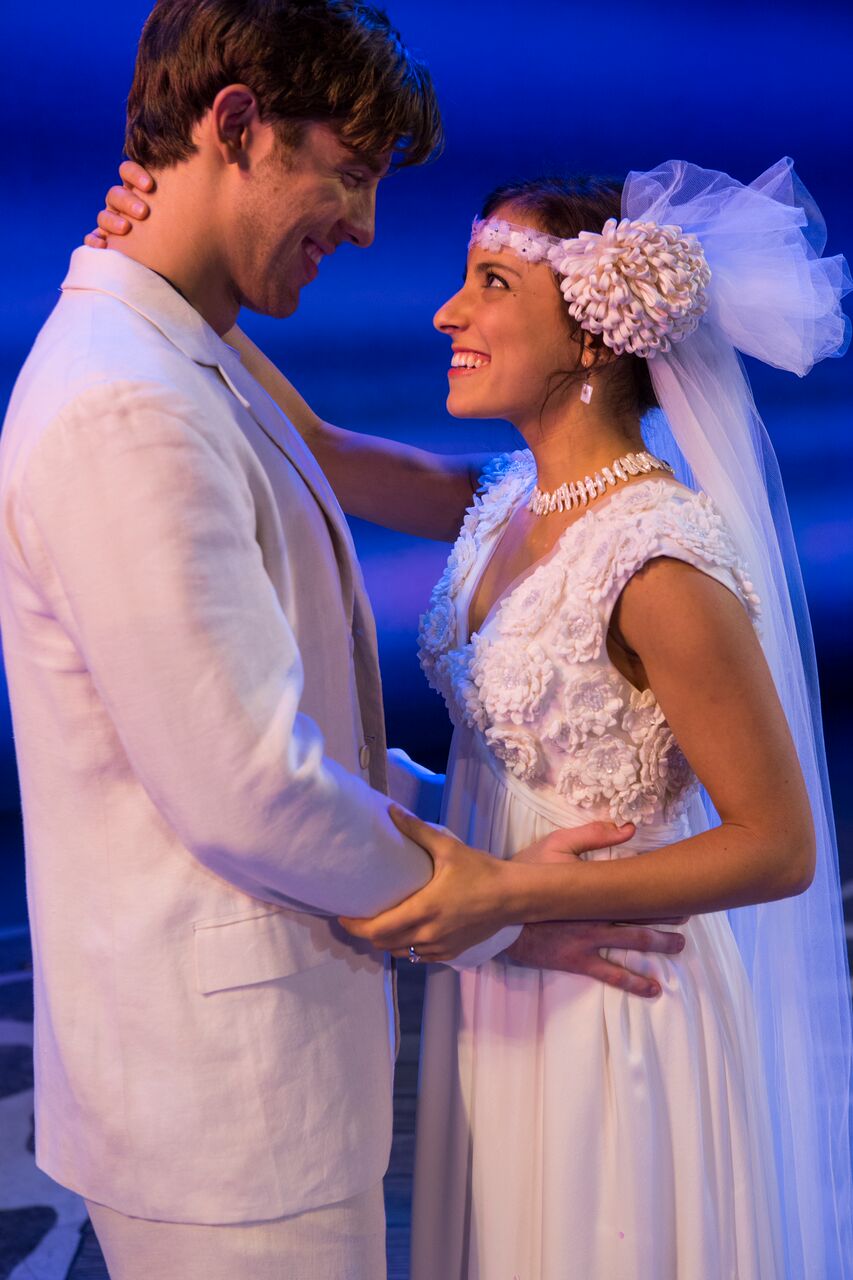 November is a huge month for live theatre in Edmonton – almost a dozen openings, at last rough count.
At the top of the list of the songs you can't get out of your head this week is Mamma Mia, at the Jubilee Auditorium for five shows Nov. 11-13. Short run, big bang.
What's this all about, anyway? There's apparently some kind of messed up sexual situation that comes to a head at a wedding, but you're not coming for the story, are you? No, of course not. It's because it's set to the music of ABBA. Dancing Queen, Take a Chance on Me, Lay All Your Love On Me. Mamma Mia is said to be so good that you'd like it even if you're not into ABBA.
In an astounding coincidence, it was reported recently that the Swedish pop legends that said they'd never reform are reforming! But only in "virtual reality." That is, fans can expect to pay to see a "live" concert tour performed by holographic projections of Benny Andersson, Agnetha Faltskog, Bjorn Ulvaeus and Anni-Frid Lyngstad – while they sit home and collect more bags of cash. American Idol creator Simon Fuller is behind it.
How to Succeed in Business Without Really Trying
Musical theatre is all the rage, isn't it? When Green Day and the dudes from South Park get into it, you know it's big. Now there's a new Edmonton musical theatre company called Foote in the Door Productions, doing the 1961 musical How To Succeed In Business Without Really Trying at the McMahon Auditorium at Campus St. Jean from Nov. 11 to Nov. 19. The company was formed three years ago by actors Russell Farmer and Ruth Wong-Miller – who met as classmates at the Citadel's Foote Theatre School. Hence the name. They've since mounted five musicals, including at the Fringe, treading on the same territory as the mainstream theatres in town, but with a much lower ticket price. Musicals are big, but it doesn't mean they can't be accessible.
The Red King's Dream
In remount of the classic David Belke hit, a lonely, meticulous man has his life turned upside-down after a chance encounter with a neighbour. " A warm and entertaining play about hope and revival," says Colin MacLean. Until Nov. 13 at the Varscona Theatre
Million Dollar Quartet
So Elvis Presley, Johnny Cash, Carl Perkins and Jerry Lee Lewis walk into the Sun Records studio one day, and start to jam. Producer Sam Phillips can't believe his luck, quickly flips a tape onto the spools, presses record and hopes for the best. It's the only time these guys would ever perform together.
Sadly, the recording turned out crappy – but the jukebox musical inspired by this unlikely event has wowed audiences around the world for years. This Citadel Theatre production – HELD OVER ­on the Shoctor Stage through November 19 – is superb, with stand-out performances and musicianship from a gifted ensemble cast, especially Greg Gale as the Man in Black. The hits just keep on coming.
Under the Influence
Queen of all local media Bridget Ryan brings a new show to the stage this month: "part musical theatre, part stand-up comedy, and one hundred percent entertainment." Now there's a tall claim not even allowing a 5% margin of error, but those who know and love Bridget will understand the gift of theatre that runs in her family as she performs snippets from more than 70 musicals – 70! – while exploring the concept of "influence" in its various meanings. Runs until Nov. 12 at the Backstage Theatre at the Arts Barns.
Never Let the Crew See You Cry
Perfect for Remembrance Day, the role of Canadian women at air bases during World War 2 is explored in this drama by the Northern Sabbatical Productions, and based on true stories. Nov. 12-13 at Campus St. Jean.
Tornado Magnet
Guys in Disguise presents the 20th anniversary of Darrin Hagen's Tornado Magnet and his character Dotty Parsons – now a wizened grandma – in a hilarious one-hander exploring life, love and tragedy among the "white trash" who dwell in trailer courts. There is deeper meaning under all that lampoonery. Plays Nov. 10-27 at the Roxy on Gateway
Only In Vegas
What happens in Vegas stays … on social media. It's a different time, isn't it? But you still relive the days of yore when Frank Sinatra and his so-called "Rat Pack" prowled the streets of "Sin City" searching for fresh victims for their relentless tunesmithery and smarmsmanship. There were so many other legends who were made in Vegas, the theme of this revue of music past and present, for the Mayfield Dinner Theatre's holiday show playing Nov. 8 through Jan. 17.
And the rest …
This week only, Rapidfire Theatre presents NAIL – with friendly competitions from high school improv teams across Alberta, Thursday, Nov. 10 at 7:30 pm. The company also presents Theatresports every Friday at 7:30 pm and 10 pm; Con-Scripted sketch comedy every Saturday at 7:30 pm; and Chimprov long form improv Saturdays at 10 pm. All shows at the Citadel's Zeidler Hall.
At the Varscona Theatre every Monday at 7:30 pm, Monday traditionally being the "dark" night of the week for live theatre, comes the long-running Die-Nasty improvised soap opera. This year's season is set in the Renaissance. You can laugh and learn about history in one sitting.