WEEKLY PLAYBILL: Mobile homophobia
Posted on November 14, 2016 By Mike Ross Entertainment, Front Slider, Theatre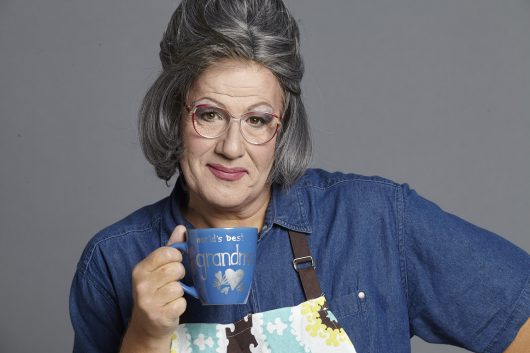 You know you're trailer trash when …
… you own a home that's mobile and five cars that aren't.
… your house doesn't have curtains – but your truck does.
… if anyone in your family has died right after saying, "Hey, watch this!"
No, it's not Jeff Foxworthy. Quite the opposite. These lines come from Edmonton's own sweet transvestite, Darrin Hagen, whose Guys in Disguise troupe is celebrating the 20th anniversary of his tour-de -force play Tornado Magnet at the Roxy Theatre on Gateway until Nov. 27. Hagen returns as the lovable white trash mom Dotty Parsons – now a wizened grandma as the actor is getting a little old to play a young mother (based on his own mom). Earning rave reviews across the board, Tornado Magnet is a one-woman, or is it a one-man, exploration of life in a trailer court, and the prejudices its denizens face. "Mobile homophobia" is the term here – good for a laugh amongst many in a work that balances poignancy with humour, and shows the writer-performer at his … her … best.
Hagen's been a pretty busy man, er, woman, as she … he … they … oh, won't someone think of the pronouns?!
OK: Hagen is a man, his characters are women. Clear? Anyway, once this is over, he's presenting Witchhunt at the Strand for Workshop West starting Nov. 24 at the Backstage Theatre. It's based on true events that happened in Edmonton in 1942, when police arrested a group of local male actors suspected of being gay, and charged them with "gross indecency." Homosexual acts were illegal in Canada at the time.
How to Succeed in Business Without Really Trying
A new Edmonton musical theatre company called Foote in the Door Productions presents the 1961 musical How To Succeed In Business Without Really Trying at the McMahon Auditorium at Campus St. Jean until Nov. 19. The company was formed three years ago by actors Russell Farmer and Ruth Wong-Miller – who met as classmates at the Citadel's Foote Theatre School. Hence the name. They've since mounted five musicals, including at the Fringe, treading on the same territory as the mainstream theatres, but with a much lower ticket price. Musicals are big, but it doesn't mean that can't be accessible.
Million Dollar Quartet
So Elvis Presley, Johnny Cash, Carl Perkins and Jerry Lee Lewis walk into the Sun Records studio one day, and start to jam. Producer Sam Phillips can't believe his luck, quickly flips a tape onto the spools, presses record and hopes for the best. It's the only time these guys would ever perform together.
Sadly, the recording turned out crappy – but the jukebox musical inspired by this unlikely event has wowed audiences around the world for years. This Citadel theatre production – HELD OVER ­on the Shoctor Stage through November 19 – is superb, with stand-out performances and musicianship from a gifted ensemble cast, especially Greg Gale as the Man in Black.
Only In Vegas
Someone has to build a fake Vegas modeled after the old Vegas that was torn down to make way for the new Vegas. They have Venice Vegas, Egypt Vegas – so welcome to Vegas Vegas!
Until the grand opening in our dreams, you can still relive the days of yore when Frank Sinatra and other legends made in "Sin City" come to life in a revue of music past and present, for the Mayfield Theatre's holiday show playing through Jan. 17.
The Irrelevant Show!
Do you think they'll talk about Trump? The Varscona Theatre is given over to the CBC's Irrelevant Show Saturday night at 7:30 pm. Featuring a who's who of Alberta radio-comedy talent, this live taping is almost always sold out. Tickets are $32 in advance.
Improv theatre
Rapidfire Theatre Theatresports plays Friday at 7:30 pm and 10 pm; Con-Scripted sketch comedy runs Saturday at 7:30 pm; and Chimprov long form improv on Saturday at 10 pm. All shows at the Citadel's Zeidler Hall.
At the Varscona Theatre every Monday at 7:30 pm comes the long-running Die-Nasty improvised soap opera. This year's season is set in the Renaissance. Heads will roll!