REVIEW: Only In Vegas a full meal deal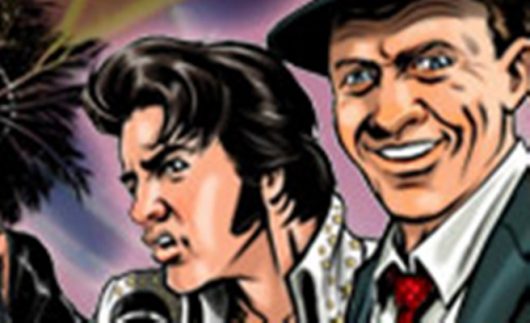 The Mayfield Dinner Theatre may have finally hit the wall with their Christmas show this year. Not that audiences have had enough—just try to get a table for their new show, "Only in Vegas."
Perhaps their winning formula of good food, seductive nostalgia and superlative musical production has reached saturation. Probably not though, because, as Mayfield has proven over and over again with such productions as "Folkswaggin," "Super Grovin'" "'70s" and "The Golden Age of Rock," that particular well is still overflowing with good music and larger-than-life characters.
No, I think that they were scuttled by trying to cram the starry history of "Sin City" into two-and-a-half hours. It proved to be just too much, and what we get is a somewhat soggy parade of familiar faces coupled with often lifelessly delivered hits.
The cast is the usual company of superbly talented Mayfield performers: Andre Anthony, Angie Brooks, Kevin Dabbs, Tiffany Deriveau, Pamela Gordon, Lyne Gosselin, Kieran Martin Murphy, Melanie Piatocha, Devra Straker, Brad Wiebe and Mike Zimmerman (the largest cast ever assembled for the company's Christmas show). But this time out they seem overcome with the seeming impossibility of embodying some of the most iconic performers of the last 50 years.
Despite some quite uncanny impersonations, the cast doesn't seem to be trying quite so hard to recreate the original. Neil Diamond doesn't sound like Neil Diamond. Barry Manilow is a long stony New England beach away from his doppelganger, and the performer misses completely the manic energy that the singer (deliciously sending up his own often smarmy personality) gives to "Copacabana."  Pamela Gordon doesn't sound like Barbra Streisand, but she packs her two songs as Babs with so much emotion—and with such great pipes of her own—that you don't care. They are the highlights of the show.
You get little idea of just how outrageous and, well, just downright funny Liberace was in what we are given here. Dean Martin is a long way from the oh-so-smooth Dino we remember, and Sammy Davis Jr. lacks the chipmunk charisma of the original. Mike Zimmerman captures the stage insouciance of 'ol blue eyes but little of Sinatra's jazzy drive and delivery.
Longtime Mayfield dynamo Kieran Martin Murphy skillfully takes on half-a-dozen voices (including a killer Louis Prima), but his big muscular voice shines in the role of Luciano Pavarotti. He also delivers a very funny monologue as ("I don't get no respect…") Rodney Dangerfield. Devra Straker lowers her voice into her contralto range to morph into a quite believable Cher.
Also missing in the constant parade of stars are the showstoppers that previously have given the Mayfield's jukebox shows such pacing—not to mention keep us dramatically involved, even when the script was mostly bad jokes and the dreaded line "…. and then he wrote…."  But the show is still held together by the musical glue that Van Willmott's ace band provides.
Like Vegas, I guess, it's just too much. We get David Copperfield stuff in a couple of lame magic acts, two lithe young ladies in silks perform high above our heads—they are lovely and graceful, but Cirque du Soleil they're not. A couple of sub-par clowns run around in the audience. A little judicious pruning would help a lot.
There is a quite ingenious channelling of "Stomp" as the performers beat out a complex rhythm on plastic tubes.
The Mayfield's tiny stage, from designer Ivan Brozic, who also designed the excellent and time-specific costumes, tries heroically to look like one of those behemoth Vegas arenas with lots of glitz, three-screen projections, a winding staircase and red drapes. The production is the usual slick, practiced creation we expect from Mayfield.
One thing you will learn is that early mob-ridden Vegas was much more interesting than today's corporate adult amusement parks. And the stars glittered a lot more.
Only in Vegas plays in the Mayfield Dinner Theatre through January 29.