Drowsy Chaperone a fresh, lively romp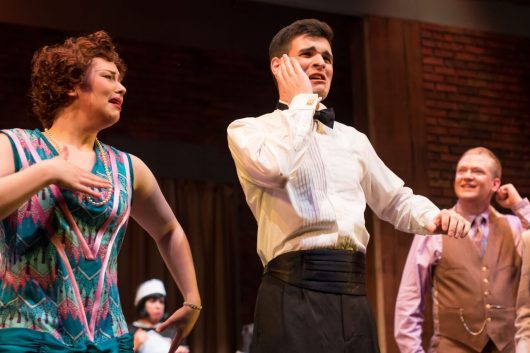 The story of The Drowsy Chaperone might make a musical in itself.
It began as a stag party lark from Toronto playwrights Don McKellar and Bob Martin (with music and lyrics by Lisa Lambert and Greg Morrison). It was transferred to a modest production at the Toronto Fringe where it wowed the locals. So much so, it caught the eye of some Broadway producers and, like a '40s Warner Bros black-and-white showbiz musical, it became a Tony Award winning hit.
This fizzy new Grant MacEwan production is the third time around in Edmonton for the small but durable show. For those that have seen it before it's a chance to renew acquaintances with a well-remembered old friend; and for those who have not seen it – particularly those who love a good old-fashioned musical, it will be something of a revelation.
The Drowsy Chaperone is a spoofy recreation of all those mindless 1920s diversions that used to sing and dance their way across Broadway stages. I suspect, for many in the gung-ho cast of young people, the arcane goings-on of a group of stereotypical musical comedy types from the darkest '20s must seem as ancient as an Aristophanic comedy, but the kids bring a fresh Judy Garland-Mickey Rooney let's-put-on a show enthusiasm to the material.
"I hate musical theatre," declares an unseen voice.
When the lights come up we meet Man in Chair (Malachi Wilkins). We soon discover that the  crotchety fellow is not so much against musical theatre as he is against what the art form has become. He's not much for Hamilton or Spring Awakening. He wants a return to the gay and glitzy shows of yesteryear. He takes out a beloved old vinyl record and lovingly places it on the turntable. As we listen, his dusty apartment begins to fill with the delightful characters of his favourite show called, well, The Drowsy Chaperone. One of the great pleasures of the show is that we know them all; the duo of comic gangsters disguised as bakers, the tough talking producer with his ditzy helium-voiced blond girlfriend, the bride to be, a groom, the best man, the snooty all-knowing butler – a menagerie of pedigreed classic musical theatre stereotypes.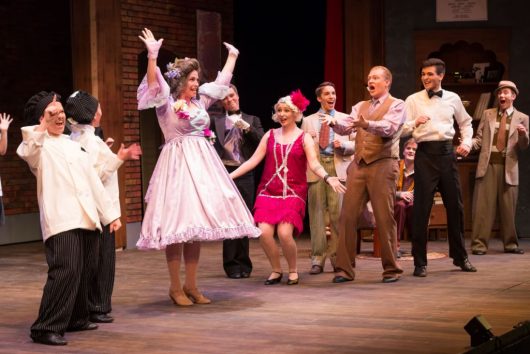 This may sound like yet another jukebox musical with songs cherry picked from earlier works but it's not – the songs are original, and demonstrate an uncanny familiarity for all the Porterish, Gershswiny tunes of the period. The whole is strung together with an airy buoyancy by director Kate Ryan, whose musical comedy smarts are obvious throughout. She also has surrounded herself with a top creative staff including (but not limited to) music director Cathy Derkach, choreographer Jason Hardwick and vocal coaches Dawn Sadoway and David Wilson.
The two diminutive gangsters (Paola Correa & Manuela Aguerrevere) dance in perfect sync and really wouldn't scare anyone. Gabriel Gagnon is all hair and teeth as the groom (he also has a big voice and knocks off an impressive tap routine).  Dylan Kroening is gloriously over the top as Adolpho, a preening latin lover. Jameela McNeil oozes a sexy showbiz know-how in selling her tippling vamp (the chaperone of the title). Rachel Matichuk is Janet Van De Gaaf, a name-up-in-lights Broadway star, who wants to give it all up for love. Matichuk gets the big number where Janet protests that she's tired of the spotlight and then sings the showstopper, Show Off, in which she runs out every bravura bit in the diva handbook (including cartwheels) to call attention to herself.
In a smaller role Tatyana Yakubowich (Trix, the Aviatrix) belts her big song, I Do, I Do in the Sky, at a volume that could wake Ethel Merman. Everyone in the sparky cast of 23 gives it all they have.
Wilkins as Man in Chair proves to be a witty curmudgeon, annotating what is going on, sometimes stopping the action to illustrate a point and even, upon occasion, joining in. The character is played with a chipmunk sense of humour and a genuine delight in sharing his forgotten treasure with us.
Not to be forgotten, this is a joyous, celebratory production.
The Drowsy Chaperone is presented by students of the Theatre Arts program in the John L. Haar Theatre of Grant MacEwan University and runs through December 3.