A Tribe Called Red: We are the human beings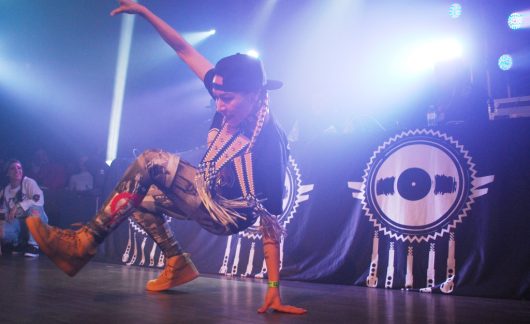 Chances are this was the first time First Nations pow-wow dancing was seen at the Union Hall – a room for sloppy rock shows and big drunken blowouts, much better suited to its previous name, The Thunderdome, literally like in the Mad Max movie.
There's a first for everything.
A Tribe Called Red was in the house Saturday night. This trio of First Nation DJs from Ottawa has bridged two worlds – aboriginal culture and electronic dance music – and turned it into a joyous worldbeat rave that anyone of any culture can get into. It's a bold and original concoction. To add extra entertainment value to three guys standing behind decks, the group put a lot of work into the dance numbers in their live show, which has toured the world. The dancers got the greatest applause of the night. There was also a terrific b-boy crew, busting moves in a full-on break dance battle in a bit that dipped into hip hop.
Meanwhile, the DJs Ian Campeau, Tim Hill and Bear Witness did their work in the shadows behind banks of strobe lights, remixing their own tunes into a furious din that drew from pretty much everything in the EDM genre and beyond. Hip hop and hard house gave way to Cuban rumba, then Jamaican dancehall, into what sounded like Bollywood bhangra as a Native American maiden danced onto the stage, a single feather atop her head.
Interspersed therein were tracks of traditional Indian chants blown together with thundering house rhythms. What would grandfather think? The whole thing sometimes threatened to fling itself off the rails in a series of crazy shifts, the DJs remixing a series of increasingly bizarre beats on the fly. The only thing holding it together was the constant incessant throb of the bass tones that rattle that bone in your ear you never knew you had. Later, for old people, came the headache.
The mood of the room was like a rave, as in a lot of love in same, with special adoration directed at the crew of excellent dancers. Thank God for the dancers.
There was political commentary. Late in the show, the aforementioned pow-wow dancer in full traditional costume (with many feathers) held up a sign: "Water is life," no doubt showing solidarity with the Standing Rock protest in South Dakota. This, after a somewhat frantic version of the title track from the group's new album Halluci Nation. The lyrics were sort of chilling: "We have been called the Indians. We have been called Native American. We have been called hostile. We have been called Pagan … The callers of names cannot see us, but we can see them" – and at this point one of the DJs pointed a finger at the crowd – "We are the Halluci Nation."
Just got it: Halluci Nation, hallucination. It's like a modern take on the old F-Troop joke: "We're the Hekawi!"
In the song they clear up the confounding cultural confusion: "We are the human beings."