PLAYBILL: Be like Scrooge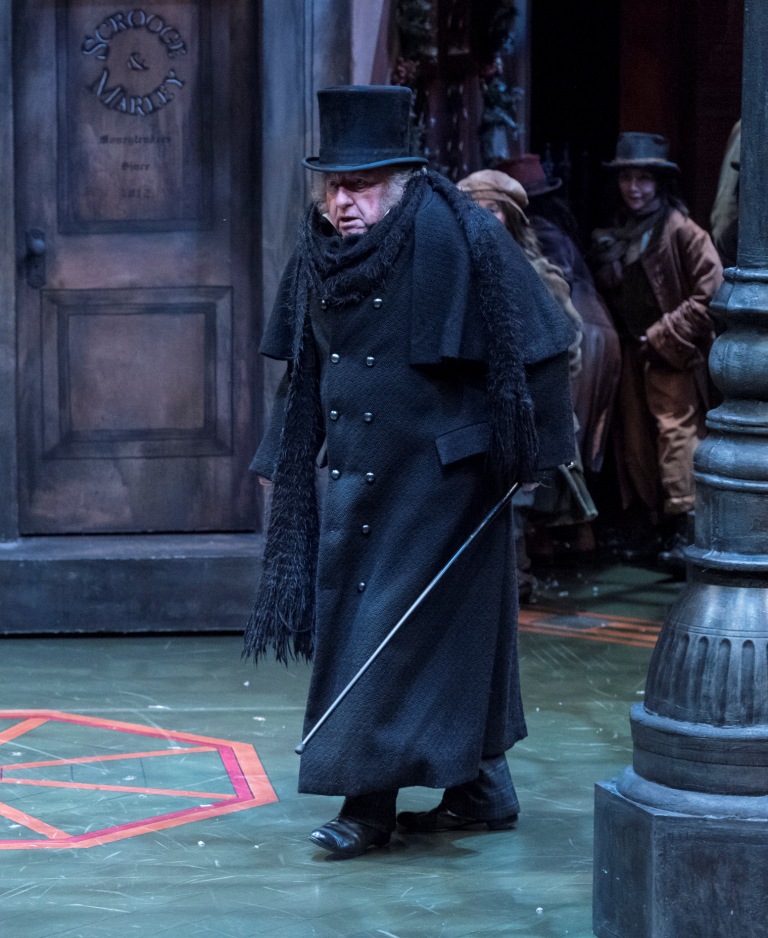 Life is so unfair. The central character in Charles Dickens' A Christmas Carol experiences an epiphany of goodness and a complete change of heart by the end of his harrowing ghost story – much like the Grinch whose heart grew three sizes that day – and becomes the most kind, generous, warm, "Christmasy" person you could ever imagine.
And yet the name "Scrooge" remains synonymous with that one unpleasant person to be around at Christmastime. People say, don't be such a Scrooge! "Screw you and your Christmas spirit," replies Scrooge, or words to that effect. This has been going on for 173 years. What's a guy gotta do?!
Do it again, that's what. Fictional characters are doomed to live their lives the same way over and over again for eternity, year after year – in this case for the entertainment and edification of people who may need to be reminded what the true spirit of Christmas is all about: Kind, generous, warm, etc. Should be that way all the time, eh? For more on this topic, consult some of Dickens' other novels.
For now, it's time once again for the Citadel Theatre's annual sumptuous production of A Christmas Carol, on the Maclab Stage until Dec. 23. Adapted and starring Tom Wood, this show basically never changes – much like the fate of its main character. Someone should write a sequel.
Donations to the food bank are accepted at the door.
Witch Hunt at the Strand
An ugly chapter in Edmonton's history is explored in Darrin Hagen's triumphant new play, based on the true story of the investigation, interrogations, arrests and convictions of several high-profile gay men active in the local theatre scene in 1942. Their crime? Being gay. Sexual acts between two people of the same gender were prohibited by the Criminal Code of Canada until 1969 – and the local cops went after these guys like they were chasing Nazi spies.
Witch Hunt at the Strand plays until Dec. 4 at the Backstage Theatre.
Fen
Until Dec. 3 at the Varscona Theatre, this bleak Caryl Churchill play revolves around women potato farmers desperate to escape the title of the play – a muddy miserable place in a story that has shades of Maxim Gorky, one of the most depressing authors who ever lived.
In short, if you're looking for heart-warming holiday entertainment, look elsewhere.
The Drowsy Chaperone   
At the MacEwan University until Dec. 3, this riotously entertaining musical-within-a-musical has been poking fun at musicals since 1998, but has itself since won awards for best musical. It's the circle of life!
A great young cast directed by Kate Ryan makes this show pop with vim and vigor.
Anxiety
Edmonton's Theatre Yes is not one to let you sit in your nice comfy seat and be entertained. Oh, no. Some work – physical, mental, emotional – is required to attend this interactive adventure that explores the title of the piece with a vengeance. Be afraid. Be very afraid.
Six different "immersive performance installation-style pieces" are presented at La Cite Francophone until Dec. 4.
Only in Vegas
It's a bit much to cram a weekend of Sin City into two-and-a-half hours of pure entertainment in this Mayfield Dinner Theatre production – featuring impersonations both uncanny and canny of Frankie, Sammy, Dino, Elvis, Barry Manilow, Neil Diamond, Wayne Newton, Barbra Streisand, Cher and all the rest in spectacular riot of a show that tries to do too much in one sitting, like you've eaten too much at the all-you-can-eat salad bar, and kind of like this hard-working sentence – but that's Vegas for you.