REVIEW: July Talk, he said, she said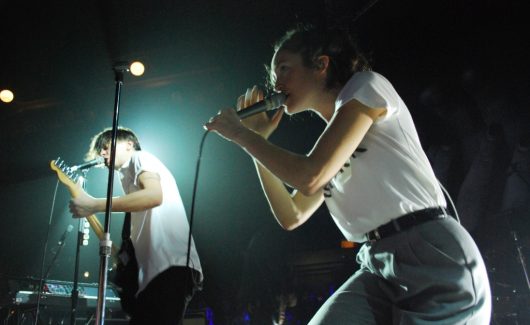 It's clear the public prefers to hear both sides of the story when it comes to using music to talk about relationships.
Just see how well the co-ed dual lead vocalist approach has worked for so many artists. They call this the "Beauty and the Beast Effect" – an especially apt description of July Talk, whose male singer Peter Dreimanis has a low-down guttural growl that sounds like Tom Waits' younger brother, while his female partner Leah Fay possesses the voice of an angel. Fronting their own bands, they might not amount to much. Who knows? But together, sparks fly.
They were a steamy pair on stage at the Union Hall Friday night – the second of two sold-out shows in town this week – oozing a passionate chemistry in front of music that had a deep, visceral, theatrical quality. Propelled and inspired by their own quirky boogie woogie-alternative rock fusion on steroids, they'd touch each other's faces, he'd gently pull her hair, she'd dance sensually around him as they'd sing their various romantic somethings to each other. "When we find her in her pencil skirt, surprise! You take my body as your prize." Are they a couple? Seems to be some mystery here.
The love poured off stage and into the crowd. A couple of fans actually got engaged at the Edmonton show – a lovely moment, but somewhat the opposite of the usual moonlit rose garden you might expect. Shortly thereafter Fay was inspired to get down on one knee, look into her partner's eyes and pop the question, "Do you promise to stop hitting yourself in the face so much?"
He replied, "I promise to try."
That's just the kind of show it was. Thanks in part to the vocal variety of two very different singers, there was never a dull moment in a set that spanned two albums and a lot of headbanging energy. They even unveiled some new stuff, also unusual but not too weird for rock 'n' roll.
July Talk's music has broken beyond Canada, but this was a particularly good crowd – a hometown crowd. Dreimanis is from Edmonton, don't forget. His parents were up in the VIP section cheering him on. The fans of course knew all the words to the band's most popular songs – Summer Dress, Guns + Ammunition, and others that actually don't qualify as romantic duets, at least not to each other. Most of them were distinguished by the fast, rolling rhythms reminiscent of rockabilly of yore, just, you know, louder, provided by bassist Josh Warburton and drummer Danny Miles, backed up by guitarist Ian Docherty. Dreimanis and Fay each took turns playing guitar, too, also jumping into the mosh pit for a little crowd surfing. Such moments of crazy energy did not detract from the more subtle and dramatic sections, like the thick and mesmerising ballad that opened the encore set – quite a trick to be subtle in a room like Union Hall.
These kids are going far. Just watch.
Think of the great he-sang-she-sang duets of the past. Both the male and female perspectives are quite similar in the Chainsmokers' huge hit Closer: She's looking pretty in a hotel bar and they can't stop. Drake and Rihanna scored a massive hit with Too Good, each claiming they're too good for the other. They may need counseling if they're going to make this relationship work.
In 2012 came a massive hit presenting both sides of broken relationship: Gotye's Somebody That I Used To know. Evanescence scored huge with Bring Me To Life, a duet between Amy Lee and singer-rapper Paul McCoy. And, in adding July Talk to such an illustrious legacy of couples' duos, you could go all the way back to Meat Loaf's Paradise by the Dashboard Light, with vocalist Ellen Foley, a classic epic of rock 'n' roll where the woman, as usual, comes out on top in the end.
There's a lesson here.