The lonely death of Ricky Jordahl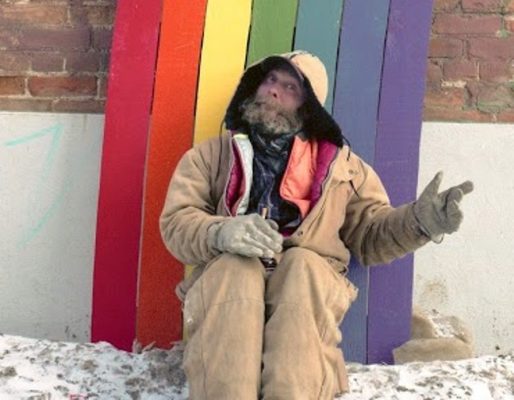 Whyte Avenue has lost one of its most beloved street characters.
The body of homeless man Richard Lyle Jordahl was found early Thursday morning, on a pile of pallets in the alley behind a strip mall where he often slept. There was no report of the fatality on the Edmonton Police Service news release feed, and calls to the EPS were not immediately returned.
UPDATE, Dec. 7, 2016: There are reports that Jordahl had a blocked artery and likely died of a heart attack in his sleep. His funeral will be held Saturday, Dec. 10 from 2-4 pm in his hometown of Castor, Alberta. People are invited to donate blankets and warm clothing that will be taken back to Edmonton.
Jordahl's death did not go unnoticed by members of the Edmonton music community, some of whom busk on Whyte Avenue and had grown fond of the man. They knew him as "Ricky." At an emotional memorial held Saturday at H20 Lounge, he was remembered as a friendly, happy-go-lucky fellow who sometimes worked or helped at businesses in the area, and always had a kind word for everyone. You couldn't miss him: a short man with a red beard and a raspy voice who liked to laugh, joke, fist bump, click his heels like an Irish dancer, and jig past any busker he passed on the Avenue. Some likened him to a land-locked pirate – but a happy pirate nonetheless.
Mark McGowan of the McGowan Family Band spread the sad news on Facebook, "Rest in Peace, Ricky! Whyte Ave has always had a certain charm with you around. Your laughing and dancing along to my busking has been a highlight of many evenings on the Ave. Your spirit will remain on these streets!"
Local musician Sean Brewer, who also often busks on Whyte, said he's seen Ricky on the street since two met more than 20 years ago. "He was one of the oldest surviving old time homeless men of Whyte Avenue," Brewer says. Not much is known of Jordahl's earlier life. He'd recently had some health issues.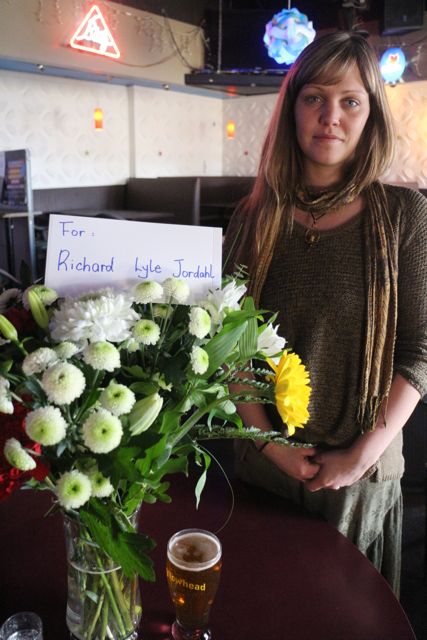 Area childcare service provider Meghan Donovan (right) spoke to Ricky almost every day. She remembers he was a proud man who would never ask for anything, "One really cold morning as I was getting ready for work, I got a knock on my door. It was Richard. He was freezing and asked if he could come in and warm up. So he did. He laid on the couch and fell asleep until it was time for me to go to work. I made him some snacks, he rejected politely, I insisted. He rejected any blankets or cushions. He was so grateful, humble, happy, funny. He had it rough and he was the most sunshiny person I ever met."
So why did this happen? A man cherished and beloved by so many people couldn't find help? Are there no resources? Well, there are – but not without complications. According to his friends at the memorial, Ricky didn't cross the river to the downtown core where most services are located because he didn't want to engage with the gangs that exist in the inner city. There was no place for Ricky to go for shelter on the South side.
Rylan Kafara, program lead of the Inner City Recreation and Wellness Program at Boyle Street Community Services and Bissell Centre, says, "Unfortunately, there are no overnight shelters for adults South of the river. Only the YESS youth shelter. The Neighbour's Centre is South of Whyte Ave, but it's only a daytime drop-in. Many people either sleep in the river valley, or as Ricky did, in alleys, or wherever they can get some cover from the cold. Or they just keep walking all night to keep warm. Obviously, Edmonton is severely lacking affordable and supportive housing, and a drop-in space that's open 24 hours for the homeless community."
There are a lot of unanswered questions about Ricky's lonely death.
Homeward Trust Edmonton recently released results of their latest count of identified homeless persons in Edmonton: 1,752 in 2016, a 25% drop from 2015.
They're not just numbers; these are real people. Ricky had lots of friends around Whyte Avenue. One person at the memorial (who didn't want their name used) said, "Ricky made people aware that the homeless are still part of our community. They do not exist on some separate plane."
The Hope Mission and other organizations are now accepting donations of badly needed new or gently used winter clothing, as well as other clothing such as socks. Especially socks, in fact. It's cold out there.
Top photo by Bryce Zimmerman