Mother Mother gets intimate in Edmonton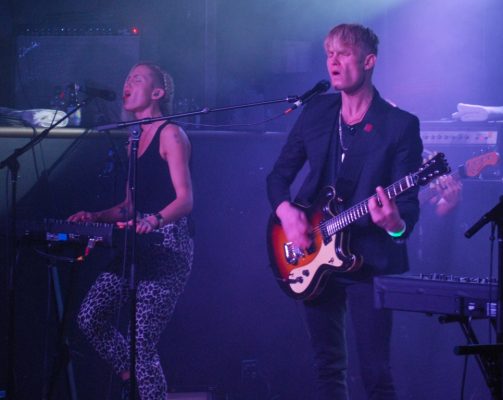 Big band, small club – now this is the way to experience live music.
If you're lucky enough.
Like some 300 Sonic 102.9 radio listeners who won a chance to see Mother Mother at the Needle Vinyl Tavern Saturday night. The band will probably be playing to about 10 times that number at the (cavernous, uncomfortable) Shaw Conference Centre in March, behind their new album that will be out by then, No Culture. They played a few of the new songs at Saturday's intimate show – including a stand-out track called Free, dedicated to "celebrating the future" and coming off like a rollicking gospel prayer in hard times, "Love, let my anger turn into peace!"
What strikes you immediately about seeing such a band in close quarters is that they look every other rock band that you've ever seen in a small club: Guitars, keyboards, bass, drums. Pretty standard. Not larger than life. Just ordinary musicians. They just happen to have made it big – and it was easy to see why. They dominated the room, with their songs and their performance. Frontman Ryan Guldemond, his sister Molly and Jasmin Parkin have a special kind of magic on vocals. They have few peers in modern rock. Unusual, spooky three-part harmonies had especially chilling effect in songs like O My Heart; and in The Sticks, where the sound was almost gothic. That's classical gothic, as in 14th Century, not The Cure – although Mother Mother has shades of that, too, among other things. People have compared them to the B-52 because of the two female back-up singers who play synth, but Mother Mother is far too dark for that one to stick. Mother Mother has its own special darkness: mysterious yet familiar, sometimes cold, sometimes distant, but capable of explosive passion – kind of like the band's namesake. Ryan had said in an interview that he liked "mother" in a band name because it's "ominous yet benevolent." There may be years of therapy behind that comment.
More motherly magic was heard in the deceptively happy-sounding Monkey Tree, a song about how we're all basically monkeys; and in Let's Fall In Love, in which "Mommy did it, daddy did it, the funny little monkeys in the zoo do it." Got a thing about monkeys here. More deep thoughts about the baser instincts of the human animal were heard in the band's breakthrough hit Hayloft, the one with the strident refrain, "My daddy's got a gun, you'd better run," from the girl complicit in her lover's peril. Great song, and heard live it demonstrates Ryan's skill being able to play such an intricate guitar part at top speed and sing at the same time.
He was at times as blown away by the experience as the audience, and made mention of the special novelty of playing a small club – something Mother Mother hasn't done for quite some time.
"This is big in our hearts," he said.
The feeling was mutual.