PLAYBILL: Burning Bluebeard: Too soon?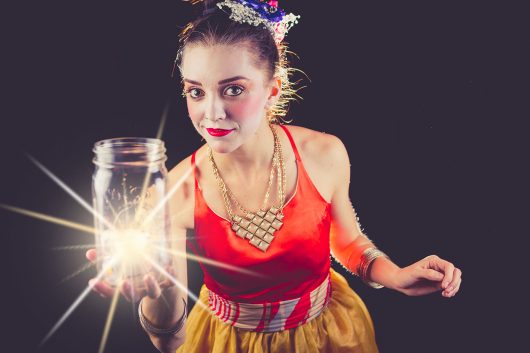 Why is OK to make light of the Titanic and not 9-11? What about a deadly fire in a crowded Chicago theatre that happened more than 120 years ago?
Such questions are set aside for the new production of Burning Bluebeard, at The Roxy on Gateway Dec. 13-24. Jay Torrence's 2011 play is based on the true story of the fire that destroyed Chicago's Iroquois Theatre in 1903, killing 602 people, many of them children, and injuring hundreds of others. It was a terrible tragedy that resulted in stricter fire codes across America.
The victims had been attending a pantomime musical called Mr. Blue Beard – and so Burning Bluebeard centres around "six singed clowns" who emerge from the charred ruins of the theatre to finish their show. While the tone may be light, there are deep themes being explored: the fleeting nature of life, the permanence of death, and what role that so-called "entertainment" plays in our existence. After all, what else can a performer do but perform?
Santaland Diaries
They have mandatory military service in other countries – so it's only fair that all North American citizens be forced to work in retail at least once during the Christmas season. That way we might learn something about compassion.
Extra points if you're hired as one of Santa's elves – the true experience of the hilarious deadpan author David Sedaris, whose essay on the subject gave him his big break – and has since been adapted into a holiday play that is definitely NOT for children. While critics accuse him of making certain "exaggerations" in what must've been a horrifying ordeal, remember he's not a journalist – he's a writer. He's a WRITER, you monsters!
Anyway, we checked out Sedaris's Class 5 Poetic License, and it's still valid, so he's OK.
The Blarney Productions' presentation of Santaland Diaries runs at The Nina Haggerty Centre for the Arts (9225 118 Avenue) from Dec. 15-23. Admission is by donation.
Lady Windermere's Fan
Spewing wit and wisdom all the way from 1892, Oscar Wilde does what he does best in this Walterdale Theatre production of a romantic farce about crossed wires (staple of every TV sitcom) – use it as vehicle for his biting view of the society of the times where style meant more than sincerity, passions were meant to be indulged, and the real crime was in getting caught. In short, just like it is today!
Lady Windermere's fan runs through December 17.
The Best Little Newfoundland Christmas Pageant … Ever!
Repeat these words out loud, in order: Whale, oil, beef, hooked. Now say you're talking like a Newfie – and try not to act surprised when grandma makes you wash your mouth out with soap. This is a family Christmas show!
It's actually a musical-within-a-musical about a woman suddenly put in charge of staging the annual Christmas show in her Newfoundland town, a hair-pulling ordeal of chaos and frustration that threatens to turn into a disaster. Of course it all works out and we all learn something in the end (spoiler alert).
Newfoundlanders pining for the fjords won't want to miss the annual production happening at the Varscona Theatre Dec. 16-23.
Anne of Green Gables
Lucy Maud Montgomery's novel about a spunky orphan girl who warms the hearts of everyone she comes into contact with in 19th Century P.E.I. has been adapted into almost every form of media imaginable – including of course the musical. Along with the maximum recommended daily dose of warm Christmas feelings, a large cast and real pit orchestra are featured in this annual show at Festival Place Dec. 16-30.
A Christmas Carol
"Here's the deal, Scrooge: You will be visited by three spirits. Well, four if you include me. Expect the first tomorrow, when the bell tolls one. No, not 1 in the afternoon, at 1 am. Expect the second on the next night at the same hour, and the third upon the next night when the last stroke of 12 has ceased to vibrate, an hour earlier than those other two for some reason. Future is always showing up early. After that you will instantly turn into a good person whose very name will become synonymous with Christmas goodness for Centuries to come – and no one will ever say 'bah, humbug!' again …"
Wait a minute: Wasn't it Christmas Eve when Scrooge was visited by The Ghost of Christmas Past? And wouldn't it then be the day after Boxing Day by the time he was finished with the other two? Oy, such a continuity error in the Charles Dickens' Christmas classic – presented by the Citadel Theatre until Dec. 23.
Only in Vegas
It's a bit much to cram a weekend of Sin City into two-and-a-half hours of pure entertainment in this Mayfield Dinner Theatre production – featuring impersonations both uncanny and canny of Frankie, Sammy, Dino, Elvis, Barry Manilow, Neil Diamond, Wayne Newton, Barbra Streisand, Cher and all the rest in spectacular riot of a show that tries to do too much in one sitting, kind of like this hard-working sentence, in fact the same one that was used in last week's Playbill except for this last bit – but that's Vegas for you.
Do you have a live Edmonton theatre event for Playbill? Click HERE to email your press release.