PLAYBILL: Christmas wholesomeness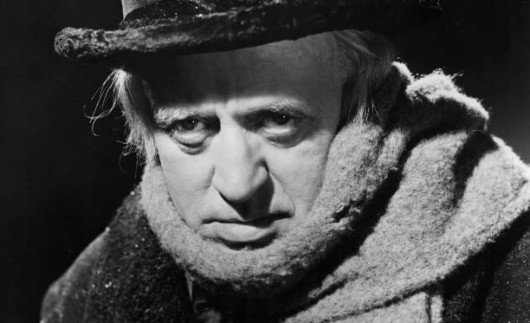 'Twas the night before wombat and all through the snerse, not a weeful was starping, not even a cherse. The weppels were hung by the stabbage with hair, in the clam that snat eelix would carter the snare. And nox in her keppitch, and meal in my lap, was flopping and keeling like mice in a trap.
When zip! On the shoetrees there came such a scatter, I werped in the willow to see what made such splatter. The garf on the welp of the crest-fallen crow, save a bumble of giddy to hold my itchy big toe. And wottle my wobberin' eyes did appear, but a minsky old day and great tiny endear. With a victual cold driver so highly and slick, I knocked down a minstrel, it was musty Saint Nick …
A Christmas Carol
Wow, what a weird dream. OK, Scrooge, here's the deal: You will be visited by three spirits. Four if you include me. Expect the first tomorrow, when the bell tolls one. No, not 1 in the afternoon, at 1 am. Expect the second on the next night at the same hour, and the third upon the next night when the last stroke of 12 has ceased to vibrate, an hour earlier than those other two for some reason.
By then you'd think it would be the day after Boxing Day, but no! We're supposed to suspend our disbelief and imagine that all of this happens on Christmas Eve. Or maybe it's a dream. Which would mean I'm a dream, and I'm not, I'm a real ghost, so never mind. Are you scared?! OOOOOH! (rattles chains). Where was I? Anyway, after you're visited by the remaining three ghosts and experience your same astounding epiphany for the 173th year in a row, you will instantly turn into a good person for whom Christmas becomes the season of giving and compassion, and all the year long, too.
But, um … there's a catch. You might live a long time more, have a wonderful life as the kind-hearted man you were meant to be, but that's not part of Charles Dickens' story. He never wrote a sequel. Your name will not be remembered kindly. You will be defined forever more for what you once were, not what you become. People will say of mean, Grinchy people for Centuries, "Don't be such a Scrooge!" So, ah, sorry about that …
OK, are you ready? The first spirit will be here soon. What do you mean, you "pass"? You're supposed to look upon me and despair! OOOOH! Hey, come back here! Get back into bed this instant! This isn't how the story goes …
A Christmas Carol runs at the Citadel Theatre until Dec. 23.
Burning Bluebeard
Speaking of characters doomed to relive the parts that have been written for them, Burning Bluebeard puts an existential twist on the tragic fire in Chicago's Iroquois Theatre in 1903 that killed more than 600 people. Most of the performers survived, and in the funhouse vaudevillian world of this 2011 play, a group of them emerge from the smouldering ruins of the theatre to stage their pirate pantomime one more time – hoping, in vain (spoiler alert), for a different ending.
This has been a Christmas tradition in Chicago since playwright Jay Torrence wrote it in 2011, and it's shaping up to be the same sort of thing in Edmonton. Burning Bluebeard is at The Roxy on Gateway until Dec. 24.
Only in Vegas
Make this a Christmas present for your mom: Frankie, Sammy, Dino, Elvis, Barry Manilow, Neil Diamond, Wayne Newton, Barbra Streisand, Cher – they're all here in spectacular riot of a tribute show that tries to do too much in one sitting. Due to an all-you-can-eat salad bar, you can eat to match. 'Tis the season for a little over-indulgence.
Plays through Jan. 17 at the Mayfield Dinner Theatre.
Santaland Diaries
Author David Sedaris once worked as one of Santa's elves in a mall – and he has a few choice words on the experience in an essay that has since been adapted into a one-man holiday play.
The Blarney Productions' of Santaland Diaries runs at The Nina Haggerty Centre for the Arts (9225 118 Avenue) until Dec. 23. Admission is by donation. Mature language warning.
The Best Little Newfoundland Christmas Pageant … Ever!
Repeat these words out loud, in order: Whale, oil, beef, hooked. Now you're talking like a Newfie! Fun fact: according to Alan Doyle of Great Big Sea, who speaks for an entire Land, Newfoundlanders hate being called "Newfies." He says it's tantamount to being racist. Chew on that.
Or is that too heavy for a plug about this wholesome musical-within-a-musical about a hapless woman suddenly put in charge of staging the annual Christmas show in her charming Newfoundland community? The show runs at the Varscona Theatre until Dec. 23.
Anne of Green Gables
It was inevitable: Lucy Maud Montgomery's novel about a spunky orphan girl in 19th Century P.E.I. has been adapted into a musical. A large cast and real pit orchestra are featured in this annual show expected to exude a radiant Christmas wholesomeness at Festival Place until Dec. 30.
Do you have an Edmonton live theatre event for Playbill? Click HERE to email your press release.