MUSIC PREVIEW: Rollins the Raj of Rage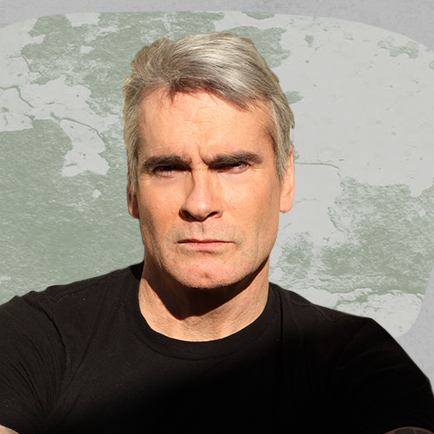 Just over a year ago on late night television, Stephen Colbert asked Henry Rollins what makes him angry.
He replied, "Anything where humans could be better, where they could treat each other and themselves better."
Colbert cut in, "Isn't being angry the sort of thing we should stop? Aren't you part of the problem, Henry Rollins?"
"No," Henry said after the laughs died down. "My anger gets me up, puts more visas on my passport, makes me read more, ask more questions, makes me write more and move around more."
The studio audience cheered its approval.
Hear that, punks? That's the advice that still holds up in 2017: Be as mad as hell and you're not going to take it anymore, and you may accomplish great things. Take it from the Raj of Rage, here for what he likes to call "the talking show" Friday at the Myer Horowitz Theatre. It's sold out.
Fans of his bands Black Flag and the Rollins Band know that Henry has been a very busy – and angry – man. He's a rocker, raconteur, traveler, broadcaster, nature show host, journalist, author, activist, actor, and kitchen sink repairman, probably, and has been on the road around the world pretty much the entirety of 2016. That might make anybody angry.
READ: Interview with Henry Rollins
Thursday 5
Harpdog Brown and the Travelin' Blues Show – The Juno-nominated, multiple Maple Blues Award-winning bluesman cut his teeth in this city before moving to the Wet Coast like so many others in the great mid-1980s ex-Edmonton diaspora. This weekend he and his latest band make a homecoming to play Blues for the Big Onion – that's us! – among other original blues tunes at Blues on Whyte. Through Saturday, 9 pm
The Gibson Block – It is not known for sure if bands named for area landmarks tend to write more about their hometown, but this one seems to. We need more examples to make a proper study. Until then, rock out at the Needle Vinyl Tavern. With Lutra Lutra, 9 pm, no cover
Friday 6
Vissia – Mentioning "whiskey" in your bio is bound to raise Janis Joplinesque expectations – but that seems to be the style this bluesy local singer-songwriter is going for (having since dropped her first name Alex). It'll still be an intimate show this night at Tiramisu Bistro. 7 pm, no cover
Grizzly Trail – So here's another one: A band named for Alberta Highway 33 (43 already taken by Scenic Route To Alaska), and that seems proud of their roots. Old school punk rock album release – now would that be on vinyl or cassette? – on this night at the Mercury Room. With The Nielsens, 7 pm, $10 advance
The Shrine – From California comes a badassed rock band in the vein of Black Flag (since we've been talking about Rollins), or maybe Motorhead. Some are reminded of Fu Manchu. Remember Fu Manchu? Anyway, these guys have beards, sing of unwholesome fun and play loud guitars, perfect for a night on which you will be guaranteed no lip-syncing will occur. With a couple of good Edmonton bands warming up: The Get Down and Counterfeit Jeans. Needle, 9 pm, $12 advance
Saturday 7
GW Myers – "If an angel came down in the form of a hummingbird and taught a human to play guitar, it might sound like this" – Similarly, using a quote like this as your tagline raises certain expectations with this swampy, slack-key guitar slinger: Come to the Black Dog this afternoon to find out what he's all about. 4 pm, no cover