PLAYBILL: Bang Stomp Bang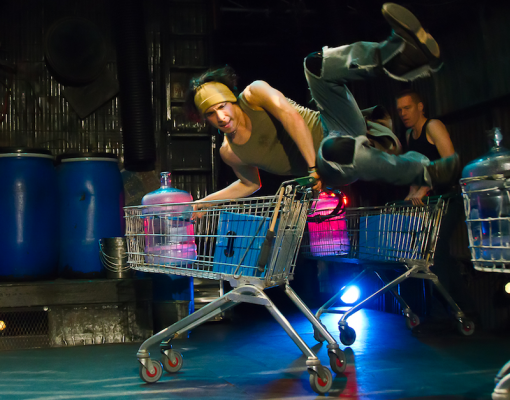 Shif-shif-shif-shif, ca-klap, baDOOM, a-boom, a-boom, a-boom, shif-shif, baDOOM!
CLANG CLANG CLANG, baDOOM, ka-shif-shif-shif …
ZZk ZZk ZZk ZZk, CLANG! baDOOM, crash, ow! Look out! Aieeeee!
Been there, dented that – and still this Cirque du Percussionista show continues to merrily bang along. For those who haven't seen the Robot Chicken sketch, Stomp! is 90-minutes of post-apocalyptic street performers who climb over a jungle gym stage as they hammer on all the junk stored in your garage, and then throw the whole mess and themselves down a flight of stairs. It's music. It's comedy. It's modern dance. It's a very long drum solo. It's all of the above, all at the same time.
Stomp! plays at the Jubilee Auditorium Tuesday and Wednesday, Jan. 10-11, at 7:30 pm.
Henry V
Shakespeare buffs may have seen this play a million times – but maybe not like this. For the first time on a Canadian stage, a woman will play the lead character in this medieval wartime epic. A woman! Imagine. Don't forget that in Shakespeare's time, female roles were often played by boys – because a woman's place was in the home, not on a theatre stage.
So will this show be as different as the times we are a-changin'? Do they just switch out the pronouns or what?
"Once more into the breach, dear friends, once more – or close the wall up with our English dead!" doesn't really need gender to make an impact. It could've come from Margaret Thatcher.
With a fresh new soundtrack and a "gender-balanced" cast, Henry V is a co-production between Edmonton's Grindstone Theatre and London, England's acclaimed Malachite Theatre. It plays Jan. 12-28 at the Holy Trinity Church.
Peter Fechter: 59 Minutes
The title refers to the 18-year-old East German boy who died in 1962 after he was mortally wounded trying to cross the Berlin Wall. After being shot by East German soldiers, he fell into what was called the "death strip," a space between a security fence and the wall itself, and bled to death in front of hundreds of onlookers. Neither the East nor the West came to his aid – both sides apparently afraid of getting killed by the other, or starting a war – and he died alone 59 minutes later.
Playwright Jordan Tannahill takes this real event and imagines a vivid out-of-body experience as Peter is visited by the people he loved in his life during his final minutes.
More people would die trying to cross that wall before it was torn down in 1989, not to mention to the terrible toll of the Cold War, but this episode remains a powerful symbol of pointless politics. Said to be an "ode to risk and love in the face of oppression," the play is part of Tannahill's Governor-General Award winning collection, Age of Minority.
Peter Fechter: 59 Minutes runs at the PCL Theatre at the Arts Barns Jan. 10-22.
Mean Tweets with Don Iveson
Here's a mean tweet for you: To @DonaldTrump, @KerryDiotte and all other politicians – and yes, you, too, @DonIveson:
"DELETE YOUR TWITTER! Social media is not an effective means of governance. You are dumbing down democracy, putting emotion over facts, and causing mis … " and look at that, we ran out of space. You'll have to be more clever. EXACTLY.
Hey, you Rapidfire Theatre guys can use that joke if you want (pay us in "likes"), in your event where the Mayor of Edmonton reads the mean tweets he's received. The bit is ripped straight from The Jimmy Kimmel Show – Wednesday, Jan. 11 at the Citadel Theatre. SOLD OUT
Only in Vegas
What happens in Vegas stays on Instagram – also in dinner theatres across the nation. Reasonable impersonations of Frankie, Sammy, Dino, Elvis, Barry Manilow, Neil Diamond, Wayne Newton, Barbra Streisand, Cher and many more are here in spectacular riot of a show that tries to do too much in one sitting. Much like the feeling you might have after your third trip to the all-you-can-eat salad bar!